A new industrial building has been constructed in CTPark Prague West near Prague, which holds a record 92.1% 'BREEAM New Construction' sustainability certification score of 'Outstanding', making it the 'greenest' industrial building in the Czech Republic. The warehouse, which was built under strict environmental measures, features a range of innovative solutions contributing to energy efficiency, as well as facilities to support local animals, abundant greenery, and a charging station for electric vehicles.
The building is home to the leading company Rhenus Logistics, which uses it as a cross-dock for its pan-European network for collection services and warehousing. Inside, there are zone lights that allow people working in the open space to illuminate just their workspace, rather than having to light up the whole office. The windows are also fitted with external blinds. There are also sensors for efficient heating and cooling, thus there is no unnecessary energy loss. Temperature control in the building, together with air circulation, is provided by the Free Cooling system, which helps to cool the building on warm days through special vents. The building is equipped with energy-efficient, low-water consumption devices, underground retention tanks for rainwater management, waterless urinals, and an Aquastop system that prevents water waste.
"After the first year of use, we are very positive about our new building. Combined with other energy-saving measures, the new building helped us to successfully overcome the energy crisis that erupted shortly after we moved in. Growth and efficiency are part of the Rhenus DNA. The new building allows us to combine the two and is another step towards fulfilling our commitment to social responsibility and long-term sustainability," explained Aleš Novák, Head of Sales, Rhenus Logistics.
"I believe that this unique approach will help to break down the myths that are often mentioned in connection with developers. Even the construction of industrial parks can be carried out with minimal environmental impact. We strive to make all our developments as sustainable as possible and are constantly improving, to provide our clients with the highest quality facilities on the market. The result is highly rated projects such as CTPark Prague West or CTPark Prague North, which aspires to an even higher BREEAM certification score," commented Jakub Kodr, Head of Business Development, CTP Czech Republic.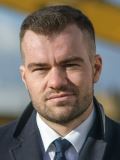 Jakub Kodr
Head of Business Development, Czech Republic
CTP
Jakub has 10 years of real estate experience, holds an MBA in Real Estate and is already qualified as a Chartered Member (MRICS). Head of Business Development for CTP Czech Republic, he is rarely to be seen without a phone to his ear. Jakub takes excellent care of clients while also being a skilled property-client matchmaker and scouting new opportunities
More »
Emphasis was also placed on the ecological construction of the warehouse. CTP worked with certified and recycled materials from the site and the surrounding area, which allowed, for example, most of the gravel to be replaced with concrete recyclate. Biological surveillance was also carried out on-site during construction, to oversee the protection of local species. At the end of construction, geomonitoring boreholes were implemented, to measure the quality of the groundwater resources. For the local fauna, lizard, beetle and bird boxes, as well as a pond, were created outside the warehouse. The site is complemented by a varied planting of local plant and tree species and outdoor seating.
"The building is a fitting reflection of the values we hold as part of ESG. We use certified materials, work with experts, and apply the latest industry knowledge. It's a process that has become standard for us at all our parks. Sustainability is not just about one thing, it consists of many smaller solutions and elements, the overall result of which is a more environmentally friendly approach during construction and subsequent operation of the building," adds Gabriela Povýšilová, ESG Manager, CTP Czech Republic.
CTPark Prague West is located west of Prague near the village of Chrášťany. In addition to its proximity to the capital city, it offers connections to the D5 motorway (direction Pilsen and Germany), close access to the metro and Metropole Zličín, and only 10 minutes to the airport. The park is also equipped with chargers for electric cars.
The developer is also expanding CTPark Prague North, where it has recently completed a 32,000 sqm warehouse called D8.7B and will complete a second warehouse, D8.7A, at the end of the summer with an area of 20,000 sqm. These buildings aspire to an even higher BREEAM certification score than the warehouse at CTPark Prague West.