CTP officially opened two more buildings in Brno for young local and expatriate professionals and young families. Both buildings can accommodate more than 200 individuals and are follow-ups to the successfully established Domeq I, which the company launched in Brno about four years ago. Due to their larger rooms, the two new buildings are designed to be more for individual residential living rather than co-living, as was the case for Domeq I. CTP continued this residential project in response to the current high demand in the housing market that is not just seen in Brno, but the whole country.
All buildings are located in the Ponávka business park in Brno, which CTP gradually transformed from an inner-city brownfield into a business park from 2005. The new buildings offer a total of almost 150 apartments for rent, including units that are just under one hundred single-, double-studio or multi-story apartments ideal for individuals, couples, or young families.
Jakub Kodr, CTP's Head of Business Development for the Czech Republic, commented: "This Western European modern living concept responds to the needs of today's generation of dynamic young people who come to Brno to study or work, and are looking for a practical, flexible and affordable place to live—but which also comfortably accommodates even young families."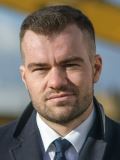 Jakub Kodr
Head of Business Development, Czech Republic
CTP
Since Jakub joined CTP, he has been excelling and shows no sign of slowing down. He has nearly 10 years of real estate experience and is a fresh MBA in Real Estate graduate who is soon to pass the RICS APA exams. Rarely to be seen without a phone to his ear, Jakub takes excellent care of clients while also being a skilled property-client matchmaker.
More »
The size of the rooms ranges from 22 square meters to larger apartments with almost 75 square meters. All rooms are fully equipped with heating, air conditioning, French windows, kitchen appliances, and some even have balconies. Several of the larger apartments have two washrooms, a dressing room, and a large dining table or living room, while the parking provides capacity for about one hundred cars. Beyond its standard residential offerings, Domeq combines hotel-like amenities.
Residents can use a range of amenities—a bicycle room, laundry, housekeeping, common rooms, a library, a quiet area for work, and a shared kitchen. Additionally, Domeq I has a central reception, recreational amenities like billiards, ping-pong, a piano, a gym, meeting space, and outdoor multi-purpose playgrounds.
Domeq will be one of the first buildings of its kind certified according to the prestigious BREEAM Outstanding certification in addition to Well certification. Domeq II and III are even one step ahead of their predecessor–especially in terms of a range of technologies that are designed to be as environmentally friendly as possible.
In addition to the varied social life, Domeq facilitates thanks to the frequent number of events organised, the community gardens or roof terraces with a view of all of Brno, one of the main advantages of the residential housing include its easy access to the city centre.
Kodr summarised: "There is a lot of interest in this type of accommodation. Domeq I is currently fully occupied, so we are glad that we have managed to expand the existing capacity of the first phase of this project by two more buildings because the demand is already growing considerably."
During the summer, when there is less tenant demand because many students and expatriates travel home, CTP cooperates with the Tereza Maxová Foundation and several children's homes, to organise the Domeq Academy project. In this program, selected youths are hosted in Domeq and have the opportunity to participate in one of a number of internships related to their field of study, like in gastronomic operations or at company receptions. CTP provides or mediates these opportunities for them. This last July and August was the third year the project took place with a total of twenty youth participants.