The transaction in which Sif Banat – Crișana bought the shares held by Doosan Heavy Industries & Construction in Doosan IMGB, was authorized by the Competition Council. The transaction, involving a land plot with an area of ​​540,000 square meters, the largest land plot ever traded in Bucharest, was brokered by Crosspoint Real Estate.
The deal, started and completed during the health crisis, with negotiations closed in less than two months, will generate one of the largest urban regeneration projects in Romania. "Although we are more selective with investments in the real estate market, this opportunity caught our attention immediately. We thoroughly analyzed the offer and we just as quickly came to the conclusion that it falls within the investment criteria we are looking for, a big factor in our decision being that we have the chance to be instrumental in the redefining of an important historical area of Bucharest. It is a complex project, especially because of its size, but we are confident that it will become one of the most important projects that our capital city will enjoy. We also want to thank Doosan for a very transparent and professional transaction process." said Bogdan Drăgoi, President of SIF Banat - Crișana.
The property becomes the largest traded land plot in the last decade on the real estate market in Bucharest - a real proof that the confidence given by investors and developers in the capacity of the local market has increased, especially in the current economic context.
"This transaction confirms the interest of some investors in unique assets, even if we are in a difficult period, affected by the pandemic, and discussions generally focus on price contractions, crises or other negative signals. It is an example of trust given to the local real estate market by SIF Banat - Crișana, an investor with a moderate appetite for this industry, but which validates the situation that in more difficult times there are opportunities and landmark transactions", says Codrin Matei, Managing Partner Crosspoint Real Estate.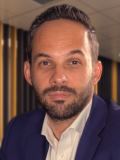 Codrin Matei
Managing Partner, Head of Capital Markets
Crosspoint Real Estate
Codrin Matei is co-founder and managing partner of Crosspoint. For more than 10 years he has been actively involved in the local and foreign stock markets system, having also acquired an extensive experience in the banking industry, while holding positions within BRD – Groupe Société Générale (corporate clients and high-end individuals). He has graduated from the Academy of Economic Studies, Bucharest, with a major in Business Management followed by a master in Investment Management at the same university. He is a certified Investment Consultant and holds a certification from London Business School on Corporate Finance. Between 2015-2017, he was part of the Global Advisory Board for Leading Real Estate Companies of the World (by-invitation-only network, present in over 65 countries, with 565 firms and 130,000 sales associates that transact annually ~ $368 billion).
More »
Banat - Crișana Financial Investment Company is a Romanian legal entity, incorporated as a joint stock company with wholly private capital and operates as a closed-end investment company with a diversified investment policy and is authorized, regulated and supervised by the Financial Supervisory Authority (ASF). SIF Banat - Crișana is self-managed and since March 2018 is authorized by ASF as an administrator of alternative investment funds (AFIA).