Czech developer Crestyl Group is the process of developing a number of large-scale mixed-use projects in the capital and beyond. Omar Koleilat, CEO of the company talked to Property Forum about Crestyl's development plans and shared his expectations for the Czech investment market in 2021.
Your Savarin project in the heart of Prague has received a lot of media attention in recent months. How's this development progressing? What is the timeline of the project?
We are very excited about the project and all its potential. We have involved the Heatherwick Studio in the design of the project, which is often praised for revitalizing abandoned spaces, so the Czech capital will gain a new, unique architectural masterpiece. Savarin is located right in the historical centre and is characterised by careful and delicate reconstruction of existing historic buildings in order to create a completely new public space with greenery, open space in the courtyard and commercial areas. The scheme will include a gallery for Alfons Mucha's Slav Epic as well a museum celebrating his famous art nouveau creations and will be further anchored by the famous Time Out Market.
Regarding the timeline, Savarin is now in the final stage of preparation. We have a valid building permit for the reconstruction and restoration of the historic Savarin Palace. We would like to start the reconstruction in the upcoming months, and it will take two years to complete it. In the meantime, we are also intensively preparing further construction and reconstruction of the remaining parts of the project. We expect the completion date to be a maximum of three years from the start of the construction itself which will depend on the issuance of all the permits.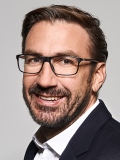 Omar Koleilat
CEO
Crestyl Real Estate
As co-founder of Crestyl Group, Omar envisions the company's business strategy, devises its financing and stick-handles investor relations. Omar is Czech and Lebanese and thus brings a mix of Middle Eastern flair and European precision to the company. With an education in the field of architecture and a British RICS graduate degree in real estate investment, Omar knows whereof he speaks. From partnering with GE on a €500 million investment to the creation of a stellar team of residential and commercial experts, Omar has been changing the face of the Czech Republic since 1998.
More »
Have you noticed any significant changes in the availability and price of real estate financing during the last 12 month?
Not really, we have not seen any significant changes. Banks are obviously more careful in any downturn, nevertheless, for that reason, they are rather favouring market leaders and clients they are accustomed to who have proven success.
What other projects, besides Savarin, are you currently working on?
We will soon complete Neugraf, a residential project with a cool design that I really like, located in Prague 5 within very convenient walking distance to the city centre. The project has a really special environment with its own garden, a relaxing roof terrace with amazing views of the whole of Prague, barbecue areas, exercise elements, benches and deck chairs. Very inspiring.
We also started construction of the new Hagibor district located close to the city centre next to Želivského metro station. It will combine residential buildings with offices connected by a central pedestrian boulevard with shops and restaurants and a square with a multifunctional cultural centre. We involved world-famous landscape architect Michel Desvigne who deals with the large public space, which makes up a quarter of the entire area. We are also preparing a similar mixed-use project in the centre of Brno, the second biggest Czech city. In general, with all our projects the overall living environment is the key added value for how we turn a good location into excellent addresses.
The Czech market has long been known for its lengthy permitting process. Has COVID-19 changed this in any way?
There is definitely an improvement on that front and we see all stakeholders working hard to resolve that issue in a constructive manner. I am an optimist on that.
What kind of investment and development opportunities are you looking for this year? What are your expectations for 2021 on the Czech investment market in general?
The Czech investment market was always low on supply, whilst its demand is high due to the general stability and robustness of the market. Therefore its pricing is not so volatile, and I do not expect that to change. We have seen several transactions during COVID-19 in various sectors all showing a yield compression and with interest rates staying low for some time and I do not see this trend changing. We feel that Prague should come much closer to Western Europe due to its economic strength, low unemployment and healthy public finances.
As for what Crestyl looks for, that has not changed, we always want our projects to have an edge. Either by being large enough so that we can create a full environment or by having something special like the views, locations or other just like Neugraf. We are definitely active on the acquisition front at this moment.