Given CPI Property Group's recent acquisition of Immofinanz and S Immo, the company is more focused on implementing its integration strategy, rather than necessarily looking at new acquisitions, says Mindee Lee, Board Secretary and Senior Manager of Corporate Strategy at CPIPG, in an exclusive interview with Property Forum.
You joined CPI Property Group – and the CEE real estate industry – in 2021, after having worked in investment management in various markets of Asia and Western Europe. How do you utilise the global perspective and experience you have gained in your current position?
The real estate sector is highly localised and every region, country, city, and sub-market within a city has its own specific dynamics that need to be understood to engage with that market. However, the fundamentals of dissecting a particular market are very similar globally. Over the years, I have been lucky enough to be exposed to different geographical regions and asset classes and have developed a framework to help me accelerate my understanding of a particular market. Keeping a pulse on the evolution of different markets provides me with new ideas and insights.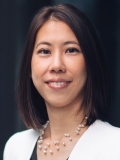 Mindee Lee
Board Secretary and Senior Manager of Corporate Strategy
CPI Property Group
Mindee Lee is responsible for Corporate Strategy for CPIPG and is also Secretary to the Board of Directors of CPIPG. She has over ten years of experience in real estate investment management and capital markets financing. Before joining CPIPG in August 2021, she led the UK & European investment and asset management functions of a hospitality-focused global real estate investment company. Before relocating to the region, Mindee worked in Tokyo with GIC Private Limited, the Singapore sovereign wealth fund, as an investment and asset manager responsible for a property portfolio spanning various sectors, including office, retail, hospitality, and logistics. At the beginning of her career, she was a capital markets originator at Deutsche Bank in Singapore, covering investment-grade sovereign and corporate issuers in the South and Southeast Asia region. Mindee graduated with a Bachelor of Economics (Hons) from the University of Queensland, Australia, and completed an MBA in Hospitality with École hôtelière de Lausanne.
More »
What are the biggest differences in how the real estate industry works and how we do business here in CEE compared to the other parts of the world you have worked in?
To me, the real estate industry is ultimately a people business, despite being invested in physical assets. Why is it a people business? Because, at the end of the day, each one of us is a user of the real estate we invest in, whether that is in offices, shopping centres, residential apartments, or hotels. Thus, the biggest differences are the people using those buildings and the cultures they exist in, and it is this that really drives those idiosyncratic market dynamics. From the relationships with tenants to how the assets are utilised by the local community, it is important to appreciate and respect the local culture.
What are your key priorities these days as Board Secretary and Senior Manager of Corporate Strategy of CEE's largest landlord?
The macro-environment in the past year has been very volatile and uncertain, stemming from geopolitical risks, inflation, and interest rate hikes, leading to an overall lower business confidence outlook. My key priorities involve assessing strategies to manage our asset portfolio – reallocation or rebalancing our asset and geographical mix – as well as plans to ensure the Group's financial position is maintained through any ongoing volatility.
During the last two years, CPIPG has significantly expanded its portfolio through acquisitions and takeovers. Could you provide us with an update on how the integration of the Immofinanz and S Immo portfolios is progressing?
CPIPG completed the takeover process of Immofinanz and S Immo in May and November 2022, respectively. Since then, CPIPG has achieved many milestones in effecting our controlling stake and driving these subsidiaries towards a more focused strategy in order to create value in the long run. Some of the changes implemented include changing the Management Board and appointing new Directors to the Supervisory Boards of both Immofinanz and S Immo. CPIPG has also assisted in the reshaping of the strategy and investment focus of each company, with Immofinanz concentrating on retail, while S Immo focuses on offices, and both have been disposing of lower-yielding assets and increasing their exposure to higher-yielding properties in the CEE region. In addition, to unlock more efficiencies and synergies, we are progressing with the combination of property and asset management teams and have established a framework to foster collaboration between the companies.
Due to the ongoing economic uncertainty, many investors are taking a "wait and see" approach right now. How does CPIPG look at new investment opportunities these days?
Given our recent acquisitions of Immofinanz and S Immo, we are focused on implementing our integration strategy, rather than necessarily looking at new acquisitions at this time. Of course, we remain open-minded to strategic opportunities and opportunistic acquisitions, but we are not in an aggressive acquisition mode at the moment.
The challenges of the last few years have encouraged many investors to rethink their asset class allocation strategies. Does this also apply to CPIPG? Are you planning to increase your presence in highly popular market segments such as logistics or rental housing?
CPIPG's property portfolio is predominantly office (48%) and retail (23%), as of 31 Dec 2022. In the office sector, we are invested in key cities in the CEE region where we have market-leading platforms, namely Berlin, Warsaw, Prague, Vienna, and Budapest. In retail, the Group is invested in retail parks and shopping centres, mainly in the Czech Republic but also in other CEE countries. Our retail park assets have proven resilient against e-commerce and were stable throughout the pandemic. Some people tend to view all retail assets with the same lens, but the reality is that it is a highly differentiated sector and retail parks in our markets have not faced the same issues as prime high street assets.
We are happy with our exposure to these sectors, which largely contributes to our highly diversified and granular tenant base. This has benefited us during the pandemic, and we continue to see the value of such a tenant mix in the current market environment. We also have a portfolio of rental housing, mostly in the regional cities in the Czech Republic and in Germany, which accounts for about 4.2% and 3.6%, respectively, of the Group's property portfolio. However, given the low-yielding nature of the residential market in Germany, we are not looking to increase our exposure to this segment and have executed some successful disposals in this sector from S Immo's portfolio. Overall, we are confident with our current portfolio mix and have no plans to shift this allocation materially.
Right now, CPIPG has a highly diversified portfolio in terms of geography as well. Are there any regions where you see a potential for further expansion? Is there anywhere we might expect to see disposals?
We have a market-leading position in the CEE region and have grown the business significantly in recent years. As a result, we have limited appetite for further expansion right now and are instead focused on ensuring our portfolio is aligned with our strategic focus on high-yielding sectors in the CEE region. The Group announced in August 2022, a disposal pipeline of €2 billion+ over to be executed over the next 12 to 24 months. A significant advantage we have is the high granularity and sector diversification of our disposal pipeline.
Finally, a question is more on the personal side. The real estate industry, especially in CEE, is very male-dominated, and we don't see enough women in leadership positions. What's your own experience working in the business?
While it is true that the industry has a higher proportion of men in leadership positions than it does women, there has been a lot of progress over the course of my career, and I find reasons to be optimistic for the future. For example, at CPIPG, women represented 57.5% of CPIPG's total employees, 64.5% of new hires and 37.9% of managerial positions at year-end 2022. One thing I have learned over the course of my career is that everyone needs to be ready to be their own champion and be ready to ask for what they want, whether that is about titles, compensation, responsibilities, or work-life balance. For me, the most important part of creating an inclusive workspace is to recognise someone for their holistic and authentic self, regardless of their gender.