Barbara Topolska, Country Manager for Poland at CPI Property Group has talked to Property Forum about the acquisition of Immofinanz, ESG contributions and the current financing conditions.
After taking a majority stake in the shares of Immofinanz in 2022, CPI Property Group now manages two real estate portfolios in Poland. This consists of 49 office, retail and hotel buildings, with a total area of more than 750,000 sqm and a value of €2.6 billion. How does one manage such a gigantic portfolio?
Indeed, in a short period of time and during very challenging market conditions, we have managed to build an impressive portfolio. Currently, we own the largest office portfolio in Warsaw and are one of the most serious players in the retail market in Poland. Last year, after taking a majority stake in Immofinanz, CPI Property Group also became the asset manager of their portfolio. This year, we introduced an owner-management model in both the retail and office properties of Immofinanz. We are characterized by scale, diversification of offerings and a practical approach to running the business. Scale is, of course, the size of the portfolios - both office and retail. Our 24 office buildings are located in the most popular and attractive Warsaw locations. We are able to offer offices to companies of all sizes and to all types of organizations, including corporations, medium- or small-sized businesses and government institutions. We can always offer fully flexible and suitable conditions within the assets we own, including relocation. The same is true for retail – with facilities in 20 cities in Poland, we are a serious partner for tenants who want to develop their business in a variety of formats. Our ownership approach is also an advantage. We manage our properties on a daily basis, and we know them very well. We also know our tenants very well and are in daily contact with them, responding to their needs on an ongoing basis. With such a demanding market, relationships with our partners are key to the further development of our business in Poland.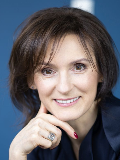 Barbara Topolska
Country Manager for Poland
CPI Property Group
She joined CPI Property Group in 2018 as Country Manager. Previously, in 2016, she joined Multi Corporation as the Managing Director of the CEE region, responsible for 7 key markets: Poland, Ukraine, Czech Republic, Slovakia, Hungary and Latvia, with a portfolio of 380,000 sqm of retail and office space. For over 13 years at Neinver, she developed and managed a real estate portfolio of 580,000 sqm with valued at €2 billion, located in Poland, Czech Republic, Germany, Netherlands, Spain, Portugal and Italy. After graduating from the Jagiellonian University (Faculty of Biology, Geography, Mineralogy and Geochemistry) and the University of Chicago, Graduate School of Business, she also obtained an MBA title from the University of Minnesota. A member of the International Council of Shopping Centers and Jury Member at ICSC Global Awards. Since March 2019, a member of the supervisory board of YIT.
More »
You recently signed a €288 million secured loan with Aareal Bank for three office properties in Warsaw - Warsaw Financial Center, Eurocentrum and Equator IV. How do you plan to invest these funds?
We will use the proceeds to repay other debt obligations of the Group, in support of our strong liquidity profile.
What impact might the so-called "energy crisis" have on the market? Do rent increases in office buildings seem inevitable?
Electricity is just one element affecting the cost of building operations, although the new price caps introduced in July are a ray of optimism for us and for the market as a whole. In Poland, the challenge is inflation, along with the ever-increasing cost of building materials or the minimum wage. These are factors that have a realistic effect on a property's budget. As I touched on earlier, our market position provides us with opportunities by allowing us to effectively negotiate the terms of cooperation. We are a large, significant partner and – with our scale of operations – we can properly manage maintenance costs. Of particular importance is the everyday management of real estate. Once again, we simply know our buildings and we put a lot of energy into maintaining them properly so that they are attractive and tenant-friendly. We recognize that the issue of building and office maintenance costs is crucial for our partners, both in the office and retail segments.
In the post-pandemic era, the attention of consumers and investors is increasingly shifting from classic shopping centres to smaller convenience facilities. I understand that you will be further developing the City Market brand?
We are currently developing two brands. In addition to City Market, we also have the StopShop chain. The Vivo!, Ogrody and Orkana shopping centres are in our portfolio, as well. This gives us a broad picture of the market, along with insights into tenant expectations and consumer behaviour. Above all, we observe that shopping centres are rebuilding their position and performance after the pandemic period. Of course, Polish customers are cautious, spending money very rationally and looking for bargains, but this is natural behaviour given the current economic situation. On the other hand, we are seeing consistent tenant interest in our centres. In the first six months of this year, we signed a total of 79 leases, 59 of which were specifically extensions in shopping centres.
We clearly see that retail parks are not losing popularity. However, I think that we are approaching full saturation in this market segment and that only a few projects – those that are in very well-chosen locations, and which are well-commercialized – will have a chance to succeed.
ESG is a buzzword that in recent months has been everywhere in industry discussions. What do these three letters mean to you?
For us, this is one of the main elements for building long-term corporate value. At CPIPG, we have established a special group to implement and promote activities in the environmental, social or corporate governance areas. An example of our commitment is the ambitious goal of reducing the intensity of greenhouse gas emissions by 32.4% by 2030, across all of the emission bands, 1-3. The original target, set in 2019, was for a 20% reduction, but we have raised the bar, aiming for an even greater number. Contributing to this is, among other things, a significant increase in our efforts to purchase green energy that comes with a guarantee of origin. Another example of our commitment is our involvement in local associations of Green Building Councils, where we have representatives on the board in both Poland and the Czech Republic. The social aspect is also extremely important, in the corporate and social contexts. We actively engage in activities aimed at improving infrastructure, such as making our buildings more accessible to the disabled or investing in modern CCTV monitoring systems. Building and strengthening relationships while taking care of the well-being of the employees in our facilities is a major goal in the purely social area. There are two programs in place for the employees of the office buildings managed by CPIPG in Warsaw – OfficeME (in CPIPG portfolio office buildings) and myhive (in Immofinanz portfolio office buildings).
Do you expect changes in financing conditions in the near future?
For the real estate sector, a stable market situation is important. Currently, the main problems in real estate financing are interest rates and fluctuations in spreads, which are making it difficult to finalize contracts. We also talk about high margins, but for today's investment market, the most difficult thing is its volatility. We need to know their level and then we can adapt to certain events. Inflation in Poland fell to 11.5% in June. It remains in double digits but with a downward trend. Annual rates of change, however, have a "long memory" and, in the case of CPI, they still take into account the effects of the shock from the Russian aggression. What is important, however, is that the value of the basket of consumer goods and services for the average household has not changed since April. As a result, the Monetary Policy Council announced the end of the interest rate hike cycle. Recently, secured bank loans were signed in the three countries where CPI Property Group operates – Poland, the Czech Republic and Slovakia. We appreciate the banks' appetite for loans in our geographic regions and market segments. However, I am convinced that financial institutions are, and will continue to be, betting on mature partners for whom green policy issues are one of the priorities for action. During the negotiation process, we presented detailed ESG strategies for our individual office buildings, which met with great interest and favour from banks.