Anna Duchnowska, Head of Asset Management Europe at Invesco Real Estate talked to Property Forum about investing in property in the times of pandemic, the new segmentation of the real estate market and likely changes in financing conditions.
The beginning of the year is a usual time of summaries and recaps. How did the year 2020 and the COVID-19 pandemic affect the activities and plans of Invesco in Europe?
First of all, a general reduction in European investment activity by c. 25% y-o-y has been seen in 2020, according to the latest numbers from Real Capital Analytics. This was of course also influenced by the COVID-19 lockdowns and the subsequent inability to visit properties which led to very low transaction volumes especially in mid-2020. That said, the CEE region saw a reduction by just c. 15% y-o-y, therefore faring better than some other parts of Europe.
The challenges caused by COVID-19 naturally have also influenced Invesco Real Estate's activities during 2020 and shifted our focus even more on active asset management of our existing properties. Close communication and coordination with both our tenants as well as our investors with the greatest level of transparency and speed, in an environment of elevated uncertainty about the future outlook, was our key objective in 2020. This approach helped us in successfully navigate through the pandemic so far, and in securing rental income collection of our managed assets. We engaged in a very constructive manner with our tenants in order to agree sustainable solutions for all parties.
Regarding our plans, Invesco Real Estate continues to pursue the "right" investment opportunities, in particular in logistics and residential on pan-European level, where we are successful for both existing mandates as well as with new investment vehicles.
So, can we expect a mass withdrawal of investors from retail and hotels and their migration to warehouse and residential real estate?
The retail sector needs to be segmented in our view. The convenience sector, so called Fast-Moving Consumer Goods (FMCG), which are commonly generating c. 50-55% of physical retail turnovers saw a relatively positive development in 2020.
On the other hand, mass-market fashion and shoes, the segment classically dominating high streets and shopping centres, came under massive pressures as a result of the lockdowns. In that respect, COVID-19 was a further catalyst of the changes in the retail sector already seen in past years, with the rising market share of e-commerce in most of the retail segments. This trend has been one of the key factors fuelling the high demand for logistics space.
Interesting to note from our perspective is that the luxury end of the retail market also has shown a more positive development than the mass market segment. These asynchronous developments are also reflected in investor demand: while food-anchored retail and logistics properties saw stable to declining prime yields during the course of 2020, shopping centres and high streets remained under upwards pressure, as potential further corrections, especially in terms of rent levels and more flexible lease contract parameters appear to be likely for such real estate products also in 2021.
For hotels, travel restrictions of course impacted significantly on the number of overnight stays across the board. That said, in our view, this as not a lasting structural shift in demand, but rather a temporary turbulence, and as soon as travel restrictions are lifted and once higher immunization rates are reached, that demand shall return fairly quickly– firstly for domestic/intra-European, leisure travel, followed by international and business travels.
With regard to the residential sector, we have been active in this sector already for several years. The sector is very attractive because of its resilience, granular income characteristics paired with high demand for modern stock, especially in economically strong, growing urban regions across Europe. The resilience of the residential sector has also been reinforced by COVID-19, which gives us comfort that we are in a good position to continue our successful performance there on a pan-European level.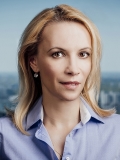 Anna Duchnowska
Head of Asset Management Europe
Invesco Real Estate
Anna Duchnowska has been heading European Asset Management division of Invesco Real Estate and a team of 28 professionals located in 7 offices in Europe. Invesco Real Estate manages ca. €13 billion of commercial and residential assets across 13 countries in the EU and UK. Anna is responsible for driving strategic initiatives for asset management, she is also a member of the European Executive Committee. She has 20 years of professional experience in the field of real estate asset management, investment, leasing and finance. Prior to joining IRE, Anna worked for Colliers International, AIB Polonia Property Fund and KPMG. Her professional qualifications include an Executive MBA from the University of Minnesota. Anna is a Fellow of the Association of Chartered Accountants (FCCA) and a Member of the Royal Institute of Chartered Surveyors (MRICS).
More »
What about the future marketability of office assets? Despite all the optimistic forecasts, this market is about to undergo many deep changes in terms of working organization, demand etc.
For corporate office occupiers, COVID-19 certainly has turned to be a significant disruptor, and the implementation and acceptance of remote working has been boosted. That said, we believe that offices will remain an important element for companies, due to various corporate and social aspects. Notably, the use of office space will change, collaboration focused space concepts are likely to dominate, different densification levels and ESG, social and overall wellbeing criteria clearly gain importance.

We therefore believe that well located, modern, flexible office product with excellent connectivity and amenities as well as strong ESG credentials will continue to perform well. Evidence thereto is in the prime office yields remaining stable throughout 2020 in mature Western European office markets, even with some selective, minor inward shift as a consequence of so called "flight to quality" approach. This was visible in a few German markets or in central Paris – markets which additionally have a strong domestic investor base, unlike certain markets in Central and Eastern Europe.

On the reverse, secondary product in commodity locations with poor public transport connectivity appear most at risk of reduced demand, which also indicates increasing polarization within the office sector.
CEE countries are getting more and more popular among investors from Far East and Asia in the recent years. Why is that?
Central European markets generally show comparatively attractive macroeconomic fundamentals compared to Western Europe. The pandemic has not damaged national GDP to the same extent as in Southern Europe. More so, short-term growth prospects are more positive, thus helping absolute GDP bouncing back to pre-crisis levels relatively quickly, while unemployment continues to show very low levels. Paired with the fact that some yield premium compared to the major, mature Western European markets still can be achieved, while rents for commercial real estate commonly are denominated in euros, this presents a clear point of attraction for overseas investors who are looking for some higher return.
Do you expect any changes in financing conditions in the coming year?
We do see that general real estate market trends are also reflected in financing conditions. While sectors like non-food retail and hotels are eyed with more caution, stabilized office, residential and logistics product can be financed at attractive conditions.
That said, banks also became clearly more selective in their relationships and risk assessment and monitoring have increased. All that leads to a more careful stance towards speculative developments, which might put some project developers under pressure. Hence alternative means of raising debt are becoming more and more interesting.
Can you tell us a little bit about Invesco RE's European plans for 2021?
Our strategy has not changed as a result of pandemic. We have been always focused on driving the performance of our portfolio to maximise the benefit for our clients. COVID-19 has only proven the strong investment and management capabilities of our teams across Europe.
Going forward we will focus even more on the resilience of our portfolio and the ESG performance, which became an integrated part of our investment decision and thus is subject to much greater scrutiny. Our key objectives include reduction of real estate carbon intensity and energy intensity. The focus remains on building quality and overall social and physical wellbeing. We continue to engage with our stakeholders to ensure we improve our ESG performance and meet our ESG targets. In the end, our clients, our tenants and partners as well as we ourselves will benefit out of the above.