Colliers International is extending its range of services dedicated to investors. Dorota Wysokińska-Kuzdra has joined the company where she will head the new Corporate Finance CEE department as a Partner. The new business line will provide advice on customers' financial needs, including debt financing, mezzanine financing, raising capital and gaining capital partners, and also offering support in acquiring companies and entering the stock exchange.
"In line with our strategy we offer customers an integrated platform of services to support them at every level of business decisions. As part of our investment platform we could not have ignored finance advisory. I am sure that Dorota's 20 plus years of experience in real estate, finance and banking will create added value for our customers, and her competences gained in management positions will help to lead the new team," says Monika Rajska-Wolińska, Managing Partner of Colliers International in Poland.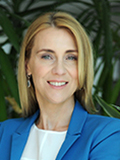 Monika Rajska-Wolińska
Managing Partner, Poland
Colliers International
As Managing Partner for Poland, Monika is responsible for the strategic and operational activities of the company. Monika has 20 years of experience in the real estate sector. She is a member of RICS, the CEO Round Table, Young Presidents' Organization and Women Leadership in Business Foundation. Monika's passion for real estate and her focus on providing a complex and tailored service to clients has been recognised among market professionals. In April 2015, Monika was named Professional of the Year in the prestigious industry competition the CEE Quality Awards co-organised by the Financial Times. Monika is one of the twelve members of the Colliers EMEA Board, which determines the company's strategy in Europe, the Middle East and Africa.
More »
"I am delighted to join the company, which focuses on helping customers to receive integrated support adjusted to individual needs, such as those of financial nature – bank borrowing or raising capital. Our customers are global companies, which is why the Corporate Finance advisory will operate not only in Poland but throughout the entire CEE region. We will offer our services in cooperation with the local Colliers offices," says Dorota Wysokińska-Kuzdra, Partner, Director of Corporate Finance CEE department at Colliers International.
At the beginning of September, Dorota Wysokińska-Kuzdra took up the position of chairperson in the Polish branch of the Urban Land Institute – the international non-profit organisation that supports responsible planning and developing of cities, which functions as a platform of knowledge exchange between experts and participants in the real estate market, both in Poland and abroad.
Before joining Colliers International, Dorota Wysokińska-Kuzdra spent 11 years as Senior Partner at Griffin Real Estate, where she was responsible for the Group's management and investments, and also for the first mezzanine fund operating in Poland. Recently, she has been involved in the creation of a logistics platform co-managed by Griffin. Earlier, as CEO at Griffin Premium RE, the first REIT fund, she successfully launched the fund on the Warsaw Stock Exchange. She was a member of the team responsible for acquiring shares in Echo Investment SA, one of the biggest transactions on the Polish real estate market, in which she was responsible for due diligence and financing the acquisition. Before joining Griffin, for over 10 years, she held director positions in the HypoVereinsbank/UniCredit Group, and also in their subsidiaries, monitoring real estate investment banking and managing real estate. Dorota Wysokińska-Kuzdra has graduated from SGH Warsaw School of Economics, the University of Cologne and the University of Duisburg-Essen.