One of the main advantages of working in an office is the opportunity to be around colleagues. Social interaction in the workplace is known to boost creativity and productivity which is why companies are focusing on providing employees with more space for socialisation and teamwork. As post-Covid working habits are still rapidly changing and the reorganisation of corporate headquarters takes time and money, many employers are providing their employees with the opportunity to work from flex offices, according to market feedback gathered by CEE-based operator New Work.
The sudden switch to remote working in response to the pandemic has often resulted in a significant increase in productivity when it comes to individual work. The same cannot always be said for teamwork, however, as anyone who has suffered through unproductive Zoom meetings filled with connection issues can confirm. Working from home, employees often feel isolated and disconnected from their team, so it's no surprise that most of them don't want to work from home full-time going forward.
A collaborative work environment is proven to foster more brainstorming, innovation and connectivity among team members. Additionally, it can improve both company culture and employee experience. Having realised this, employees are looking to create more agile and collaborative workspaces for their employees, while at the same time taking into account the increased need for flexibility in terms of work location.
As the reorganisation of corporate headquarters takes time and money – both luxury items in today's uncertain economic environment, an obvious option for corporations is to partner with flex office providers. Some of the advantages of flex offices are their fast set-up (many of them are available to use as early as the next day), the lack of fit-out and utility costs and the flexible leasing terms. For example, with New Work's "Space in the Cloud" service, tenants can reduce their core space commitment by up to 50% and cover the peak loading factor with cloud services.
Another advantage of using flex offices can be their location. While corporate headquarters are located in one certain part of a city which might not be desirable for all employees, flex office providers usually operate several locations within a city that tenants all have access to. Having the option of being able to choose from different locations for a team to come together might make even those team members that are reluctant to leave their homes come to the office. Additionally, this practice can decrease the need to travel which not only helps create a better work-life balance for employees but ultimately decreases the team's operational carbon footprint. Furthermore, flex offices usually offer all-inclusive amenities and additional services such as concierge services which once again helps contribute to the better work-life balance of employees.
It's important to note that collaboration happens not only between members of the same team and different company departments but also between workplace locations. Therefore, today not only do work regimes need to be hybrid, workspaces too. Office space must be able to integrate people from other locations (for example employees joining a meeting virtually), so providing them with a technology-oriented space designed in a way that they can do their best work is vital.
Co-working or flex offices?
Some people may automatically equate collaborative workspaces with coworking spaces. However, in traditional coworking spaces, employees from different companies share the same space. That, of course, might inspire collaboration, especially in the case of smaller companies, but most corporations would rather focus on maximising collaboration among their own employees.
Luckily, flex offices these days have evolved beyond this. While they still provide a welcoming environment for individual entrepreneurs and small companies, they are also ready to cater to the needs of large corporate clients by providing them with flexible terms and a wide variety of amenities.
"Besides the obvious increase in productivity, a collaborative workplace can lead to increased employee satisfaction, better space utilization, costs savings and better ESG compliance," summarises Hubert Abt, CEO and Founder of New Work and workcloud24.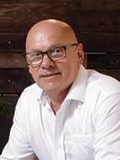 Hubert Abt
CEO
New Work & workcloud24
Hubert Abt has been working in the real estate industry for over 30 years. He worked as a developer and later in the land banking sector and provided equity and Mezzanine capital for various real estate projects. In 2012, he founded New Work Offices in Budapest, which provides various flexible office solutions. Since then he developed the business model further and grew the company to today 16 locations in 3 countries with approx. 46,500 sqm which brings New Work Offices in the top 3 list in CEE. Hubert now leads the company as CEO while focusing on investor relations and developing new products like New Work´s Franchise Package or The Digital Office Pass of workcloud24 where he acts as Founder and CEO as well.
More »