Markets are expected to remain subdued in H1 2023 due to the negative sentiment in the economy, the significantly higher financing costs and the subsequent pricing correction that is currently playing out in both CEE and many other global markets, reveals a report by Colliers.
CEE investment volumes by country
At ca. €10.7 billion in 2022, CEE investment volumes were down just 3.3% year-on-year, but more than 20% lower than pre-pandemic levels. These volumes exclude M&A activity and forward purchases. While difficult to predict, Colliers currently estimate that year-end volumes could reach anywhere between €7.0 and 10.0 billion for 2023.
CEE investment volume growth rates
Poland recorded a 55% share of 2022 volumes followed by the Czech Republic and Romania with 16% and 12% respectively. Bulgaria, Romania and Slovakia all see year-on-year increases in volumes, with the Czech Republic, Hungary and Poland all recording a mild slowdown, in line with many other markets across Europe.
Q4 2022 prime yields & 12 month forecast
Josefina Kurfurstova, Research Analyst for the Czech Republic & CEE at Colliers explains: "While there has been an overall lack of prime transactions to gauge new benchmarks, we have moved yields further outwards by as much as 100 bps, in some markets, compared to only 12 months ago. We cannot rule out further shifts and with the ECB having recently moved its key rate to 3.0%, meaning all-in financing costs can now reach north of 5.0%. With prime yields in early 2022 having been at or below the current higher debt costs, there will naturally be a period of mismatched expectations on pricing between buyers and sellers".
CEE flows by sector
The office sector dominated 2022, with 38% of volumes. Retail and industrial followed with 27% and 26% respectively. There were 10 large single asset or portfolio transactions that traded throughout the year, each above €200 million, across these three sectors and accounted for ca. 31% of the regional investment volume.
CEE flows by origin of purchaser
CEE-6 domestic capital has been the most active in 2022, with an impressive 38% share of total regional volumes. In particular, Czech (18.7%), Hungarian (7.6%) and Romanian (6.0%) capital have been behind these strong numbers.
This was followed by European (21.5%) and American (20.5%) capital. South African and, to a lesser extent, Middle Eastern capital has also been more active with a combined share of ca. 12%. Investors from APAC, typically Chinese, Singaporean and South Korean capital, have been very quiet in 2022.
2023 outlook
Silviu Pop, Director, Research Services for Romania & CEE at Colliers says: " As we look ahead into 2023, our key predictions suggest there is some mild optimism over economies stabilising throughout the year, but there is a way to go to bringing inflation under control, bringing interest rates down and the cost of debt with them. After all, when the cost of borrowing rises above or close to prime yields, it is not surprising that transaction volumes have slowed down. Geopolitics and climate change will continue to dominate the headlines, alongside the ever-increasingly urgent need to address ESG in the property sector. Still, there are numerous opportunities across all market sectors in CEE and these will continue to emerge, along with the need for market players to adapt or pivot, as several or all of the above factors develop. Industrial and logistics remain in high demand along with the much-needed changes in the various living sectors, to name a few".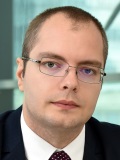 Silviu Pop
Director | CEE & Romania Research
Colliers
Before joining Colliers in mid-2017 as Head of Research for Romania, Silviu Pop worked with ING Bank for close to three years as an economist, covering macroeconomic/financial market themes for Romania, Bulgaria, Serbia and Croatia. As of 2022, he holds the position of Director of Research for CEE and Romania, helping weave the narrative and wider view regarding macroeconomic and real estate topics in the CEE region.
More »
Office & industrial vacancy & 12 month outlook for CEE capitals
Office vacancy rates in most CEE capitals are slowly stabilizing, following a rise into double digits during the pandemic, as both supply and demand adjust. Partially as a result of higher construction costs and low availability in some of the most sought-after locations, we are also seeing some increased rental levels, especially for newly developed buildings, but also some increases in tenant incentives, partially reflecting rising fit-out costs. Furthermore, we expect to see rental rates rise across the board as a result of inflation, and as rents are typically Euro-denominated, they are indexed to the Eurozone CPI.
Industrial & logistics (I&L) vacancy rates in the markets around the CEE capital cities have continued to remain low, averaging under 5%, as the sector enjoys good levels of demand that often outstrips supply in the most sought-after locations. For reasons even more pronounced than offices, I&L rents have grown across the board year-on-year, and quite significantly in some cases.