Polish developer Cavatina Holding, which has been active in the regional cities of Poland, has recently announced plans to go public. Rafał Malarz, CEO of the company talked to Property Forum about investing in large mixed-use projects, the future of the PRS sector in Poland, possible changes in the retail and office markets and shared some details about the upcoming IPO.
With the major projects of Widzewska Manufaktura in Łódź, Quorum in Wrocław, it looks like the pandemic hasn't slowed your business down at all.
It's true. In fact, 2020 was a record year for us. As per our plans, we implemented projects and launched new ones. Construction of the two projects you mentioned began at the end of last year. It was also a good year for us in terms of sales transactions and lease agreements. Apollo-Rida funds purchased buildings A, B and C in Equal Business Park in Kraków, and Madison International Realty purchased 65% of shares in the Chmielna 89 investment in Warsaw. This meant that Cavatina Holdings claimed a 10% share of office transactions on the Polish market in 2020. So far, we have completed the construction of office buildings with an area of over 180 000 sqm. However, we are certainly not resting on our laurels, because in the next few years we plan to launch projects with a total area of over 450 000 sqm.
In addition, we have ambitious plans for this year, and we are already beginning to implement them. Of course, we closely analyze the market and any changes that are happening. We operate mainly on regional markets, which we believe will provide attractive rates of return. Our investments have put us in a good position to take advantage of a highly likely supply gap. Some developers took a very cautious approach toward new investments in the previous year, and as a result space under construction currently stands at a five-year low. Cavatina Holding, on the other hand, has not slowed down at all. 2021 will be a big challenge, but it will also be a year of opportunities, which we intend to make good use of.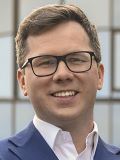 Rafał Malarz
CEO
Cavatina Holding
Rafał Malarz, CEO of Cavatina Holding, is a graduate of the Faculty of Law and Administration of the University of Silesia in Katowice and a legal advisor. He has been working in the development and construction industry since 2013. He has been with the Cavatina Group since it started.
More »
In recent years, Cavatina Holding has been more active in the mixed-use sector, illustrated by Ocean Business Park in Kraków and Palio Office Park in Gdańsk. Why did you decide to focus on mixed-use investments?
Some time ago, we added office projects located within mixed-use developments to our portfolio. We already have three such developments under construction, namely, the aforementioned Quorum and Widzew Manufaktura, as well as Global Office Park in Katowice. They will provide the market with approximately 175 000 sqm of GLA, as well as over 1 500 apartments for rent which will be part of these three developments.
In 2021, we are going to construct more buildings with a range of functions, tailored to the needs of both tenants and the local communities. Such urban renewal projects, taking into account the specificity of the place and its surroundings, are in the best position to respond to the changing expectations of residents in regional cities. And flexibility is an important asset in today's world. With these types of projects, Cavatina Holding acts as a developer of office space, while the residential parts are developed jointly with Resi Capital S.A. Group - a fellow subsidiary - which will ultimately act as the developer. We believe that the location of our office buildings within mixed-use complexes will have a positive impact on their commercialization rate and return on investment.
Large mixed-use projects in post-industrial areas – as is the case with Widzewska Manufaktura - are probably the most complex and challenging developments. What does it take to make it a success? How does one create a vibrant residential and commercial city quarter?
Each local market has its own characteristics and needs – there is no set template for this type of investment accordingly. Widzewska Manufaktura - a post-industrial complex - is an important part of the city for the residents of Łódź. This area has been neglected for years and has not been fully exploited. However, the location of this investment, which is well-served by road and public transport but is situated outside the city centre, has a lot of potential when it comes to urban renewal projects. More and more often, residents of large cities want to organize their daily life in such a way that they do not waste time commuting. That is why this project has a combination of office buildings, apartments to rent as well as recreational and cultural amenities. We have great respect for the historic park and the cultural initiatives which were previously undertaken in this location. So we want to use this potential by offering the residents of Łódź a place where they can either live, or come to work, and are able to relax during the day or after office hours. We take a bespoke approach to every single one of our multifunctional investments.
Did the COVID-19 pandemic force a change in plans regarding retail spaces in your mixed-use investments?
The service/retail aspect complements our projects and is an important element in building functional, user-friendly places. Thanks to our operating model, in which we have accumulated competencies necessary at each stage of project development and commercialization, we can confidently adjust to changing circumstances. Our in-house interior design and workspace departments are able to efficiently adapt the space to the needs of various tenants. We have not changed our plans regarding the size of the retail areas. Of course, we anticipate that the proportions between different types of services that are interested in the lease may change, as well as the way in which space is arranged.
What about office space? Do you believe that the current, pandemic-driven popularity of the working from home (WFH) model is only temporary and that the demand for office space will return to pre-pandemic levels?
The pandemic has shown that, when necessary, it is possible for a while to operate, at least in some businesses, in a WFH model. However, for companies, the office will always be at the centre of the work organization. After a few months of the home office, many people longed to return to the company office. It is harder to conduct workshops remotely or, for example, to introduce a new employee to the organizational culture. Not everyone is able to separate their private and professional lives while working from home. Perhaps the hybrid model will become popular to some extent, but employers will still provide comfortable office space so that employees have a real choice for when they want to work from home or in the office. The scale of leasing will depend on the selected operating model, but globally not much will change. Companies that have already chosen this form, or were close to implementing it, will probably exclusively work in a WFH model. We also assume that some new companies will operate in the cloud from the beginning, but this will only be a small percentage of global workplaces, with this number being even smaller in Poland. However, for most companies, well-designed, flexible offices will be the predominant solution.
As a company which is very active in Polish regional cities, we observe the development of business and IT service centres. For these companies, data security and teamwork are crucial. They are increasingly becoming key tenants in our investments. For example, let me remind you that at the end of last year we signed a contract with ING Tech Poland for over 16,600 sqm of space in Global Office Park in Katowice. This company plans to employ as many as 1,500 people in Warsaw and Katowice by the end of this year.
Cavatina bets on regional markets, in contrast to other large commercial developers, which are usually embedded in the Warsaw market. How can you explain the strategy that your company has adopted?
We come from one of these regions. We understand very well the specificity of each city in which we operate, and we observe there is still a great deal of potential for development. We believe that these markets will be an increasingly important asset for the Polish economy. One of the sectors that is driving this shift is business services, which have rapidly expanded over the last decade in Poland. In the regions, this industry's success has led to the emergence of a well-educated middle class that works in sectors based on knowledge and modern technologies. Universities, located in academic centres such as Wrocław, Kraków and Łódź, provide high-quality specialized education. This is a kind of professional and social redistribution because historically corporate business was monopolized by Warsaw with only a few large international companies having their offices located in other cities. Now such giants as Shell, Google, ING, ABB, E&Y, Fujitsu, BSH as well as many other companies, employ tens of thousands of specialists in Kraków, Wrocław, Łódź, Gdańsk and Katowice. Polish regional cities will further close this office market gap with the capital. Already more than 30% of transactions (€672 million) for the purchase and sale of office buildings in Poland, took place in these cities in 2020. Half of the country's modern office space is located in eight regional cities outside of Warsaw. We are now entering the next stage of decentralization of global business, triggered by the need to optimize, the drive to cut costs and the search for talent in new markets. Regional cities in Poland will definitely benefit from this and will be included in the relocation and transformation strategies of many global organizations.
Resi Capital is your new entry into the PRS market. By the end of 2022, you plan to have an extensive base of 2200 apartments for rent. Why do you believe in this market?
As I said, Resi Capital is a sister subsidiary, and has the same beneficiaries and operates in parallel with Cavatina Holding. We deal with office projects, they deal with apartments for rent. Together we create new, functional city quarters and can more fully respond to the changing needs of a city's residents. Cavatina Holding Group keeps its focus on the office business, which in our opinion, is traditionally the most stable market. However, the PRS is a market that is "on the up" in Poland.
In general, the residential segment has proved to be robust in our country. Statistics show that apartments are holding up very well and financing for this purpose continues. In the six largest markets, housing sales in 2020 exceeded 53,000, down only 19% y/y, which is a good result given the organizational challenges that Poland's housing market has had to face. Moreover, the market has seen virtually no price changes, making its performance on par with the best years of the housing industry.
On the other hand, there is a growing number of people who want to remain independent, do not want to tie themselves down to a place with a loan, or do not have savings for the required deposit. Instead, they want to fully enjoy the attributes of the city and are interested in long-term renting. Additionally, this type of investment enjoys growing interest from investors - so there are many arguments for entering this market. Resi Capital, as a partner of the newly established Rental Market Foundation in Poland, whose aims are to create conditions for stable, professional, and secure tenancy, is one of the companies that has developed the PRS segment in Poland and co-created standards in the sector.
You have recently submitted an issue prospectus to the Polish Financial Supervision Authority in connection with a planned initial public offering of shares (IPO). Why do you want to go public on the Warsaw Stock Exchange at this particular moment?
Our plans for the coming years require capital, and we are currently diversifying sources of financing. The company is currently diversifying its resources. The IPO is, after the debut of our bonds on the Catalyst bond market in January of this year, another important step in the development of Cavatina Holding which increases our visibility and transparency for investors. In just a few years, we have built a strong position in the office real estate sector, and the current market situation has created opportunities that we intend to exploit.