Hungary's rental property market had an uneven month as prices were on average 5% lower than a year earlier according to the joint Rent Index of the Central Statistical Office (KSH) and real estate portal ingatlan.com. Rents were down 0.7% compared to August in Budapest in September, the last month of the season, while prices in other regions in Hungary remained level.
Measures introduced to slow the spread of the coronavirus may result in even lower prices in university cities as higher education is moving to the virtual space, the report said. Meanwhile, university and college students who are working will be looking to rent apartments as dormitories have been closed down and will have a record-large selection to pick from.
"In Budapest, the 10 to 15% year-on-year decrease appears to have stabilised, while rents in other parts of the country are largely the same as a year ago," Lászó Balogh, Chief Business Expert at ingatlan.com, said on the latest results, adding that newly introduced measures to slow the spread of the virus may affect rent levels before the end of the year.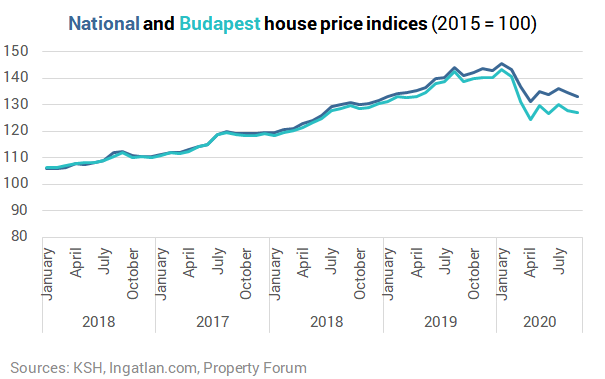 Coronavirus determines rents in 2020
"September always brings a new era in the rental property market as the summer rental season ends and the school year begins, and this period has always brought a rise in rents in previous years. This year is unique due to the coronavirus pandemic, which has made the market unpredictable and volatile," Balogh said.
Higher education is again moving to digital in November, which means many students will move home, further increasing the already record-high supply of housing for rent, and this increase in supply will certainly lead to a further drop in prices through the end of the year, Balogh said.
According to Balogh, the winners in this situation will be university students who are moving to rented properties as dormitories close, because they will have a selection of more than 14,000 properties in Budapest and 21,000 nationwide to pick from. Supply in Budapest rose 62 compared to September 2019, while the national supply of rental property, including other university cities, was 42% higher than a year earlier, the KSH-ingatlan.com report said.
Budapest rents reminiscent of 2017
Apartments for rent in Budapest were offered at HUF 140,000 a month on average in September, 15% less than before the coronavirus pandemic.
The last time the average rent in Budapest was lower was in November 2017.
Prices in other university cities remained largely unchanged from a year earlier, averaging HUF 110,000 in Debrecen, HUF 100,000 in Győr and HUF 90,000 in Pécs. Cheaper locations included Eger (HUF 90,000 average rent), Miskolc (HUF 84,000) and Nyíregyháza (HUF 80,000), the survey found.