According to Antony Slumbers, one of the keynote speakers of Budapest PropTech Forum 2019, the impact of artificial intelligence (AI) is probably larger than that of electricity or the steam engine. In the world of real estate, AI can make the design, construction, management, lease and sale of buildings much more efficient.
AI can be used for perception (understanding the world based on sensory input), communication (recognising speech and processing language), knowledge (aggregating, synthesising multiple datasets or streams), reasoning (application of logic) and planning (setting goals and how to achieve them). AI optimizes systems, recognizes processes and makes predictions. It doesn't tell us what to do but it can adequately calculate the probability of every possible outcome.
The trinity of transformation – the huge increase in data, the huge increase in computing power and the huge advance in algorithms deep learning – guarantees that AI will evolve and transform our lives more quickly than we can imagine.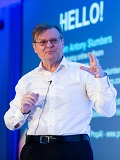 Antony Slumbers
Co-Founder
PropAI
Antony Slumbers has been a software development and technology strategist in commercial real estate since 1995. Now he consults and works with real estate boards on Transformation, Technology and Innovation. He is a regular international speaker on ''Space As a Service', AI and Innovation'. Antony ranked as No 7 in Duke Long's Top 10 Most Influential Online Commercial Real Estate People 2018 and No 3 in Lendinvest's PropTech Power List 2017. He is a member of the Leadership Board of CRETech, mentor at MetaProp RE200 and No 1 ranked non US commercial real estate blogger. Antony is a well known speaker in property and he is a globally recognised expert on PropTech, and #SpaceAsAService.
More »
Antony believes that AI will augment humans rather than replace them and that the highest productivity can be achieved through collaboration between human and machine. Machines won't be able to replace our presumptions, our empathy or our judgement but they will save us a lot of time that we can use to spend as we wish.
In the world of real estate, AI can make the design, construction, management, lease and sale of buildings much more efficient. Machines are able to solve a number of problems and offer a variety of solutions, making life easier for the users of real estate.
The biggest advantage of AI is that it reduces uncertainty and the cost of prediction. Thanks to this, we can take more risks, at less risk. Humans won't be out of the picture though, as the cost of prediction falls, the value of judgment will go up.