Béranger Dumont, CEO of BPI Real Estate Poland talked to Property Forum about large scale mixed-use projects, the rapid development of the PRS market and the main problems of residential developers in the country.
BPI Real Estate Poland has recently announced the acquisition of two big plots in Poznań and Wrocław for large-scale mixed-use investments. Could you please disclose what are your plans regarding these two projects?
Yes, as a part of our strategy of building a large pipeline of investments we conducted a few important acquisitions during the last months. We bought a plot in Nowe Miasto in the Starołęka district of Poznań. The south-east part of this city is still to be developed, so we see a lot of opportunities there. We have applied for the building permit for the first stage of residential investment and we hope that we'll be able to start it early next year. It will be a rather small project - around 200 apartments - but quite qualitative in terms of the architecture. The second acquisition we did is definitely the most strategic purchase of last months for BPI. We bought a large plot in the centre of Poznań in a public tender from Grupa MTP and we are going to develop it in partnership with another Belgian developer, Revive. It's a large scale mixed-use project with a capacity of around 70,000 square metres. It will be mainly residential - we plan more than 1000 units - but also with a significant component of offices, retail and services. On the plot we have a historical monument, old military barracks - we will conserve and refurbish them to give them a new life. It will be "the soul" of the project. As with our other projects, we will develop this investment in accordance with the ideas of sustainability. We are analyzing which green certificate we can achieve and we will soon communicate our ambition.
The other acquisition we did in Wrocław is also located in the city centre, close to Renoma shopping gallery, just a few hundred meters away from the Old Town. We are working on the project design to apply for the building permit in the coming months. As you can see, we have different projects at different stages of development in different cities.
Don't you think that the future of office and retail spaces – which are supposed to be included in these projects – is rather difficult to forecast?
Mixed-use projects should include all the functions necessary for urban life - we strongly believe that this is still the future. People who want to live in the urban atmosphere must have the access to the different functions at the same place. If you want to keep a neighbourhood alive, the only way to achieve that is to combine the different functions to make the site living 24 hours a day and seven days a week. It's difficult to forecast the future of the property market, especially for the retail function. But that's our job to observe, analyze and anticipate the new trends, new ways of living, new ways of working. And we are already proactive to be able to respond to the demand of tomorrow and to design today a proper, desired product.
About the office market, it is true to say that we can expect quite big changes here in the future. But on the other hand, it will not disappear - people will still go to the office, they still need to have a social life at their workplace. The market will be different, but will still exist. Coming now to the market with a new project it's actually an opportunity - we are totally open event to acquire new plots to build new office buildings.
Speaking of retail, it is definitely the sector most impacted by the pandemic restrictions. The changes will be probably bigger there, but we are not very focused on this segment. Of course, we have retail in our mixed-use project, but it's not a significant part. But as I said before, in the future, people will continue to go to restaurants, to go shopping, they cannot buy everything online. You cannot eat online (laugh). We have been living this way for a thousand years, I cannot imagine such a drastic change. Even with the pandemic in the picture, people want to have everything around them, so it makes more sense to have mixed-use projects with workplaces, shops, restaurants and services in the nearest vicinity.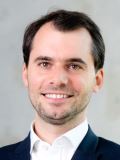 Béranger Dumont
CEO
BPI Real Estate Poland
Béranger Dumont is a graduate of the Solvay Brussels School and the Louvain School of Management where he received his MBA in Finance and Real Estate. He has worked for BPI Real Estate for almost 10 years. Initially, as a financial manager, he was responsible for many years for the financial management function, including the investments forming the company's Polish portfolio. Subsequently, in his capacity as a Real Estate Project Development Manager, he successfully ran numerous BPI urban projects in Brussels. Among these projects, Béranger led a 60,000 sqm sustainable and mix-used project in a new Brussel's district, designed by international architects. He also sits on the Executive Board of the Urban Land Institute, a prestigious non-profit organization with its headquarters in Washington D.C. This international think tank promulgates best practices in sustainably shaping urban space and studying related trends
More »
In your opinion, what makes residential investment a successful one? Location, price, design, a mix of the above or maybe something else?
It's a mix of what you mentioned. I cannot say anything new, the residential market is all about location, location and location. To have a good investment, you have to make sure that the location is proper, but the design also has to respond to the demand. This is very complex to anticipate – of course, we never answer 100% of the demands, especially because they simply change every single month. But we constantly struggle to design the products as appropriate as possible.
What are your forecasts for investment demand? With record-low interest rates and general uncertainty, residential property seems to be an easy solution for capital protection…
I would not say it is an easy solution. It's always complicated when you invest money. But I definitely think that in today`s market, residential property is one of the best investments because of its tremendous resilience. It protects your capital against inflation. Especially now, when we have very low interest rate levels, it makes more and more sense to invest in such products. It's quite obvious if we look at what is happening on the market, not only in Poland but worldwide. The interest from institutional investors in the residential market - it's something quite new, but it's actually booming. Each month in Poland we have transactions, in which foreign funds are buying one, two, or three thousand unit portfolios. These are not single shots. It proves that there is a huge interest in this segment.
But as you probably know, people in Poland are very accustomed to the ownership of apartments. For most Poles, renting is something completely new - we do it only when we must, when you are a student or have just started your professional career…
All societies are evolving and changing. It's right to say that the market share of the rental is quite small, compared to other countries. But it is already changing and it means that there is a huge potential for the rental market. The interest of institutional investors is so big because they are sure that the product they buy will provide a hefty yield. The demand for renting will definitely grow, it is enough to observe the apartment prices surging in Polish cities, not only in Warsaw but everywhere in Poland. Renting a property starts to be a solution. If you want to live in an urban location in the city centre, you don't have a lot of alternatives if you don't have big equity.
Is BPI Poland going to join that PRS fray?
For now, we are just observing the trends, but of course, we are interested. We've been analyzing this market for more than two years. We already have a few plots that we bought to develop this kind of product and we are in talks with the investors. So yes, we want to be part of this new trend. It's quite obvious that we have to be among the main actors.
How could you describe the current financial situation of BPI Real Estate Poland? How are your other investments performing in these turbulent pandemic times?
I think we are performing quite well and BPI has a healthy financial situation today. Recently we have completed four projects with more than 700 units, we are almost out of stock in these investments. As I said in the beginning, we have built quite a huge and strategic pipeline of more than 150,000 square metres of land, which will be developed in the future. I think we had a very prudent approach. During each acquisition process, we were trying to anticipate every possible scenario. So now we are in a very flexible position and are able to be quite reactive to any situation. All our future projects are very diversified, they are located in different cities, they are of different sizes, different types of locations, different designs. I think we are well prepared for any major event that may happen in the foreseeable future.
Rocketing plot prices or sluggishness of officials – what is the main problem of residential developers in Poland today?
Definitely both. Rocketing land prices are actually making the good opportunities really rare. You cannot make the difference by paying the biggest price. It doesn't work like this, you have to remain competitive. Regarding the administrative delays, of course, they cause a lot of problems but it's something that we cannot always control. But I will repeat once more – it is our job to manage and to take these risks, we have to anticipate them and be prepared for all kinds of different scenarios. The good point is that we can have a dialogue with local officials from the beginning, especially when you have a big project with a significant impact on the neighbourhood. From the point of view of the city officials, we can have common interests. That's the best way to design new projects - to make sure that it responds to any demands.
Is BPI Real Estate Poland planning any other new investments in the next 18 months?
What I can say is today we are actively working on more than eight different projects in four different cities. They're all at the design stage. This year - or at least at the beginning of next year - we should be able to start their construction and commercialization. We are having an intense year, but the next one will definitely be intense too. We are always open to analyze new opportunities, so our pipeline of investments may grow.