Affan Yildirim, General Manager and Board Member at Romania-based real estate developer Anchor Grup talked to Property Forum about business strategy and shared his expectations for the Romanian economy and the property investment market in 2021.
This interview was first published in Property Forum's first annual "The 50 most influential people on Romania's real estate market" publication.
How has Anchor Grup managed the challenging period that started in 2020 and what is your outlook for this year?
The relationship that we have built over the years with our partners, tenants, customers and employees was our compass that helped us navigate the stormy weather in 2020. The long-lasting partnerships, consistently and thoroughly built over the years, were and remained the main value of Anchor Grup. Both as a businessman and as an individual, these are my benchmarks to guide me in the decision-making process.
In 2021 we will continue to invest in these partnerships. When it comes to our shopping centres, we will support our tenants in delivering the best possible retail experience to their customers. We are adding our marketing support to our tenants' communication campaigns, contributing thus to their business stability efforts. Retail is an evolving ecosystem where consumers explore and experience brands and malls are one of the most important hosts of that experience. It is obvious that the pandemic has changed shopping behaviour and that online acquisitions have seen increasing popularity. However, that is not to say that the need for physical experiences and networking has vanished; on the contrary. For instance, lately, we have been working closely with cultural institutions, such as the Museum of Literature or Nottara Theatre, to bring cultural and educational pulse, through interesting and new exhibitions, into our shopping centres. The response of our customers, along with one of our partners, was overwhelmingly positive.
We managed to find a way to adapt and restore, for our visitors, the joy of experiencing such activities again and, on the other hand, we helped cultural institutions to maintain contact with their communities and art lovers.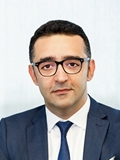 Affan Yildirim
General Manager and Board Member
Anchor Grup Romania
Affan Yildirim has been the General Manager and Board Member of Anchor Grup since 2015. He joined the Board of Shopping MallDova two years later. With a solid academic background in finance and business administration, Affan began his career at PwC, one of the biggest multinational audit and consulting companies, and after 7 years he became CFO and Vice President of Credit Europe Leasing IFN. In 2012, Affan was appointed CFO of Anchor Grup and he was subsequently chosen to be interim General Manager. Three years later, he was appointed General Manager of Anchor Grup and coordinated the complex refurbishment of the two shopping centres owned by the company– București Mall-Vitan and Plaza România.
More »
What are the business priorities of Anchor Grup on the Romanian market in 2021?
In 2021 we will have the same priority as we did in 2020, the health of our colleagues, customers, partners and tenants. In 2020 we did all we could to fulfil this priority, that is why we implemented additional measures in comparison with those requested by the authorities in all the buildings in our portfolio, from retail to office and residential.
After this main priority, comes business continuity – both for Anchor Grup and for our partners. We have been collaborating with some of them for over two decades, we have been with each other for better or worse, we have matured and grown together. We will be as flexible as we can and provide the best solutions to make sure that, at the end of these uncertain times, we will thrive together.
Economic growth is set to bounce back in 2021. How will it influence Anchor Grup's operations?
Solidarity is the answer to 2021 challenges that we might face as an economy. The pandemic imposed a lack of human touch, so in spite of the numerous online channels we communicate on, some felt alone. Its effects are visible everywhere and the main one is excessive polarization. I think this is the biggest obstacle we need to vanquish in 2021 – I see it as the year of rebuilding and we can only do that together.
Anchor Grup will continue on the path of sustainable development, which has been a trademark for many years. Regarding our malls, we will focus on alternatives to innovate and enrich the whole spectre of experiences from which our customers can benefit here.
How are you shaping the investment plans considering the pandemic economy?
Anchor Grup has been present in Romania for more than 24 years and it has constantly invested, even in difficult years. Economies all over the world suffer, but we have confidence that Romania and the Romanian business environment will find resources to overcome these strange and difficult times.
As we are one of the most important developers in Romania and our business relies on long term partnerships, thus building a sustainable business model is the key. We continued, also in 2020, to be an appealing partner for new retailers, renew important lease agreements with the existing partners in our shopping centres and office buildings, as well as to register a high volume of residential sales. Our occupancy rate in all our real estate properties is over 98%. The pandemic drastically affected our tenants but we found constant solutions to make sure they were benefiting from the best conditions so that we would emerge together and as untouched as possible.
What are the strong points of Romania's real estate market for investors? Is the market competitive compared to regional peers?
The residential market proved to be the most active real estate sector in Romania, also in close connection to the government measures such as the New Home programme, with all its versions. In addition, the construction sector has experienced important growth in 2020. On the other hand, the positive rate of vaccination gives people hope that, in retail and office, life will return to normal to a large extent. Some big employers already announced a return to office strategy. 2021 looks like a good year for investors, Romania remains a market with huge potential in the real estate sector.
Romania's Gross Domestic Product fell in 2020, the year of the onset of the coronavirus pandemic, only by 3.9%, compared to 2019. Romania's economy had one of the smallest contractions in the European Union. At the EU level, the recorded decrease was around 6% in Euro area countries. Many analysts estimated at the beginning of the pandemic that Romania's economy would collapse in 2020 by 7-8%
Romania is in a phase of its development in which it invests in infrastructure, which is a favourable thing for the construction industry, and long-term investments are at the forefront. So a strong and stable economy is something that investors are still looking for when planning to invest in new projects. Our portfolio includes only long-term investments, which are not affected by difficult times, but this does not diminish our appetite for investments and, on the contrary, increases our interest in opportunities.
Anchor Grup has operational projects in retail, office and residential. Are you seeing any emerging trends in terms of demand and occupancy structure?
I think that people will expect more and more from buildings, in general, (starting with the residential developments and continuing with retail and office projects) and from their vicinity, in particular. This pandemic has drastically limited one's range of movement, so I think the "winners" are mixed-use projects that combine residential, retail and office or different projects which are complementary to each other due to proximity
Sustainability and environmental protection are some of the main discussions regarding new buildings. Thus, reducing future energy consumption, or finding alternative sources of energy, employing artificial intelligence (AI) in the management of buildings, increasing their sustainable-augmented elements are a few of the things we are looking at, constantly, when developing new projects.
Are you exploring the potential of regional cities as property development destinations?
Anchor Group is constantly scoping for business development, even outside Bucharest. There are opportunities on the market, which we analyse carefully. If they appear, Anchor Grup will conduct studies on the sustainability of the business in the new investment areas. We are open to any business opportunity that arises if it complies with our long-term development strategy.