A key to a successful property development is a responsible real estate development strategy which also takes into account accessibility, self-sustainability and biodiversity. Zsolt Hintenberger MRICS, Managing Partner at Realiscon talked to Property Forum about the different aspects of ESG compliance, going deeper than the usual buzzwords.
Zsolt Hintenberger will be a speaker at the upcoming CEE Property Forum 2023 in Vienna.
Planning the future of a city, among others, should involve biological and cultural aspects. What is the added value of a developer to this process?
The cities are the places of a complex mixture of various services which the citizens are using as part of their normal daily life: shopping, healthcare, sport, cultural events, etc. Ideally, these services shall be achievable within 15 minutes' time.
A good real estate development should be able to be in harmony with its surroundings, and by creation of synergies could complement, and add the missing service elements to that particular geographic location. It says all should be started with a review of the existing services of the property development in the very initial phase: public transportation, schools, medical practice, recreation, etc.
Total independence simply cannot exist, just think of food supply for instance, which comes from outside of the city. However, independence should be sought, both in terms of the available services and the uninterrupted availability of energy sources at an affordable price. In a broader sense we are talking about a city or even a city-state, while in a narrower sense, we are talking about property development of a city district, major residential or commercial properties.
A key to a successful property development is a responsible real estate development strategy in the initial stage, which in addition to the above-mentioned principles, also takes into account accessibility, self-sustainability and biodiversity; how to integrate the desired real estate assets into the environmental fabric in a natural harmonious way: with the use of rainwater retention, conscious design of parks, green roofs, wastewater recycling, use of wastewater heat recovery, geothermal and solar energy; solid waste recovery with plasma technology, etc.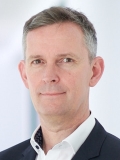 Zsolt Hintenberger
Managing Partner
Realiscon
Zsolt is the founding partner of Realiscon, graduated as a civil engineer specialising in the water and environmental field. He is also a member of RICS and holds a PMP credential. He gained experience in a multicultural milieu over 25 years in public infrastructure, environmental and real estate development projects. Since its foundation, Zsolt with Realiscon has set up a high-profile client portfolio of the most valuable property asset types such as hotels, offices, residential, logistics and public institutions. Realiscon provides development project management, quality control, TDD, BREEAM, LEED, and WELL consultancy, ESG audit services, and design services for wetlands, public utilities, sewage water treatment plants, harbour and hydro PP. Zsolt is committed to strengthening biodiversity and regularly participates voluntarily in wetlands monitoring activities.
More »
Social factors also matter, more than ever before. What are your suggestions in this respect?
The city is inhabited by people of different age groups and, in addition to generational issues, established social habits also play an important role. These types of social needs are important considerations for property development. However, we also need to see that segregation can easily develop in the city and can be avoided by restrictive or incentive measures. Singapore is a good example of the use of restrictive measures. /Singapore's Ethnic Integration Policy/
A complex property development that partly includes for-sale residential units and affordable rented apartments can create an opportunity to establish an impulsive environment in nurseries, schools, playgrounds and other common, non-virtual surfaces of social life. State tax credits and other incentives could attract the interest of property developers.
The efficient use of all types of buildings has become vital both commercially and socially. Where do we stand in using the latest technologies, including automation and implementing proptech innovations?
Technology is constantly evolving. At the beginning of the 21st century, we are part of and witness to a world changing at a pace never before seen in human history. What is a technological sensation today will be part of everyday life in a few years and then become obsolete because of some new invention (e.g. data storage: punch card, magnetic tape, floppy, DVD, SSD, SD cards, USB sticks, the cloud).
Indeed, smart buildings are being built and they can stand out from the competition with certain solutions. Nevertheless, the trend of ever-increasing construction costs, currently expensive project financing and the nowadays typical supply market are putting developers who want to bring in technological innovations in a difficult position.
So far, the number of smart buildings is not significant compared to the total housing stock. Giving rebirth to brownfields and other abandoned buildings in the urban fabric would be super important and may result in redefinition not only of the buildings but in some cases the entire surrounding as well. A good mixture of the existing built heritage and the available latest novelties of proptech could result in the highest achievable value: whether it's seamless parking and access control, a mobile meeting room reservation system, or shading or presence-sensing air exchange; the list could be almost endless.
Currently, green projects are common but greenwashing is also on the rise. How can we detect such "mistakes"?
In my opinion, greenwashing is not a mistake but simply a deception. The fact that we live in a money-oriented world does not excuse anyone from deceiving others for their short-term goals. Such deception is relatively easy to catch: transparency. Do I operate according to sustainable principles? Do I take sustainability into account in my property developments? What percentage of my income do I spend on green/renewable developments? Do I have voluntary commitments that support green goals? Do I report about it? Can I give up a little profit for a greener solution? Can I prove it?
The development (both design and construction stages) of real estate assets can be certified in various schemes but this is a one-time qualification; however, if there is a continuous renewal certification framework established then it can result in a true green performance of the asset, the operation and the management.
But above all, the commitment must come from within; one shall engage, declare and act.
ESG compliance has become a new norm across the property industry. Do you see a willingness to make real changes?
Many companies have no difficulties in setting and reporting on ESG strategy, especially listed companies. But what is the point of it if big giants are also issuing such reports, while at the same time they should be responsible for polluting our natural environment to an extreme degree or employing adult people not a fair way, or even child labour (according to estimates 170 million are engaged in child labour)? Apparently, ESG does not help, it does not improve at the desired efficiency. We may be a shoe-nosed ahead by using ESG when huge leaps would be needed.
Here we come back to the restrictive or incentive measures. In their absence, what can bring about change: market demand or internal incentives? Sometimes social pressure?
The regulatory environment may not be changing as fast as technology is evolving, but if we keep the objectives of the European Green Deal in mind, there is certainly a steady direction. The EU taxonomy is part of it and is a science-based transparency tool to help companies and investors make sustainable investment decisions. In my opinion, because of its regulatory nature, EU taxonomy will be the new norm from 2024 while ESG would be faded out in many markets.