Andrzej Oślizło, CEO of Develia, one of the largest Polish developers has talked to Property Forum about the recent sale of Wrocław landmark, Sky Tower, PRS perspectives and the current market conditions in the residential sector in Poland.
Develia has just sold its stake in the high-rise mixed-use building Sky Tower in Wrocław to investment fund manager Adventum Group of Hungary, and you are also planning to sell your other commercial properties, including Wola Retro in Warsaw and Arkady Wrocławskie in Wrocław. Does this mean Develia no longer believes in office and retail assets?
By no means. While the coronavirus pandemic has indeed dealt with office and retail properties quite harshly in some cases, the commercial properties in our portfolio have emerged from the pandemic turmoil unscathed. Not only have we retained most of our existing tenants, but we have managed to attract new ones. The office and retail space in Arkady Wrocławskie is 92% and 96% leased, respectively. The office space in Sky Tower is almost 90% commercialised. This said, we are divesting our commercial properties to focus on our core business and on what we do best – residential development. In line with our new strategy, we want to be selling at least 3,100 units a year by 2025. Proceeds from the sale of commercial properties will be used precisely to increase the scale of our operations as a residential developer. We also plan to invest in Private Rented Sector (PRS) housing, and we are looking to develop a warehouse project within our own land bank. In terms of investment, the latter sector is perhaps the biggest winner in the new post-pandemic reality.
You are one of the first local developers to announce the intention to build PRS housing on its own account without relying on foreign investment funds. Do you believe in this market that much?
Younger generations of Poles attach less importance to owning an apartment than their parents. They prefer to remain mobile and are not so strongly attached to any particular location. They don't want to be tied down by a long-term mortgage. A great deal of young professionals in big cities is interested in renting modern, well finished and furnished premises in prime locations. It is with them in mind that we want to enter the PRS market and offer an attractive product that would match their preferences and requirements. Our first goal is to deliver recurring PRS projects of 300–400 units per year. We are planning to team up with external investors interested in package purchases of apartments or forward funding transactions, with first discussions already underway. Having well-qualified staff and an abundant land bank located in Poland's largest cities, we are capable of delivering housing schemes tailored to the requirements and preferences of all investor groups, which could provide the groundwork for forging larger-scale partnerships and building a rental and operator platform.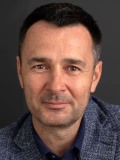 Andrzej Oślizło
CEO
Develia
Andrzej Oślizło graduated from the Academy of Economics in Katowice (where he studied Economics) and the Silesian University of Technology in Gliwice (where he studied Information Technology). He completed the MBA programme at the European University in Montreux, Switzerland. For more than twenty years, he has been in charge of business undertakings in Poland and foreign markets. His area of specialisation includes enterprise management, investments, mergers and take-overs, and specifically foreign expansion. Throughout his career, he successfully served as president and member of management boards at companies operating in the following industries: ICT, transport, forwarding & logistics, finance and banking (inter alia Schenker Sp. z o.o., LOT S.A., Aviva S.A., Expander Advisors Sp. z o.o., Burietta Sp. z o.o.- the Inelo Group). His professional experience also includes collaboration with Private Equity funds, among other things, Trinity Management and Innova Capital, on behalf of which he worked in a supervisory and managerial capacity, sitting on the governing bodies of portfolio companies, and was accountable for raising their value and capital sales. He was a member of the supervisory boards of Burietta Sp. z o.o. (the Inelo Group), Spółdzielczy System Ochrony SGB, Intrum Sp. z o.o., Gold Finance Sp. z o.o., BZ WBK - Aviva Towarzystwo Ubezpieczeń na Życie S.A, Expander Advisors Sp. z o.o., Casinos Poland Sp. z o.o.
More »
The housing market in Poland is red-hot right now – according to various estimates prices of apartments have surged 10–12% annually in recent years, with the pace of growth having further accelerated this year. Do you believe this trend could reverse?
According to JLL data, prices above PLN 10,000 per square metre are slowly becoming a norm in Poland. The average price per square metre on the primary market in Warsaw has already exceeded PLN 12,000. In Kraków and Gdańsk the figures are PLN 10,800 and PLN 10,500, respectively. Wrocław is likely to soon break above this mark as well, with prices of new units already averaging around PLN 9,600 per square metre. Persistently low interest rates coupled with rising inflation are prompting a growing number of people to buy homes as investments, to let them, hoping their price will increase over time.
Driven by buy-to-let investors, demand has far exceeded supply – in the first two quarters of 2021 19,500 apartments found buyers in each of the six largest cities in Poland, marking a record in the history of the country's residential market. Unfortunately, supply is lagging behind the growing demand due to low land availability and protracted administrative procedures – in the second quarter developers delivered 'only' 15,800 new units on the six largest markets, almost 4,000 less than reported sales. If all new projects were halted, the entire stock would sell out in just six months, five months in Warsaw. The smallest and cheapest units are selling the fastest, but clients are buying virtually everything – larger, high-end apartments that would have waited several months to find a buyer only two years ago are now practically selling out within a quarter. Four quarters are considered to be the level indicative of supply and demand balance. With so much excess demand, fuelled by low interest rates and investment buying, it is hard to envision a scenario other than a further rise in prices. The costs of workmanship and land are rising in step with inflation, and next year an amendment to the property development act will come into force, significantly increasing costs of operating the open escrow account, which predominates in the market.
You mentioned the housing shortage. What are the main problems faced by residential developers in Poland?
As I have mentioned earlier, residential developers in Poland are struggling with two biggest problems: low supply of land for development, with its prices constantly rising, and the sluggishness of public authorities, which has the effect of protracting the entire investment process. The supply of land for new residential development is gradually falling while prices are doing the exact opposite – they have been constantly rising over the past few years. It has become a norm for prices in attractive locations to start from PLN 2,000 per square metre of usable floor space that can be built on a plot. For prime locations near city centres, these numbers can be even two to three times higher.
However, no local zoning plans and having to secure planning permits remains the biggest barrier faced by investors. Just to give you an example, roughly 40% of Warsaw, being the largest residential market in Poland, is covered by a local zoning plan. The figure for Łódź is about 25%. The protracted permitting procedures have aggravated the impact of pandemic restrictions and some recent legislation. The confluence of these factors prolongs the time from land purchase to the start of construction to an average of about two years.
All tentative attempts by the authorities to increase the supply of land – for instance, the so-called 'lex developer', a special piece of legislation permitting property development contrary to the binding provisions of a zoning plan in certain cases – have so far achieved little success. Only five or six resolutions have been issued in Warsaw since the law took effect in August 2018, most of them passed in 2021.
What are Develia's investment plans for the coming months?
We are poised to launch sales of phase one of Aleje Praskie, our new multi-phase residential estate in Warsaw. We plan to build close to 1,200 apartments under the scheme in several phases. The estate will stand out on the market for its numerous eco-friendly solutions and great attention paid to green areas. The project will be built around a spacious inner courtyard with plenty of trees and oxygen plants, featuring a playground, outdoor gym and brine graduation tower. We also have several other projects in the pipeline located in Warsaw, Wrocław and Gdańsk. Also, we are working with ThinkCo on a product strategy for our future PRS offerings. I believe we'll be able to reveal more details of the project early next year.