The entire development cost of logistics projects is increasing substantially and it will continue to do so, says Robert Dobrzycki, CEO & Co-Owner of Panattoni. He talked to Property Forum at MIPIM about uncertainties and the dynamic growth of the logistics sector in CEE.
What has been your sentiment talking to people at MIPIM? Can you feel the effects of the war on the market?
Even though the humanitarian crisis is obviously affecting people at a personal level, I'm positively surprised that business-wise the situation is not so bad. In the sector we are in, there is such a positive trend that, although there's some uncertainty in the short- to medium-term, the long-term outlook is still looking great.
What about the other big uncertainty, inflation? How are you dealing with that?
Obviously, we are used to dealing with problems. There is always a problem somewhere that you need to address and now that problem is inflation. Inflation is not only affecting production costs and energy prices, but land values are also going up. The entire development cost is increasing substantially, and it will continue to do so. This means that rents need to increase too and as there is still a very strong demand for logistics, tenants must be willing to cover this cost increase. On the positive side, whatever we build now is cheaper than what we will build tomorrow, which means that if we believe in the tenant demand, which we do, what we have now is very valuable. In general, we treat problems as an opportunity to be better, to change the way we do things and to increase our competitiveness.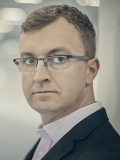 Robert Dobrzycki
CEO
Panattoni
Robert Dobrzycki has been heading Panattoni (formerly Panattoni Europe) since 2014. Prior to that, he led the company's Central and Eastern European branch, which he was commissioned to set up in 2005. Before joining the company, Robert Dobrzycki was the managing director of industrial developer Menard Doswell & Co. He is a Fellow of the Royal Institution of Chartered Surveyors (FRICS) and holds a master's degree in business management from Warsaw University.
More »
Are you looking to buy more land at the moment?
Absolutely. We are a development company and we are constantly in the process of buying land and we will continue to do so.
Are there any new locations that you're expanding to?
Recently we have expanded to a lot of new locations - Sweden, Hungary, Italy, France, Austria - and for the next 12 months, we're focusing on trying to incorporate these locations into the system. At the same time, we might consider adding Belgium and a second Nordic country to the list in the second half of the year.
Going back to tenant demand, which industries are driving demand these days? Is it all e-commerce?
E-commerce is a huge driver. The second big driver is nearshoring, a shift of production closer to the customer. Companies are moving back from Asia or building new factories in Europe, including Central Europe, to serve the customer base here. And now what we're starting to see because of the Ukrainian crisis is that a lot of businesses will be moving out of Russia and Ukraine, and they'll most likely relocate to Central Europe.
ESG is obviously at the top of the agenda for all developers and investors in 2022. What's your ESG strategy for this year?
We constantly try to improve and ESG is clearly a big portion of our focus right now. We are certifying all our buildings and we are trying to figure out what else can we do to be carbon-neutral construction-wise. We are now seeing that the value of certified buildings is substantially higher than non-certified ones, so building sustainably finally makes financial sense too. Investors are willing to pay more for a building which is environmentally friendly.
Speaking of investors, what are your expectations for investment demand in CEE for this year?
I think, in our asset class, the next couple of weeks will be definitely slower because of what's going on and probably it will be slower in Central Europe than in Western Europe. But this is a short term thing and I think the market will fully restart and accelerate during the second half of the year and the total volume in 2022 will be higher than the previous year's.
What about financing costs? What are your expectations for the next 12 months?
There will be pressure on increasing financing costs, that's for sure. And it will continue with inflation. It's not affecting us directly as our development finance is a kind of short-term finance, so it doesn't change much for us. Potentially, investors looking to acquire our products might experience a substantial increase in financing costs. But there is a huge investor demand so yields shouldn't move up, they should continue to be low with a tendency to compress.