David Canta, Principal at Avison Young Romania & Czech Republic, talked to Property Forum about the pandemic's effects on the advisory market and the company's international expansion.
This interview was first published in Property Forum's first annual "The 50 most influential people on Romania's real estate market" publication.
Have you noticed any shifts in the popularity of different asset classes among the investors and developers you work with?
When I joined the industry, retail was the most attractive asset class. Now, I would rather own the warehouse of a retailer than the showroom. Needless to say, the shining star of this pandemic is the logistics sector which has continued a high paced growth as consumer trends towards e-commerce have created the need for more warehouse space. Capital allocation trends have also shifted and we can see a convergence in yield curves between asset classes with the fastest compression for industrial and logistics assets. It's easy to observe the short-term disruption of the supply chains, but long-term effects I believe will have a positive impact on our region as we'll benefit from the realignment of supply chains with more manufacturing migrating from Asia to CEE. The opportunity now is to be counter-cyclical and invest in asset classes that have been affected by the pandemic but will eventually pick up again when travelling restores. I am bullish on hospitality for example – Europe is a museum. I think of cities like Prague in our region and I'm confident that it will always stay an attractive destination for tourists as long as they can travel safely.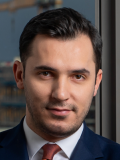 David Canta
Principal
Avison Young Romania & Czech Republic
David Canta is the Principal at real estate agency Avison Young in Romania & the Czech Republic, and part of the firm's European Committee. He has recently coordinated the company's newest office opening in the Czech Republic and has been involved in Avison Young's broader expansion in the Central and Eastern Europe region. He is also a partner in a number of complementary businesses with activity in the coworking (Commons), facility management (Facilitec) and project management sector (Optim). The combined team of the group comprises over 170 people. David holds a Bachelor of Business Administration degree from the Griffiths School of Management, where he graduated first in his class. He also attended the executive course in Corporate and Strategic Management at the London School of Economics. He also spent eight years studying classical music and plays piano and guitar.
More »
Which fields are generating the biggest share of business for Avison Young in Romania? Which business lines do you plan to expand in 2021?
Prior to the pandemic, we were well-positioned in the industrial and logistics sectors and we took full advantage of the market context to capitalize on opportunities to serve our clients. Our consultants have been involved in a number of landmark transactions and we plan to double down on our position in this sector. We also see a huge potential in the recovery of the office market and we made a couple of very important recruitments to strengthen our capabilities, adding expertise in office leasing and workplace advisory. We now offer a full-service integrated platform to our clients with office and industrial leasing services, workplace advisory, investment advisory, project management, sustainability consulting and certifications, facility and property management.
You were heavily involved in Avison Young's recent expansion in the CEE region where the advisory market has seen a lot of movement over the past couple of years with new ventures and strategic affiliations. What's your strategy for growth in such a competitive market environment?
When you are an emerging player, you have the opportunity to do things differently without the burden of legacy. The big firms talk about transformation and change management of their large operations, while we are building cutting edge best practices from scratch. We have a unique culture; we have a continuous development mindset and the agility to drive the latest innovation in our operations and service delivery. This makes Avison Young attractive to talented people who want to join an aspirational company with high ambition but also to clients, who want a fresh approach that emulates their forward-thinking strategies. Our global record speaks for itself and the CEE region is following the same footsteps of growth. Four years ago, Avison Young established the first office in the region in Romania; now we are present in all major markets in CEE. I am very happy that we have achieved the goal of covering the entire Central and Eastern European region in such a short time. This expansion is a testimony to our unique culture and the clear need for a fresh approach to client service in our regional markets. As we expand, our focus is to continue to attract best-in-class talent and build healthy foundations that will allow us to further scale our coverage in the region and other markets in Europe. More announcements will follow on our recruitment efforts and strategic approach.
COVID-19 is rewriting the rules in many segments of the real estate industry. How do you expect the pandemic to affect the advisory business in the long run?
Now, more than ever, clients need expert advice and the role of the consultant is becoming again the role of a problem solver and decision enabler. When things are linear and predictable, most companies go with the flow or with the status quo, while now the pandemic is forcing companies to transform and adapt and for that, they need proper guidance and tools. Clients will become more demanding as the pandemic has reframed considerations around wellness, sustainability, health and safety in work environments. New tools and technological innovations are emerging and companies that invest in their people and technology will win.
Have you observed any changes in the types of services clients are looking for since the start of the pandemic?
Workplace optionality for employees and workplace safety are two topics at the forefront of the agenda for most organisations and that drives demand for certain services that used to be peripheral or niche in our sector. For example, we see many more global and local companies which are asking for workplace advisory services, as an outcome of the COVID-19 impact. We are geared to guide organizations to strategically rethink the role of the office and to define what workplace mix is best suited to the new ways of working.
Moving forward, we believe there will be a stronger focus on creating an adaptable work environment and combining various working styles. In the medium to long term, offices will increasingly become social meeting places to collaborate, connect and interact with colleagues and clients. This means creating environments that support work as something you do, not somewhere you do it. Also, the role of the facility manager became more critical in these times of disruption. While mostly neglected and taken for granted when things run smoothly, asset owners have started to engage more with their facility management function to keep buildings safe and future proof, by upgrading technical specs and operating procedures.
How do you see the role of technology in the advisory business and in the wider real estate market?
We believe that preparing for the future requires expanding the power of data and technology we bring to our clients. We're focused on integrating technology into the entire suite of services and solutions our people use to deliver insights and competitive advantage for our clients, to further the digitization of commercial real estate leasing and sales processes. Alvin Toffler said it best: the great growling engine of change is technology. I embrace that reality and strongly believe that technology, powered by people, will shape the future of how we service clients and will elevate the wider real estate sector.