With around 122,000 sqm of new industrial space under development in Romania, WDP is seeing growing demand across its entire portfolio. Property Forum talked to Gijs Klomp, Business Development Manager at WDP Romania, about the new demand drivers and the investment potential in areas where infrastructure development is accelerating.
What is WDP's development pipeline in Romania this year and what is the industrial footprint of the company locally in terms of sqm?
The pipeline is ambitious, we currently have around 122,000 sqm under construction, but our ambition is to grow our footprint significantly beyond the current construction pipeline in 2022. The current footprint of WDP in Romania is 1.236 million sqm.
You took the helm as Business Development Manager of WDP in Romania this January. What are your plans in the new role?
I am very excited about the opportunity to work with WDP. Our plans are to further grow in a sustainable manner our Romanian portfolio. On the one hand, that means taking care of our existing tenant base. We see that many of our tenants would like to further grow their business and we are working hard to facilitate such growth. On the other hand, we are seeing many new tenant requests both on the industrial and logistics front. We are continuously looking for suitable land plots to accommodate such requests.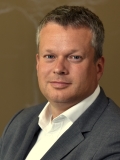 Gijs Klomp
Business Development Manager
WDP
WDP has appointed Gijs Klomp as its new Business Development Manager in Romania in January 2022. He has more than 15 years' worth of experience in the real estate industry, holding various management positions. Before joining WDP, he had been Head of Business Development for CTP. He has previously worked for real estate consultancies CBRE and JLL, as well as for investment group NEPI Rockcastle. Gijs holds a Master of Science in Real Estate Management from the Eindhoven University of Technology.
More »
What is your outlook for the Romanian industrial and logistics market in terms of demand and new locations with development potential?
The key fundament of the market, namely tenant demand, is robust. Demand is derived both from domestic economic growth as well as from broader trends such as nearshoring and stocking up. Demand is increasingly diverse when it comes to location preferences, with not only the main cities and the western part of the country seeing solid demand, but also new less known locations.
What sectors are driving demand for WDP's projects in terms of leasing activity?
Romania offers a healthy mix of logistics and industrial demand. Within logistics, we see strong growth in food and other retail including that tied to online retail. Industrial demand is also diverse and less dependent on the automotive sector than in the past.
Has the pandemic economy had any impact on WDP's investment decisions in Romania?
Certainly no negative impact, of course, there was initial uncertainty in early 2020 when I believe all market actors were confronted with a hopefully once in a lifetime event. However, it became clear quite quickly that our sector was not negatively affected by the pandemic and actually on the contrary benefited from a growth in demand. As a result, we have committed to additional investments in Romania.
How can the industrial market increase its contribution to the investment market?
We have in Romania a very particular market segmentation with developer/investors holding the vast majority of the industrial stock. In recent years there were a number of large sales processes, but these never materialized, not because of a lack of investor appetite, but as sellers decided to abort for internal reasons. Currently, I am of the belief that there is a very high entry barrier for both trading developers (those who develop and sell) and end investors to come into the Romanian market. As a result, I doubt whether we will see significant activity other than from the current market actors, who will continue to focus on the few income-producing assets not yet held by them, but also on sale and leaseback transactions.
Is WDP looking to expand in eastern Romania? This region has failed to attract major investments in warehouses up to now due to the underdeveloped infrastructure, but there are plans to improve road and air connections.
WDP has arguable the best nationwide coverage of any of the developer/investors active in Romania. We are present in eastern Romania (Brăila and Roman) and are looking to expand our presence in this region. First of all, we see that there is demand for logistics in this part of the country as it includes several sizeable cities. Furthermore, we see growing interest from manufacturers as the region still has comparatively good access to labour. The planned infrastructure investments, which are becoming increasingly clear, will further fuel such interest.
Is WDP registering demand from smaller companies that need warehouse space? Are you flexible from this perspective?
Yes, we see a growing demand from smaller business. We intend to address such demand with new product types which will allow more flexibility, which is necessary as costs to split larger units into smaller units can be prohibitively high.
What is WDP's approach to sustainability? What kind of strategy are you implementing locally?
WDP has recently launched a very ambitious climate action plan. Our main focus lies currently on solar panels on our roofs. We have made a substantial investment to install panels initially on half of our roof area and we will continue to works towards further decarbonization of our business.