The influx of refugees has resulted in further demand on Poland's already fast-paced residential market. At the same time, fears over a prolonged or escalated crisis might decrease investment activity in the short run. Bartłomiej Annusewicz, CEO of luxury residential real estate agency Lions Estate talked to Property Forum about the trends driving various segments of the market.
How did Poland's luxury residential market perform in 2021?
2021 was marked by significant growth of demand in the Polish residential real estate market. Indeed, it was the best year ever for developers thanks to a record number of primary market product sales. The same situation persisted in the secondary market: customer interest was constantly increasing, especially regarding luxury properties.
There are several reasons why clients were so eager to buy real assets. Certainly, such factors as the stable situation in Poland, rising real estate prices, increasing inflation and the lack of profitability of keeping money in bank deposits played a significant role in defining customers' decisions. Another determinant that made people invest in luxury real estate was the instability arising from the COVID-19 pandemic. At all times, when there is uncertainty in the market, people tend to look for safe havens, places where capital can be securely invested.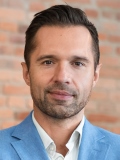 Bartłomiej Annusewicz
CEO
Lions Estate
Creator of the brand and co-founder of Lions Estate agency, associated with the real estate market for 15 years. Expert in the luxury real estate market in Poland, frequently appearing in the media. The driving force behind the company's success who led Lions Estate to many prestigious awards, including the European Property Award for Best Single Office Agency in Poland 2021/2022.
More »
What type of properties are prospective buyers/rents looking for right now? Have their preferences – in location, amenities, etc. – changed since the start of the COVID-19 pandemic?
Our many years of experience show that the specifics of the properties that are in demand always remain similar; that applies both to the popular market and the premium segment. Currently, the most popular are apartments in renovated pre-war buildings; there is always an extremely limited number of such offers in the Warsaw market.
The COVID-19 pandemic contributed to the higher interest in the rental market. We observed this trend manifesting itself the most vividly at the beginning of the pandemic: there was a particular growth in demand for real estate in the suburbs. That was due to a relocation of people who had their apartments in the city and after the start of the pandemic decided to rent houses on the outskirts. However, the situation has stabilized with time and by the end of 2021, the market returned to its pre-pandemic state.
I think that we can already take into account another factor that significantly affects the Polish real estate market nowadays, which is the war in Ukraine. Here we observe huge growth in rental market demand since over 2 million Ukrainians have come to Poland in the last month. What comes to the market gets leased rapidly and hence prices are rising. This applies not only to the popular market but to the luxury property segment as well.
Have you observed any significant changes in recent years in what sort of services/advice your clients are looking for?
Clients' awareness of the quality of properties is constantly rising; nowadays, they have a better understanding of the real estate market and, therefore, expect premium real estate advisors to offer them actual high-end real estate. Customers prefer properties that are difficult to access, sometimes even not openly offered, namely off-market offers, which are not published anywhere. Currently, this trend is significantly growing, both in terms of supply and demand. Indeed, many real estate owners are already aware of the fact that off-market sales generate more interest.
An element of offer uniqueness plays a key role here – namely the fact that not everyone can buy this property. In such situations, buyers tend to be more decisive, and it is very often the case that the first customer buys such a property. I think this is a particular novelty on the market that is worth remembering. Moreover, we, as Lions Estate, estimate that approximately 30% of our transactions are sold off-market.
How has supply kept up with changing demand?
As I mentioned before, we certainly have a housing shortage in the rental market nowadays, including the premium segment as well. Demand significantly outpaces supply. The hardest challenge our agents are facing right now is to find big apartments or houses for families with children in top-class locations. Generally, we are in the midst of historically low availability of rental offers in the market.
When it comes to the sales market, the situation is more stable and we can observe here the same trends as in the previous years: the availability of truly luxurious properties is constantly decreasing. With each year, there is fewer top-class offers in the open market and more customers who want to buy such real estate either for residential or investment purposes. As a matter of fact, holding capital in luxury real estate is a wise choice, since such properties retain their value in most cases, regardless of the situation on the market.
Are there many premium residential development projects underway or in the pipeline in Poland? Which locations and types of projects are developers targeting?
Yes, the primary market is constantly growing; a significant number of development projects have been started in recent years, there are even more planned. The most popular location is, of course, Śródmieście: the most luxurious investments in Warsaw are being built here. Another city district worth mentioning is Mokotów, due to its size and diversity. Moreover, developed to a large degree infrastructure positively affects quality and comfort of living in this part of Warsaw. High-end development projects are also being built there. It is important to note that the primary market is developing quite strongly nowadays as well in the northern part of the capital, especially if we are talking about Żoliborz, Bielany and Młociny.
What are your expectations for Poland's luxury residential market in 2022?
In my opinion, if not for the war in Ukraine, the luxury real estate market in Poland would continue to develop at a high pace, as in previous years (namely the 2020-2021 scenario). However, today the situation is a bit more complex since there is a constantly present risk of conflict spreading to other countries in the region. Therefore, many people are starting to worry about whether it is really worth buying now, considering that Poland is a country where there is a risk of war. Due to this situation, there is an increasing number of clients who are considering buying real estate in other countries, especially in Southern Europe. That is done in order to have an alternative if they will have to leave Poland. I think that this will change as soon as the situation in Ukraine becomes clearer and probably to what extent people will get used to the presence of conflict in a neighbouring country. Presumably, the situation will stabilize, and we estimate that this year will also be a year of growth.