TriGranit has laid the foundation stone of the first phase of its new Class-A office development, Silesia for Business in Katowice, Poland. The office building will be the final element of the mixed-use development project of TriGranit, started 15 years ago and realised on a 30 hectares large brownfield area. The post-mining area today includes a shopping mall and residential estates, while the new office building, providing approx. 26,000 sqm GLA and more than 400 parking spaces, is expected to be completed in Q4, 2021.
With the groundbreaking ceremony on 27th November, the construction of TriGranit's newest office development in Katowice, Poland has been launched, offering 25,900 sqm GLA of quality space for the Katowice office market as of Q4 2021. Together with the previously delivered Silesia City Center and the Dębowe Tarasy (Oak Terraces) residential complex, the office development is a classic brownfield project as it is being built in a formerly run-down area. After its closure the "Gottwald" coal mine area had been completely neglected for over 50 years; it was both an eyesore and a health hazard. As part of one of the largest recultivation projects in Europe the 30 hectares of post-mining area was revitalised by TriGranit and thus given back to the city of Katowice.
"The construction of the Silesia for Business office building is a long-awaited project of TriGranit: after delivering the Silesia City Center in 2005 and the Dębowe Tarasy residential estates in 2009, which are adjacent to each other, we can finally fulfil our vision of building city centres in the heart of Poland. After the first phase of S4B, we plan to construct a second phase of the office complex in the future. These developments will add in total up to 30,000 sqm GLA to Katowice's office supply", Tom Lisiecki, Chief Executive Officer of TriGranit said at today's ceremony.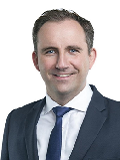 Tom Lisiecki
CEO
TriGranit
Mr. Tom Lisiecki, CEO of TriGranit, has more than 17 years of professional experience in the real estate sector working at different property development companies. During his 13 years with TriGranit, he has directed all projects of the company in Poland such as the Silesia City Center and 1000 apartments complex Oak Terraces (Debowe Tarasy) in Katowice, Bonarka City Center and Bonarka for Business (B4B – 7 class A office towers) in Krakow and the integrated transport, entertainment and commercial hub of Poznan, the Poznan City Center. Mr. Lisiecki is a member of the Urban Land Institute (ULI) and holds an Executive MBA from Kellogg School of Management and WHU–Otto Beisheim School of Management.
More »
"Revetas has been active in the region since 2004 and started investing in 2013, in Krakow. We continue to see potential in the country and Katowice is a perfect investment location for Revetas as we tend to focus not only on capital but university cities of the region as well. We are proud the be involved in the iconic developments of Silesia that TriGranit, our solid partner in asset developments especially in Poland and Hungary started 15 years ago," Eric Assimakopoulos, Founding Partner of Revetas said.
Eric Assimakopoulos
Founding Partner
Revetas Capital
Eric has over 25 years of experience in the real estate sector, principally as a developer and investor. He is a US national and spent the majority of the last 15 years in Europe, initially investing in Belgium, Germany, and the Slovak Republic. Eric has completed over €1 billion of real estate transactions throughout US and Europe. In the 1990s, he founded and built the Gnome Group Inc into one of the most advanced data centre developers across the US and Europe. In 1999, Eric partnered with Morgan Stanley Real Estate Funds and served as Chairman and CEO of Metronexus, a real estate investment platform investing $300 million in 300,000 square metres of real estate in the US and Europe. In 2002, he launched and built Bifrost Investment Group (predecessor to Revetas Capital) into a leading CEE investment and asset manager. Since 2009, he has actively developed a platform to restructure and recapitalise distressed real estate in CEE. By early 2013, Eric successfully restructured and recapitalised over €200 million of debt leading to the formation of Revetas Capital.
More »
With an average floor size of 1625 sqm GLA, the 14 above-the-ground floors building will have altogether 439 parking spaces on 3 underground parking floors. To support sustainable mobility, electric car chargers and several bike racks with changing rooms and showers will be installed. The needs of today's employees will also be fully met by creating outdoor relaxation areas, which people may also use for working outside. Moreover, Silesia for Business is being built according to the BREEAM 'Very Good' certification and will have other sustainable solutions, such as Building Management System with high energy efficient mechanical and electrical equipment.
With one of the biggest shopping malls in the region located nearby the building will be an integral part of Katowice city. Several restaurants, cafés, bars, and entertainment facilities, including a cinema in the neighbourhood of S4B will make the everyday life of future employees easier. For those seeking recreation in a green environment, Silesian Park and the Silesian Zoological Garden are within striking distance.
The building is located near the main approach road to Katowice with excellent road access to other cities; it will also be easily approachable within the city thanks to the various public transport opportunities: 5 tram lines, 13 bus lines and bikes lanes near the building – all making the office building an ideal place for business. It is foreseen that the first tenants will move into the building in Q4, 2021.
Besides Silesia for Business, TriGranit is working on the construction of three other office buildings in the region. The ninth element of Bonarka for Business (B4B) in Krakow, Poland – Building I, with approx. 10,000 sqm GLA – is already under preparation, coming after the completion of Building H, the eighth building, during 2019. Also, in the pipeline is Building J, also approx. 10,000 sqm, the final element of Krakow's popular office complex. With these developments, the B4B complex will become a 95,000 sqm GLA development. Meanwhile, in Hungary, TriGranit's Millennium Gardens office building is progressing well with approx. 37,000 sqm GLA and a prospective handover in Q2, 2021. The development in Budapest has just reached ground floor level and is being built in line with the tenants' employee-friendly requirements and green quality standards. With these projects, the company's office pipeline developments account for close to 100,000 sqm GLA in 3 CEE cities.