Trei Real Estate GmbH will be opening its 26th retail park under the Vendo Park brand in Poland. It is located in Oswiecim, a small town of around 40,000 residents in the Lesser Poland Voivodeship in southern Poland. This latest Vendo Park has a leasing area of around 5,300 square metres and is leased to seven retailers and a supermarket. In total, Trei invested c. €7.2 million in the property. The new retail park is the first in the Lesser Poland Voivodeship.
Tenants include, in addition to a Netto supermarket, outlets of the retail chains KiK, Pepco (both stocking textiles and interior decoration), TEDi (textiles, stationery, home furnishings), Sinsay (apparel) and Neonet (consumer electronics), among others. The property extends over a total of 5,500 square metres, and provides 116 car parking spaces in addition to the retail areas.
Pepijn Morshuis, CEO of Trei Real Estate, commented: "Poland's retail park segment continues to follow an upward trend. We have come to realise lately that demand for this kind of retail real estate is stronger than initially assumed. There are still many small and mid-size towns that have no modern outlets for retailers selling consumer goods." Morshuis added: "We are glad that things worked out and that we get to open the retail park in Oswiecim right on schedule, making it our fifth Vendo Park for 2021. Our first investment in the Lesser Poland Voivodeship shows that we continue to make progress with our growth trajectory as we keep expanding our footprint in the Polish retail real estate market."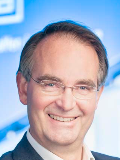 Pepijn Morshuis
CEO
Trei Real Estate
Pepijn Morshuis serves as CEO of Trei Real Estate since 2015. His responsibilities include the departments International Transactions, Asset Management and Development. Before joining Trei, he spent 19 years working for Dutch asset manager The IBUS Company, the last eleven years thereof as its CEO. At the time, IBUS was a globally active, independent real estate investment and asset management company. Before, he was Auditor at Arthur Andersen. Morshuis looks back on a total of 25 years of real estate experience and has been responsible for development and repositioning projects involving office, residential and retail properties in Europe, the United States and Asia.
More »
The latest addition brings the Vendo Park portfolio of Trei up to a total of 36 assets, with 26 of them located in Poland. The company is planning to open at least two more Vendo Parks in Poland this year, one in Inowroclaw and the other in Chorzow.