There's a new player on Poland's logistics market that's open to developing all types of projects – last-mile city logistics, classic big box or BTS units. Hadley Dean, Founder of MDC², a new company of experienced managers on the Polish warehouse market talked to Property Forum about new partnerships and the investment climate.
You have a long career and vast experience in retail and office, as well as in real estate advisory. Why logistics and industrial properties now?
Actually, logistics property is my background. I have been, from the early years of my career, just focused on logistics until I got into a leadership role. I started with King Sturge where I was working in a logistics team and then I came up to Central Europe to set up a logistics agency business in the Czech Republic and Poland. Then I joined Colliers as a Managing Director, and due to my background, we have quickly developed its logistics agency business. And then I went on to run the logistics business first in the CEE, then in Eastern Europe and finally in the EMEA region at Colliers. So industrial and logistics properties have always been my background and so when I worked in the shopping centre business people who have known me for a long time were very amused because they have seen me, as an inverted comet, "a shed head".
In February, your cooperation with CTP has been revealed. The two companies are going to develop three full-service business parks in Poland. Can you tell us a little bit more about the projects?
Indeed, CTP is one of the investors working with us, but we are also working with other investors. From our experience, different investors are looking for different types of products. Some of them are looking for top locations and some for long term leases with quality tenants or new not developed regions.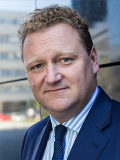 Hadley Dean
Founder
MDC²
Hadley has been successfully operating in Poland for over 20 years where he is recognised for growing businesses and consistently outperforming the market place. Before establishing MDC² he used to hold the role of the founding CEO of EPP – the largest owner of shopping centres in Poland (EUR 2.6bn of GAV). Prior to EPP he was a Managing Partner for Eastern Europe for Colliers International where he built the best logistics and industrial space agency business in Central and Eastern Europe.
More »
Do you have any plans to cooperate also with other partners or to develop the new projects on your own?
We worked hard closing our land deals as we were able to secure great locations for industrial and logistics projects. Currently, we have four projects in Gliwice, Wrocław, Warsaw and Łódź. We are planning to start the constructions in Warsaw and Gliwice this summer. And yes, we are open to collaboration with different business partners in the Polish market.
Last-mile city logistics, classic big box or BTS units – what is the type of warehouse preferred by MDC²?
All of them, as we are in process of closing the deals for all types of projects. As we all know, the Polish industrial market is going through a dynamic growth period. This trend will continue during and post-covid years, as consumer habits will change and adapt to online shopping, as it is also a very strong trend in Western Europe.
Nearshoring to Poland – is it already happening or it is just a song of a distant future?
No, it is not the future. We are seeing this trend developing in Europe now, as a number of distribution and production companies will not be able to secure better and faster deals from China going forward. The recent facts with delivering goods from China showed us that there is no 100% reliability in delivering goods in time and within budgets. Therefore, nearshoring in Poland is expanding on bigger levels.
Do you think that foreign investment funds in Poland are already trying to withdraw from retail and office assets and focus on warehouses or PRS?
There is a very interesting situation with property investors' profiles in Poland. I would not say foreign investors will withdraw from office or retail, as the top class assets have been always a good opportunity despite COVID-19. In the office sector, there were a lot of subleases happening and also the shift to more flexible office space. Whilst in retail, despite many months of closure, there are still impressive numbers of sales being noted as a result of a delayed demand.
Without a doubt, the logistics and warehousing industry is one of the biggest 'winners' of the COVID-19 pandemic. But with the widespread vaccination action, there is a substantial chance that soon the pandemic will be over. Do you think it will also be the end of the "logistics rush"?
I have been operating in the Polish market for the last 25 years and I saw many ups and downs of the market cycle. This kind of rush will not last forever, however, with Poland's position of the number one CEE market in terms of size and development potential, as well as its position as the eighth biggest economy in the EU, I would look at the future rather optimistically. We will definitely see a lot of new attractive developments in the market and the products, which will attract big institutional investors, both local and international.