Increase in flexible working patterns brought on by the Covid pandemic has had a positive influence on our ability to juggle these two competing pulls on our time and focus, says Clare Sheils, Managing Director of CBRE in the Czech Republic. She talked to Property Forum about market expectations, the ongoing energy crisis and being a woman in top management in real estate.
How would you describe the current situation in the Czech commercial real estate market compared to other CEE countries? Where are we currently in the cycle?
Investment volumes across CEE in 2022 surpassed those of 2021 and reached €11.6 billion. For all countries, except the Czech Republic, investment volumes were positive compared to 2021. The Czech market has been experiencing a real scarcity of core product for a number of years now as we have a large proportion of institutional landlords with long term hold strategies, a lengthy planning process and a limited development pipeline,which has had a negative impact on volumes.
Coupled with this is the current level of interest rates in the Czech Republic which is a concern, making it difficult for the investment market as financing costs are currently halting deals.
In terms of where we are in the cycle, both the FED and ECB said they will continue to raise interest rates in H1 2023; therefore we can expect further upward pressures on yields in the first six months of the year. Some say that in H2 2023 the central banks could start thinking about lowering the rates, which would help the overall sentiment.
Nevertheless, the Czech Republic is one of the least risky emerging markets due to its conservative fiscal and monetary policies, low debt, an equally prudent and liquid banking sector, high GDP per capita and low unemployment rate.
In addition, Czech real estate investments still provide attractive yield returns in comparison to Western European markets and Czech has the best investment rating in CEE by the main rating agencies.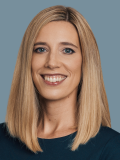 Clare Sheils
Managing Director
CBRE Czech Republic
Clare Sheils comes originally from Great Britain but a large part of her work and private life is closely connected with the Czech Republic and Prague, where she has lived with her husband and two daughters for almost 15 years. Her career has been associated with commercial real estate for many years. She is a member of the Royal Institution of Chartered Surveyors (MRICS). Prior to joining CBRE Czech Republic in 2013, she worked for DTZ in Prague for several years as the Valuation Director. She had the same position after joining CBRE, however, in 2014 she was promoted to the position of Head of Valuation for the entire region of CEE. A year later, thanks to her proactive and visionary approach, she joined the top management as one of the four members of the CBRE Czech Board. In March 2020, she was appointed the Managing Director of CBRE Czech Republic, practically hand in hand with the COVID-19 pandemic outbreak. Due to this unprecedented situation, she had to immediately start focusing on crisis management and maintaining the daily company operations comprising 250 employees. Especially thanks to her fair and open communication, natural respect, high level of professionalism and endless enthusiasm, Clare managed to stabilise the company and restart the business despite the difficult period. Clare is also very active in CSR activities: since she joined CBRE, she has been involved in many such initiatives, which mainly support local communities, mostly from disadvantaged groups. With her leadership, CBRE cooperates e. g. with the Single Mothers Club (Klub svobodných matek), the Lunches for Children project powered by Women for Women, the Good Angel Foundation (Dobrý Anděl) etc. Already while she lived in the UK, she also helped organizations supporting children in need as a volunteer for many years, and she also supported schools for disadvantaged children in Africa. If Clare finds free time left outside of work and caring for her family, she loves rowing – you can often see her practising on the Vltava River in the mornings.
More »
We are now facing several new crises. This includes the energy crisis, which is having a significant impact on the commercial real estate industry. How are you dealing with these crises and what advice do you give to your clients to cope with these times?
The energy crisis is a complex challenge determined by a range of factors including politics, geography and supply and is in the longer term closely related to the transition to carbon neutrality. In the short term everyone should focus on reducing demand and improving efficiency and our property managers, supported by internal technical experts, are advising our clients to adjust operational patterns or usage based on best practice expertise. In the longer term, we advise our clients to develop a decarbonisation pathway audit that would investigate all feasible ways to reduce energy (carbon) demand including on-site renewable energy production.
In this sense, the energy crisis is having a positive outcome, i.e., it is pushing people to focus on reducing their energy consumption and making buildings more sustainable and accelerating our way to achieve the Paris agreement targets. We are also seeing that these considerations are coming much more to the forefront of what financing banks are expecting, so finally, the green premium that has been discussed for years is becoming a reality.
Do you expect CRE rents in the Czech Republic to fall in the foreseeable future?
Rental levels are mainly influenced by the supply and demand economics of the market and what we have seen across many sectors is that the balance of supply and demand has been quite finely balanced. With the office market in Prague, we have seen a contraction in demand, but at the same time there has been relatively little new supply coming to the market, therefore vacancy rates have only risen slightly. When we also factor in the quality of the new supply coming onto the market, such as Penta's Masarycka project, along with the rapid cost inflation in the construction sector, we have seen prime rentals levels increase in the last couple of years. In secondary areas or properties with lower sustainability credentials, we will see stable rental levels or possibly declines in net effective rents.
The industrial sector on the other hand has been the stand-out performer across the region in the last few years, spurred on by the huge growth in e-commerce, the continued resilience of the automotive sector and the general trend of nearshoring that we are experiencing post Covid. Here in the Czech Republic, the much-maligned permitting process has contributed to a positive result for investors, in that it has acted to slow the rate of new developments coming to the market to satisfy this demand, therefore reducing vacancy rates across the country to below 1%. The downside of this is that with the prolonged time frame that developers have to deal with for permitting sites, it can mean that some major requirements are lost to neighbouring countries with more favourable planning regimes, such as Slovakia, Poland and Hungary.
With you stepping up as Managing Director in the challenging Covid year of 2020, you had to act immediately as a crisis manager in your position. How did you cope with the challenge?
Well, it was certainly a test for me as we closed the office 2 weeks after I took over the role! It was a very unnerving time, not knowing how I was going to pull everyone together in a crisis as the new leader of the business when I couldn't meet with them, and that was just the communication side! I remember my then 3-year-old helping me make a picture of a green TV with CBRE written in the middle, which we stuck to a wall in our spare room, whilst my husband took a video of me speaking to the business. When I look back, it's unbelievable that that was the start of my role as MD!
On the business side it was sickening, we just didn't know the effect Covid was going to have on our business due to the horrible unknown of when the situation would be under control.
I was conscious at the time of how lucky I had been that I was already part of the business for 7 years before taking over. I knew how the business worked and more importantly, I trusted and was trusted by the leadership team, which made the discussions and decisions that little bit easier.
What motivated you to pursue a career in real estate as a woman, a field that is dominated by men, especially in top management?
We have some family friends who are chartered surveyors, so I guess you could say that they inspired me to look into the career. I started as a research analyst and worked through the agency, property management and valuation departments.
It may seem strange to say but at the start of my career it didn't cross my mind that it was a male-dominated field, it was an industry that interested me, had a high degree of social interaction and there were a few women in top management in the UK when I started. I didn't consider (and still don't!) that it was an industry that wasn't suited to women or that I would be penalised for not being a man. Perhaps I was lucky that I had two strong female role models at the beginning of my career whom I admired, and I was never told or felt that I was ever at any disadvantage to my male peers.
I've been incredibly lucky to have bosses, mentors and peers who have always supported me and pushed me on. I honestly can't say that I've ever been driven by the desire to be at this level of an organisation, my focus was always the here and now, doing my best in the project or role at that moment, which was then noticed and I was encouraged to move around the business.
I hope that all employees in CBRE feel as I do; that they can achieve their career goals in a culture where everyone feels safe, valued and heard.
What does the fact that you are a woman bring to your industry/your work? Is it an advantage for you as a Managing Director or rather the opposite?
I hope that people view me as a capable, problem-solving professional, rather than a woman in the market, however, sometimes being the blonde woman in a room full of men does provide a point of difference! Being serious though, I think that my great advantage is my ability to empathise. I love the quote "to handle yourself, use your head; to handle others, use your heart" (Eleanor Roosevelt). And that's become my mantra and my way of keeping myself grounded, especially when we were dealing with the effects of covid. Tough decisions are necessary for this role, but the execution of those decisions must be done with respect, after all, CBRE is nothing without our people.
I've always enjoyed and therefore had a focus on trying to help people in my teams maximise their potential and as a result ensure that we are providing an excellent service to our clients. We must never forget these core principles in the hunt for the next big deal!
You are in a top management position now and you also have young children. How do you find the balance between work and life? What advice would you give to women who are dealing with a similar life situation?
As I am answering these questions sitting next to my daughter in hospital as she awaits an operation having broken her leg skiing, the balance between work and home life has never been more visible! I think that the increase in flexible working patterns brought on by the Covid pandemic has had a positive influence on our ability to juggle these two competing pulls on our time and focus.
But I'm not in this alone, my husband and I have always had the agreement that it's a joint responsibility and we have a pretty good split in who deals with dropping kids at school, and taking them to sports and other activities.
So my advice to women is to stick at it and for managers to be flexible - it´s important to ensure that both men and women feel that they have the ability to be there for their families.
How do you promote equal opportunities at CBRE?
At CBRE, we see diversity and inclusion as essential for our business to thrive. Our DE&I strategy is focused on three key objectives - strengthen our inclusive culture, increase the diversity of our workforce, and increase our spending with diverse suppliers. Locally we have a high number of women in managerial roles (40%), we are very focused on ensuring that women with small children are not excluded by offering flexible working arrangements. We try to promote diversity by adding at least one performance objective from this area to everyone´s goals and we regularly educate our staff to eliminate biases.
We offer opportunities to all people who are a good fit for our company and success depends purely on work performance and hard work. Factors such as age, gender, race etc. are not relevant to success.