Skanska aims to cut its emissions by 70% as early as 2030, while more investors are looking for ESG-compliant projects in CEE, Skanska's Adam Targowski, Environmental Director, Center of Excellence and Aurelia Luca, Executive Vice President Operations Hungary and Romania tell Property Forum in an interview.
How does ESG fit in the wider sustainability agenda of Skanska across the region?
AT: In recent years, we have been observing a growing role of Environmental, Social, Governance (ESG) indicators, which have an increasingly strong impact not only on business decisions but on the real estate investment market as well. Despite the fear of moving the focus away from ESG in the face of the pandemic, the opposite has occurred: It is now proving the importance of sustainability, which can future-proof the investments. This trend is also visible in Skanska's report "100 Most Important Trends in the CEE Economies."
The growing interest in ESG standards shows that they will determine to an increasing extent the market's shape in the future, as well as property valuations. Investors are being more aware now of the importance of this aspect and they will base their purchasing decisions on whether the seller has implemented ESG principles more often than before.
For over a decade now, Skanska Group has been implementing solutions that aim to improve the environment and social responsibility. In recent years, the company also started to increase its focus on corporate governance, and it is constantly working on implementing more and more efficient solutions aligning to the ESG principles.
Adam Targowski
Environmental Director, Center of Excellence
Skanska
Adam Targowski holds the position of Environmental Director in the office development part of Skanska operating in Central and Eastern Europe. Adam team is responsible for setting up project ambition and KPIs in the field of sustainability as well as certification processes. Recently, the team is focused on ESG and achieving climate neutrality of Skanska by 2045. Adam Targowski joined Skanska as Project Leader. His experience is related to cooperation with Go4Energy providing consulting and training in the field of sustainable development, energy efficiency, responsible use of resources and multicriteria certification. In January 2016 Adam took over the role of Sustainable Development Manager and in 2021 Environmental Director in Skanska Commercial Development Europe. Adam is involved in many organizations promoting sustainable development in the CEE region: RICS, Urban Land Institute and Polish Green Building Council where he serves as Advisory Board Member.
More »
How do ESG criteria translate into benefits for tenants, employees, and the landlords of office projects?
AT: More than 35 stock exchanges around the world have already issued (or are in the process of doing so) ESG reporting guidelines. Moreover, as it has been underlined by KPMG, before the pandemic, about 25% of global assets under management were viewed through a sustainability lens and in the next few years, it is expected that the proportion is likely to rise to 75% or more.
Due to the pandemic outbreak and the introduction of hybrid office working models, tenants and investors will require properties meeting even higher ESG standards than before, shows Skanska's report.
The built environment is responsible for 40% of the world's energy-related carbon emissions. At Skanska, we made a mission of offering our customers more climate-smart solutions that will advance their climate efforts as well as our own.
Skanska has ambitious targets to become carbon neutral. How are you implementing the strategy and what are the results at this moment?
AT: We focus on reducing emissions from materials and the use of our buildings, on resource efficiency and on renewable energy.
We have already managed to reduce the carbon footprint in our own operations by more than 40%. This led to us getting closer to our final target of becoming climate neutral by 2045. The effective reduction of carbon emissions resulted in Skanska tightening the climate target. Now it includes a reduction of Skanska's own emissions by 70% as early as 2030, in comparison to the previously set target of 50%.
Moreover, in the construction process of its office buildings, Skanska uses materials containing recycled elements, sourced from local companies and suppliers.
Because the materials we use are just as important in making our buildings as eco-friendly as possible, Skanska has implemented, as the first developer in Central Europe, concrete with a reduced carbon footprint, with an emissivity level that is 42% lower than that of traditional concrete mix. This type of concrete was used for the first time as part of the construction of the company's office investment P180 in Warsaw. Other Skanska projects that have low-carbon concrete solutions implemented are the Equilibrium project developed in Bucharest and the Port 7 investment in Prague.
We also focus on improving the air quality near our office buildings through the anti-smog pavement made of concrete. The first tests of anti-smog pavements have shown a 30% lower concentration of nitrogen dioxide.
Electricity from renewable energy sources is standard in buildings we develop in CEE including Romanian projects – Equilibrium and Campus 6 are 100% powered by renewable energy sources.
Another action towards our sustainability goals is our strategic partnership with Saule Technologies in terms of perovskite in the pilot project in the Spark office building in Warsaw. The definitive version of such a single photovoltaic panel will be able to cover the energy demand for lighting one employee's workspace for eight hours or powering one computer for the entire day of use. We plan to cover most of the facades surfaces with perovskite cells. The solution was tested in the Spark office building in Warsaw, and then a pilot production line was launched, enabling the production of cells in a larger format.
By being involved in the BMSCare project that tracks building functioning parameters, Skanska can enable the reduction of energy consumption.
Skanska's climate target has been scientifically validated by the Science Based Targets Initiative (SBTi) to be in line with the Paris Agreement on cutting carbon emissions and limiting global warming.
The company will continue its efforts to reduce carbon emissions, both internally and through partnerships for innovation.
How important is the topic of sustainability for companies that are looking to rent office space or acquire Skanska's projects across all markets where you are present?
AT: The ESG matter is getting increasingly important for companies, which reflects in the tenants' and investors' focus on office buildings that are ESG-compliant or can be easily adapted to these new requirements.
The tenants and investors are now paying more attention to properties when it comes to their impact on the environment, the green solutions implemented within the buildings, great architecture and placemaking where people can use the office space for more than only daily work.
To this date, Skanska has 70 projects and approximately 1.02 million sqm that are LEED-certified, seven projects and around 110,000 sqm which are WELL certified and 10 projects that received WELL Health & Safety Rating certification.
Is having a green building enough to meet the emerging standards under the ESG policies?
AT: Green buildings are strongly connected with Environmental issues regarding the carbon footprint, the implementation of renewable sources, biodiversity, land use, energy and water efficiency, implementation of sustainable solutions and sustainable materials, the supply chain.
But there are, as well, other important matters on Social and Governance that companies should take into consideration to properly meet and fulfil the ESG standards: the way the building and its landscaping infrastructure addresses the needs of the local community and stakeholders should play a key role on the strategic plan.
Another aspect of high interest for any developer should be the way the building itself is built, which requires careful attention in terms of responsible contracting, the working conditions on the site and minimizing the impact of the construction site over the neighbourhood. It is also crucial for the company investing in the building process and the operator of the building to take into consideration the ethical approach on the overall business to acquire and maintain a long-term balance of the three ESG elements.
What is your outlook on the future of office-based work in Romania and how are you adapting to the new market demands?
AL: Globally, 2020 was characterized by a lockdown with the outbreak of the pandemic, which generated a situation that the market has not faced before. 2021 was the year when we all began to adjust to the new reality, characterized by hybrid working models when we noticed an increased desire for the employees to return to the office. Starting with 2022, we expect to see a redefinition of the office spaces and, starting with this year, we expect increased demands in terms of relocation.
Our recent studies show that more than half of the employees in CEE have already returned to the office.
What stands at the top of our priority list is for our offices to meet the needs of the employees and to make them always feel safe. That is why Skanska has focused on implementing innovative technologies that will help create a safe and healthy environment before they become a necessity imposed by the new rules and trends set by the pandemic. A guarantee in terms of cleaning and sanitization procedures, emergency preparedness programs, and air and water quality management is the WELL Health & Safety Rating awarded to multiple of our projects.
From touch-free solutions and using prop-tech to monitor the environmental factors and the occupancy rate of our buildings, to open, airy and green spaces – these all became an important decision-maker for today's employees who consider returning to the office. These features have also been part of the new offer by Skanska, called 'Care for Life Office Concept,' which includes recommendations and consultancy regarding new hygiene, safety protocols, adjustment of existing technologies in Skanska's buildings, and reorganization of office areas.
The actions and measures implemented in the last period in our buildings will continue to be valid and will remain in force also after the pandemic is overcome.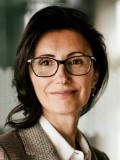 Aurelia Luca
EVP Operations Hungary and Romania
Skanska
Aurelia has over 16 years of experience in the real estate market. She started in Skanska Property Romania in 2012, where she held the position of Leasing Manager, and from 2016 to 2017 as Country Director. In her previous roles, Aurelia was fully committed to successfully delivering, leasing and divesting the Green Court Bucharest office complex, strengthening Skanska`s position in the northern part of the city with the Equilibrium project, and leading the way as Skanska entered a new sub-market with the Campus 6 development. She was also named Managing Director in 2018. The position means that she was the first Romanian member of the Management Team of Skanska's office development unit in CEE.
More »
How does Skanska's development pipeline look in Romania and what is your strategy for the upcoming years?
AL: We are currently focusing on the development of the second phase of the Equilibrium project, for which we started the constructions in February 2021, and it is estimated to be completed in Q1 2023.
Equilibrium is representative of our portfolio in the region, and with the second phase, we will double the leasable area of the entire project. The 12-storey building will comprise a total leasable area of 19,900 sqm and 229 above and underground parking spaces. The entire Equilibrium complex with the two buildings will provide 40,800 sqm of leasable area.
At the same time, we are investing in the completion of the entire Campus 6 complex, where Campus 6.4 will be added. The final complex will have a total leasable area of 81,000 sqm and will consist of four class A buildings.
We also plan to start a new project in Bucureștii Noi where we already bought the land and that will let us extend our presence in three submarkets. This will also be a pilot project in the implementation of the Net Zero Carbon Buildings certification that will be developed in collaboration with the Romania Green Building Council.
How competitive is Romania's office industry compared to other markets in Central and Eastern Europe?
AL: In terms of the real estate market, CEE attracts investors with A-class certified office buildings that meet ESG criteria. Due to its size, Poland is the biggest investment market in CEE and attracts around 50% of capital. Romania may not be the biggest market in CEE, but it has potential for investors who want to diversify portfolios and look for opportunities in various locations.
Despite the COVID-19 pandemic, Skanska managed to sell four buildings in Poland and Romania for €265 million. The sale of Campus 6.2 & 6.3 office buildings was Skanska's largest transaction on the Romanian market so far, which shows that even in times like this the office market in Romania remains of interest in the eyes of the investors.
Moreover, for the last couple of years, Romania and its pool of talented workforce have attracted IT&C companies which set up operations here. This has a major influence on the office sector as IT&C companies account for almost 50% of the take-up of office space.
Also, a survey by EY Romania conducted in June 2021 shows that 66% of investors plan to establish or expand operations in Romania in the next 12 months, (above European average – 41%), compared with just 27% in 2020. This is proof that Romania remains an interesting market and the demand for modern and sustainable stock will be strong.