As more people get vaccinated and offices are reopening, companies need to make a decision on how to manage their workforce. Employees that worked remotely for much of the past year will now circulate between work from home and commuting to the office. But do employees really want to work from home or from the office 5 days a week? CEE-based flex office provider New Work believes that the future belongs to flexible workplaces everywhere and they see demand for hundreds of flex office locations across each country in the region.
Working from home has been standard practice at many companies but the pandemic brought to life an unprecedented social experiment where the overwhelming majority of desk-based jobs had to be done remotely. As most desk-based jobs are available in the largest cities, this provided an opportunity for many employees to temporarily move back to their hometowns.
Now that the pandemic situation is improving, it's time for employees to think about how they want to work in the long run. Working from home full-time is not an attractive and viable option for most people, for a variety of reasons such as the lack of a proper workstation within the living area, potential distractions or the basic human need to socialize. Going back to the office full time, however, is also not an attractive option, especially if you only live in or commute to the city where your company's head office is located because the job opportunities are there. Many large employers have already realised this. Magyar Telekom, for example, announced that 40% of its workforce will work from home and as a consequence they brought 25,000 sqm of their brand new HQ building on the market for lease.
"Not only employees but employers are also recognising this. Up to 70 % of the desk-based workplaces qualify for working from home and rotation models which will lead to 30 % less office space needed in the headquarters, but much more the need for flexible space in multiple locations. Going forward, companies will need to adjust their workplace strategies and accommodate more flexible work routines that allow workers to choose where they work from. An important part of such a strategy is to provide employees with the option to use flexible office spaces across several locations in the city where the company's HQ is located and in other large cities and towns across the country as well," says Hubert Abt, CEO and Founder of New Work.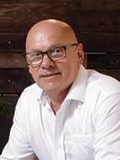 Hubert Abt
CEO
New Work & workcloud24
Hubert Abt has been working in the real estate industry for over 30 years. He worked as a developer and later in the land banking sector and provided equity and Mezzanine capital for various real estate projects. In 2013 he founded NEW WORK Offices in Budapest, which provides various flexible office solutions. Since then he developed the business model further and grew the company to today 16 locations in 3 countries with approx. 43.000 sqm which brings NEW WORK Offices in the top 3 list in CEE. Hubert now leads the company as CEO while focusing on investor relations and developing new products like NEW WORK´s Franchise Package or The Digital Office Pass of workcloud24 where he acts as Founder and CEO as well.
More »
According to the World Economic Forum, Ireland recently announced to re-urbanise 40 villages by implementing co-working spaces in rural towns and creating remote working hubs. There also plans to examine whether pubs could be used as workspaces during quiet afternoons in a bid to encourage more people to live outside big cities. If successful, Ireland's example is like to be followed by many other countries across the continent.
When workspaces become available in every corner of major cities and also in smaller towns, it will not only help employees achieve a better work-life balance, but it will also reduce our carbon footprint as the need to travel to get to work decreases.
"The advantages of having flexible workplaces available to office workers across the country are huge and the opportunities are immense. I believe that office as a service is the future, not only in capital cities but in secondary cities and smaller towns as well, why New Work invented a Franchise Concept for such locations to enable these small locations to participate on a platform for know-how transfer and marketing," concludes Hubert Abt.