The pandemic has not changed the strategy of RSJ Investments. The company's core focus in the real estate segment remains predominantly on investments in residential and logistics/industrial development projects. Nevertheless, the pandemic indeed makes certain asset classes, such as retail, riskier, admits Marcel Kolesár MRICS, Transaction Manager at the real estate division of RSJ Investments, in an interview to Property Forum.
What are your investment market expectations for the Czech Republic in 2022 in terms of transaction volume, yields and financing costs?
In general, we anticipate that the investment environment into commercial real estate will remain stable and or improve slightly assuming the COVID situation will not worsen again. The demand for a prime quality product, especially in the logistics/ industrial sector, on the Czech market will remain high, as there is still a lot of capital chasing the product. Throughout 2022, we expect yields to remain stable or possibly under downward pressure in the most sought-after products and locations. In line with the increase of the interest rate, the financing costs and especially construction costs are increasing, however, landlords/ developers are trying to offset this with increased rents. The ongoing war in Ukraine can have negative spillover effects but these are yet to be seen.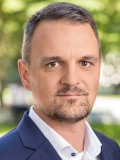 Marcel Kolesár
Transaction Manager
RSJ Investments
Marcel is an enthusiastic real estate professional with 15 years of experience in commercial real estate in the Czech Republic, Slovakia, and the CEE. Marcel is currently working at RSJ Investments, a Czech private equity investment company, where he is responsible for real estate acquisitions and disposals. Through several sub-funds and open-ended unit funds, RSJ Investments manages a broad portfolio of investments into real estate, agriculture, industry, and services. A large portion of its managed assets are various development projects, several standing income-producing assets and agricultural land. Previously, Marcel worked at REICO, an investment company of Česká Spořitelna and real estate consultancy companies Colliers and CBRE. Marcel received an MSc in Real Estate Investment and Management degree from Sheffield Hallam & Nottingam Trent Universities.
More »
The real estate division of RSJ Investments owns a diversified portfolio of real assets. Has the pandemic made you rethink your asset class allocation strategy? What are your investment priorities for 2022?
Our strategy is very opportunistic and we evaluate/ pick the opportunities on a case by case basis in line with the requirements of our investors, hence we are not limiting ourselves to a particular asset type but rather look at the long term returns for our investors. Nevertheless, the COVID pandemic makes certain asset classes, such as retail, riskier which in turn shifts our attention to other types of assets that provide comparable return but are less risky. RSJ Investments at the real estate segment in the past has focused predominantly on investments in residential and logistics/ industrial development projects, which remains the core of our attention even during COVID pandemic times.
Last year, the real estate division of RSJ Investments announced plans to make it easier for Prague developers to finance the purchase of land for residential projects with the help of the RSJ Landbank sub-fund. Where does this initiative stand now and what are the plans for 2022?
This is still a work in progress and we evaluate a couple of opportunities, however, we are not at the stage where we could provide any more information on this.
What's your overall strategy for residential investments? Which locations and which asset type (build-to-sell or build-to-rent) seem the most attractive at the moment?
Investments in residential developments throughout the Czech Republic and Slovakia remains at the top of our focus. With our JV partners, we currently have more than 1700 residential units under construction with an additional more than a thousand apartments in the pipeline. Currently, we focus primarily on major cities such as Prague, Brno, Bratislava, however, we are actively investigating opportunities in smaller regional cities as well. We prefer build-to-sell projects as these still generate the highest returns, however, we analyse built-to-rent opportunities as well.
The real estate division of RSJ Investments is also an active logistics investor thanks to its cooperation with Panattoni. What are your expectations for this market segment? It seems like demand growth is unstoppable.
We expect that the logistics properties will continue to be amongst the most sought after investment products. Our belief in the logistics sector is confirmed by our recent acquisition of a development project in Smirice at D11 near Hradec Kralove. Even logistics developments face their challenges, such as increasing construction costs, however, partnership Panattoni, who is one of the most experienced developers on the market allows us to effectively monitor and mitigate risks.
You teach valuation at VŠE's MBA in Real Estate programme. What would you say are the main challenges real estate valuers have to face today?
I would say that the largest complication for the valuers on the Czech market is insufficient market transparency which many times hinder valuers from being able to fully understand and analyse the comparable transactional and letting evidence when undertaking the valuations. I believe that the MBARE programme helps to educate real estate professionals about the necessity to improve the overall transparency of the real estate market.
What are your main priorities in educating the next generation of real estate professionals? Besides practical knowledge, what would you like to pass on to them?
I put a strong emphasis on ethics, professionalism and avoidance of conflict of interest when providing valuation services. These issues are typically low in priorities of the traditional school system, but it is essential for an addressee of a valuation report to receive a professional and impartial output that can be relied upon. Without the integrity of valuers, the trust in the entire valuation profession could be jeopardized.