Maciej Dyjas and Nebil Senman, Managing Partners at Griffin Real Estate have talked to Property Forum about investing in new opportunities, the future of the retail and changes in the office market.
Your recent joint venture with Kajima and the acquisition of PAD RES, a leading Polish producer of clean energy may seem somewhat surprising, as renewable energy is nascent in Poland. Do you think it may be the next "big thing" on the investment market?
Nebil Senman: It may seem like a surprising move for us, as we are recognized mostly for our activity in the Polish real estate sector. This is the industry that we have the know-how backed up by a strong track record of transactions in different types of assets. However, Griffin Real Estate has always been a private equity company, and we have performed multiple deals in recent years. The last transaction of taking over a major stake in PAD-RES shows the course that we have taken to expand this pillar of our activity even more, and we plan to conduct more such transactions in the future.
Maciej Dyjas: The energy sector is one of the most crucial fields for any country, and currently it is undergoing a huge transformation in Poland that generates a lot of investment opportunities. With the EU moving away from fossil fuel-based energy production, as it aims to become the world's first carbon-neutral continent, generation capacity will be provided primarily by newly developed RES (Renewable Energy Sources), including photovoltaics and wind energy. This investment is significant in relation to two important aspects: it would allow us to take an active part in Poland's energy transformation and, on the other hand, we see the economic sense of this project.
Aren`t you afraid that the legal turmoil around construction on new wind farms in Poland may continue in foreseeable future?
N.S.: In 2016, Poland introduced one of the most restrictive rules in Europe regarding the distance of wind farm projects from residential developments, as a response to social concerns associated with the rapid development of wind farms carried out without much consultation on the projects. However, with increasing awareness among Poles regarding the transformation to green energy, we can see growing support in the Polish society for the development of onshore wind energy. Recently, a draft amendment was submitted for consultation with the aim to change the regulations on turbine locations. This would open a chance for unblocking investments. According to the Polish Wind Energy Association, with this amendment, the capacity of onshore wind farms would double by 2025 from 6.7 GW now to 13-14 GW.
M.D.: This could be a driver of Poland's transition to emission-free energy, however, the new procedures will be for sure lengthy and we do not know at the moment what the outcome of the voting will be, so for now we focus on solar energy. The portfolio that we acquired together with Kajima Europe, as part of a JV agreement to take the majority stake in PAD-RES, comprises 500 MW of power and the majority of these investments are in photovoltaic projects. The portfolio includes projects at various stages of development which we plan to develop in 2021 – 2025 and build them further with a view to acquire new developments and pursue greenfield opportunities.
Nebil Senman
Managing Partner
Griffin Real Estate
Nebil Senman held leading positions for nine years as Senior Vice President and Supervisory Board Member of Oaktree's German and Polish real estate funds and operations worth several billion euros. Before joining Oaktree he spent eight years dealing with the real estate and corporate consulting at Ernst & Young Real Estate (previously Arthur Andersen), where he held different managerial positions. He is a graduate of universities in Berlin (TU Berlin, EBS), Paris (ESCP Europe) and London (LSE) and holds an MBA and a master degree in civil engineering. He also holds a post-graduate diploma in real estate management (EBS). He is a member of the Royal Institution of Chartered Surveyors, MRICS.
More »
Congratulations on the recent sale of the 107,000 sqm retail portfolio of six hypermarkets fully leased to Auchan. Does it mean that this kind of asset is no longer considered prospective by Griffin RE?
N.S.: Thank you! We are pleased with this sale, as this portfolio of good-value retail assets found a new buyer. This transaction is indeed in line with the divestment strategy for part of our retail assets. With private equity as our core business, our goal is to invest with the purpose of selling, as the majority stakes of our investments are owned by big companies that will decide to exit the projects. Therefore, all of our assets will be sold one day.
M.D.: We are still interested in the retail sector in general. It was hit hard by COVID-19 but it doesn't mean it will not bounce back. Although the transaction volume for the retail sector has been at a low level this year, what is important is the very high number of transactions recorded. It shows that investors are generally interested in investment opportunities in the retail sector, and our successful sale confirms that high-quality retail properties are still in demand. Currently, the investors are more inclined to invest in smaller types of assets like retail parks, convenience or DYI stores, but the shopping centres have already seen a growing footfall and higher than pre-pandemic turnover levels. I'm convinced that these are the assets that can continue to perform very decently for a long time, generating revenue.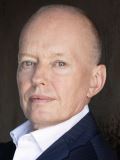 Maciej Dyjas
Managing Partner
Griffin Real Estate
Maciej Dyjas is a Managing Partner of Griffin Real Estate, the largest, privately-owned investment and asset manager in private equity specialized in real estate in CEE. He is also a Managing Partner at Cornerstone Partners, which makes investments, among others, in technology, healthcare, consumer goods, industry, manufacturing, and infrastructure. He gained management experience in the consulting company Wandel & Goltermann Hewlett Packard Systems in the EU and the US and continued as Partner, Managing Partner and CEO at Eastbridge Group, an evergreen investment group. Parallel to his functions at Eastbridge, he held several positions at companies controlled by the Group, including positions of CEO of NFI EMF, listed at WSE or CEO of DTH Capital in New York. In 2014, Eastbridge Group held assets worth over USD 3 billion in the retail, consumer goods, and real estate sectors in CEE, EU and the US. He received a Master's Degree in Mathematics and IT from the University of Warsaw, and pursued studies in the area of business and psychology of management and communication in Stuttgart and Frankfurt.
More »
What is your opinion on the performance of the retail market 15 months after the outbreak?
N.S.: Following the opening of shopping centres after the last lockdowns, our retail assets actually achieved very good results. EPP shopping centres recorded higher than pre-pandemic turnover levels – in the months without restrictions (February and May to July), tenants' sales exceeded those of 2019 by 4% on average. The footfall has also been on a steady growth trend. In August, it reached 84% of 2019 levels. So there are slightly fewer visitors, but they are spending more money.
M.D.: Generally, Poles are very attached to in-store shopping and underlying consumer behaviour and spending patterns were much stronger than in other countries in the region, which is a substantial help for retailers to overcome COVID-related issues. Also in Poland, e-commerce penetration is growing slower than the overall retail market. So the result is that sales in shopping centres are positive compared to an all-time record year in 2019.
Crisis-resistant properties – a myth or just another term for warehouse investments?
N.S.: As investors, we would like to engage in only crisis-resistant properties of course, but some factors cannot be foreseen. Nobody was able to perceive that suddenly we will be forced to stay at home and many businesses will have to limit their operations. At the same time, several factors have contributed to the amazing development of the warehouse sector in times of pandemics. For sure the e-commerce growth in Poland has become the main driver of the boom of the logistics and industrial sectors, combined with changes in how supply chains are organized and the growing role of nearshoring.
M.D.: We strongly believe in the further potential of this type of assets, since there is still a huge demand for modern logistics space as we can see in the performance of the portfolio of our platform European Logistics Investment (ELI). The vacancy rates are very low. We have a lot of interest from tenants from the e-commerce sector but we are also leasing pretty well on the production side. That is why we have further plans to extend this dynamic growth of our logistics portfolio, not only in Poland but also in other countries. We have already started investments in Germany, the Netherlands and Spain are to follow.
The office market will certainly undergo many deep changes in terms of work organization. Do you think that demand for office space in Poland may shrink in the long run?
N.S.: As more and more restrictions have been lifted and the vaccination rates are increasing, different sectors of the market have been gradually reviving. We have recorded growth in nearly all types of real estate. We are also observing the return of demand on the office market, although there is still a lot of uncertainty. For sure we can expect a reduction in demand for office space of around 10% as many tenants will continue to operate in a hybrid working model. However, the requirements to provide larger spacing of employees sited in the office is good news for office developers.
M.D.: We should also not forget that the Polish economy is growing fast and we have a big inflow of outsourcing jobs. So, even if the demand is decreased for some time, it will quickly rebound, also thanks to nearshoring. For now, the activity of developers is low, which can cause a lower new supply in the following years resulting in limited opportunities for companies looking for new space.
Do you expect any changes in financing conditions in the nearest future?
N.S.: We have been actively seeking financing for further growth of our platforms and to start new investments, and the COVID-19 pandemic hasn't changed much in that regard. For example, recently we have obtained substantial funding to refinance projects in the portfolio of our logistics platform European Logistics Investment (ELI).
M.D.: We are also seeing an influx of foreign capital to the Polish market with increased activity of global investors looking for opportunities to invest in the real estate market in Poland.
What are Griffin Real Estate's investment plans in Poland for the next 18 months?
N.S.: Our plans are now not only narrowed down to Poland. As we mentioned, we have some investment plans regarding logistics in other countries in Europe. Poland is our main focus, and we will work on developing our portfolio in different assets classes.
M.D.: For sure the logistics sector will be one of our biggest interests, however, Griffin Real Estate is a multi-investment environment, so we also have several other projects lined up but it is too early to talk about them. As always, we also observe the market closely and look for new opportunities.