Oana Partenie, Head of Property Management Romania at Ceres Management Services spoke with Property Forum about the challenges of property management and the resilience of retail parks in the pandemic economy.
This interview was first published in Property Forum's first annual "The 50 most influential people on Romania's real estate market" publication.
How has COVID-19 affected the operations of Ceres Management Services?
2020 has been, of course, a very challenging year for asset and property management. Our highest priority was the safety of our employees, tenants and subcontractors and putting the right procedures in place and minimizing the impact of the pandemic. This involved extra work loads, navigating through changing regulations, and lockdowns, while working remotely or in shifts, and lots of research. Luckily, we've benefitted from the technologies available and the expertise and dedication of our highly professional teams. 2020 has forced every company to reinvent itself to some degree. Every aspect of the day-to-day operations has been scrutinized and changes that may have otherwise taken years to implement were executed in weeks. We've switched to a fully cloud-based IT solution, further improved communication and I can honestly say we've come out stronger as a team, and as a business. This is the merit of a wonderful group of people working together, staying positive and focused through the hardest times and emphasising once again that employees are the most important asset of any company.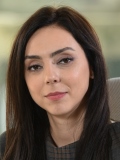 Oana Partenie
Head of Property Management Romania
Ceres Management Services
Oana Partenie is Head of Property Management Romania at Ceres Management Services and has been Investment Manager of Revetas Capital Advisors since May 2020. She is managing a mixed portfolio of office and retail projects that span approximately 60,000 sqm and have a cumulative value of €90 million. In her current role, she is involved in a variety of transactions from leasing to deal sourcing and exits. With over 11 years' worth of experience in both property management and asset management, Oana is primarily focused on office and retail assets, covering the entire range of services. She has previously worked as Commercial Manager of Equest Partners. Oana has a Bachelor's degree in Business Management and a Master's degree in Public Relations in Marketing from the Academy of Economic Studies in Bucharest.
More »
What has property management focused on since the start of the pandemic?
The focus of property management has remained as always to provide the highest quality services to our tenants, meet their needs and be a real partner and adviser. Our teams have implemented the most comprehensive measures ranging from signage, digitalization solutions, installing disinfectant dispensers in all common areas, placing disinfectant mats at all entrances, to increasing the frequency of cleaning and disinfecting of HVAC units and filter replacement. Of course cashflow and cost optimization have also been on our list of priorities, to reduce the service charge costs for the tenants, where possible, knowing that most of their businesses have been disrupted, while also initiating and implementing measures meant to create economic value for the buildings and our stakeholders.
Retail parks have been highlighted as one of the most resilient asset types during the pandemic. Has that also been your experience with Vitantis Shopping Center?
Indeed, retail parks have proven to be more resilient than shopping malls and Vitantis Shopping Center is no exception, with fewer restrictions imposed and benefitting from direct outdoor access to tenants' units. In November 2020, a new discount hypermarket chose Vitantis to open its first store in Bucharest following its success story in Ploiesti and we are very happy to have a part in its journey. The hypermarket is currently operating on a little over 6,000 sqm and will expand to over 14,000 sqm before the end of the year. This opening has positively impacted the community, through the creation of 170 new jobs, and preservation of close to 90 existing jobs. It has also meant bringing affordable shopping to the residents of Districts 3 and 4, two of the most densely populated districts in Bucharest, at a time when many families had their income affected by furloughs or technical unemployment.
What are your plans for the rest of 2021?
Focusing specifically on our retail and office assets, we plan to build on the success of 2020, complete the leasing program in Vitantis Shopping Center while implementing our accessibility and parking systems improvements, with the ultimate goal of providing a safe and affordable shopping environment for our customers, while remaining a stable partner for the community. For our office buildings portfolio, we plan to implement the Revetas Ecosystem work-life balance program, by further improving the amenities available, activating the mix of common areas, particularly outdoor relaxation areas, inserting flex working spaces and social interaction areas, so as to potentially reduce office density, and continuously adapt our buildings and services to better suit the needs of our tenants and their employees.