Andrzej Mikołajczyk, Managing Director of CA Immo Poland has answered Property Forum's questions about the current attractiveness of Polish office assets, the expected supply gap and recent investment transactions.
CA Immo Poland has been investing only in office properties for years. Aren't you tempted to switch to warehouses or PRS apartments?
Not only in Poland—CA Immo is an office specialist. Being an office landlord and developer has always been our core competence, which we have focused on more and more over recent years. Though we have occasionally ventured into other property classes in Austria or Germany, in Poland we are a pure-play office investor, manager and landlord. That's our core business. Therefore we are not planning to go wider into diversification when it comes to asset classes, and we will continue to use our expertise and resources to improve and further develop our Warsaw office portfolio.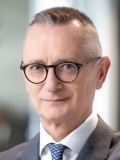 Andrzej Mikołajczyk
Managing Director
CA Immo Poland
Andrzej Mikołajczyk has been with CA Immo for 20 years, since 2011 as Managing Director and Management Board Member of the company in Poland. He co-created the local structures of the company and participated in building the asset portfolio, increasing it to €590 million. He currently works closely with CA Immo's European teams as well as manages the Warsaw office. Andrzej graduated from Sheridan College in Toronto with a degree in management. He earned a master's degree from Polish Open University (marketing and management) and an MBA (with distinction) from Oxford Brookes University in London.
More »
How have your tenants survived the two years of the pandemic? What is the current average level of commercialization of your assets?
Some of our tenants who were particularly concerned about long-term commitment in the midst of the pandemic negotiated shorter leases with us. It was a little bit of a wait-and-see measure. We responded flexibly to such requests, which proved right for us on various levels. First, we were able to address our tenants' needs, which resulted in better and stronger relationships with them. Second, in doing so, we did not have to compromise rental income in effective terms, as the lease conditions obviously reflected shorter periods, i.e. they featured fewer incentives than would normally be offered with long-term leases. This was well understood and accepted by our tenants as normal market practice.
We can strongly confirm that we have gotten through the pandemic with "dry feet", which is reflected in our current occupancy level of 90% across our Warsaw portfolio.
What do you think the future of the Polish office real estate market will look like? Will the hybrid working model to a greater or lesser extent stay with us forever?
I think everyone agrees that it will, to a certain extent, stay with us for good. I don't mean to say that this will have a detrimental effect on the office market. On the contrary, it can actually be really good for it. The hybrid working model will greatly influence the way we shape our office space and how we use it. It will not be just a place to work anymore—a desk can be put anywhere. It will be an ever-evolving space determining the way teams operate, promoting collaboration, sharing ideas and cultivating the company's DNA.
Our experience to date regarding the demand for offices after the pandemic does not indicate a reduced need for lease space. On the contrary, in many cases, our tenants have increased their occupied space.
Are Polish office buildings already Covid-proof? Will a possible recurrence of the pandemic in autumn not empty them again?
I don't think there is such a thing as a fully Covid-proof building. Buildings do not spread diseases—people do. We can reduce the risk by implementing far-reaching health and safety measures and processes, which of course we have done at all of our buildings, but common sense will always be a major factor in keeping us safe. We cannot exclude a recurrence in the fall, but even if it happens, I think we are all smarter and better prepared now to handle it effectively. Anyway, personally, I don't expect that we will have such dramatic epidemiological scenarios again this year, and, for all the evidence we have been seeing, I think that the office market is on its way to stabilization.
Recent office transactions in Warsaw (Warsaw Hub) or Poznań (Nowy Rynek D) show that the best buildings in Polish cities still remain attractive investment assets. Would you agree with this statement?
Absolutely. There is no question in my mind as to the attractiveness of prime Polish office assets. The problem is that there are not too many available, in view of the potential demand. Of course, we need to take into consideration the specific circumstances we have today, which are influencing investors' rationale and their decisions in any market. However, that these two transactions (and many more for that matter) have taken place in such a difficult and uncertain period is the best proof you can ask for.
Can the expected supply gap further whet investors' appetites?
We have many factors at play in today's economic reality, but generally, decreasing supply should stimulate demand and cause prices to go up. We've been seeing the new supply pipeline diminishing, vacancy levels going down, rents tending up, and downward pressure on yields, which is partially due to the sharp increase in financing costs. It seems that in the coming months it will become more difficult and costly to buy office buildings. Despite that, I am convinced that many investors will still be determined to continue investing in Warsaw, due to the solid market fundamentals and prices that are still lower than in Western metropolises.
Do you have any purchases in the near future that you could already tell our readers about?
I wish I could, but our policy is not to comment on any deals that have not been fully executed and closed. I can just say that we are very actively pursuing some opportunities here and hopefully will have some interesting announcements to make later this year.