Companies from the BPO sector may be reducing their offices in North America or Western Europe, but they are taking up more space in CEE at the same time. Yovav Carmi, CEO of GTC talked to Property Forum about issuing green bonds, ESG strategies and the BPO industry.
Congratulations on raising €500 million on your recent green bonds issuance. Did you expect the success of such an impressive scale?
It is true, we raised €500 million and that amount was three times oversubscribed. It is an excellent result, very encouraging to us. We have seen a broad diversification of the investor base with over 120 interested parties.
How are you going to invest these funds?
As we already announced, a majority of those funds are aimed to recycle existing bank loans. We are in the process of switching from secured financing to unsecured financing. About 90% of the green bond capital will be applied towards repaying bank loans – it should bring us to around 50% of GTC`s debt to be unsecured. With such oversubscription and strong interest among the investors, we should complete the move to the unsecured debt rather sooner than later. Our aim is to be financed by predominantly unsecured debt.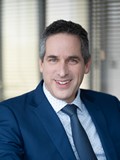 Yovav Carmi
President of the Management Board
GTC Group
President of the Management Board of Globe Trade Centre S.A.. Yovav Carmi started his professional career in 1994 as an auditor at Ernst & Young, where he worked until 1996. In 1997, he worked for the Israel Securities Authority as an investigator. Between 1998 and 2001 he was a financial controller at the Kardan Group. Yovav Carmi has been a chief financial officer and member of the management boards of many of the Company's foreign subsidiaries since 2001. Mr. Carmi was a member of the management board of the Company between 2011 and 2015. Starting 2015, he became Chief Operating Officer at GTC. Yovav Carmi graduated from Tel-Aviv University, where he obtained a B.A. degree in law and a B.A. degree in accounting. He also holds an MBA degree from Tel-Aviv University (1998). Moreover, Mr Carmi is a chartered public accountant in Israel.
More »
GTC has been assigned an investment grade rating of BBB- with a stable outlook by Fitch Ratings and Ba1 with a positive outlook rating by Moody's Investors Service. Are these ratings satisfying to you?
Yes, this is a great success for us. It was the first time we went for such a rating exercise and the results are very good. I know there is always room for improvement. We are committed to investment-grade rating and our financial policy is set to achieve the LTV of 40% in the mid-term. This should be carefully managed with the other goal that we have, which is to scale up and grow the activity. We have quite many developments and acquisition plans - those targets somehow have to be combined. So this is the direction where we are heading.
GTC has recently published its first ESG report, in which you emphasise on tenant-first approach. Could you please elaborate on that?
Our first ESG report is something that we have been working on for quite some time. Going green is becoming more and more important, not only for the investors but also for tenants. That`s why 84 percent of our buildings are green-certified. Today, if we are participating in a tender and an RFP for any multinational tenant, without green credentials and they have an ESG policy, they will simply not consider us as a potential landlord, it's gone that far. We are doing our best to comply with those trends. The mentioned €500 million green bonds will be used to finance and refinance the existing green properties. One of the success factors is that these bonds are "green" and can be allocated to the sustainability portfolios of the investors. It's important for them to invest in sustainable business. Last week our bonds have been marked with a green leaf on the Bloomberg ratings, we are hoping that the bonds will be included in the Bloomberg MSCI Green Bond index. So this is really becoming an important element of the businesses around us.
Speaking of dealing with the effects of the pandemic – how are your retail properties performing nowadays? Can you already see the effects of the vaccination campaign in terms of footfall and the overall results?
I think the governments really did well in our region - the speed of the vaccination campaign is good, it is proceeding faster than in Western Europe. We see governments opening up the markets and ending the restrictions. Footfall in May and June so far is looking very good and encouraging. We see that shoppers are coming back to the shopping centres. We also observe that retailers are willing to commit and sign lease agreements for physical stores. Just a few days ago we have opened the Mango store in Galeria Jurajska with 700 sqm of space, we have a CCC store with their new brand HalfPrice committing in Galeria Północna with 1,500 sqm. We enjoy a very high occupancy of 96% in our retail centres; Galeria Północna has reached its highest occupancy level since it had opened three years ago.
We also see that the office segment is waking up with more and more tenants looking for new space. We observe the physical return to the offices, as the employers are asking their workers to come back to work. Travel restrictions are being gradually lifted as well. I think more business travel will have a positive impact on the investment market because one of the requirements for property investors is "to tick a box" of physically visiting the assets. This was also the reason for the dwindling number of deals and with the easement of restrictions, it will surely help funds to be deployed again.
Is office subleasing an issue present in your properties?
We don't see a dramatic demand for subleasing among our tenants, it is a very limited number of cases. It's not becoming a trend.
In our previous interview, you have announced the sale of your office portfolio in Serbia for almost €270 million and we also talked about your recent acquisitions in Hungary. Are there other investment plans for the rest of the year that you can reveal? How are you going to reinvest the funds from the Serbian transaction?
We've been targeting a few acquisitions, mostly office projects in the regional cities in Poland, new assets with very high occupancy rates and green certification. We believe in those submarkets, especially those with the good availability of technical universities` graduates. We constantly find more and more multinational companies in those cities – Poland is close to the West, to the German border, it's the same timezone, so it's convenient to manage. Those are our next targets.
Do you think that regional office markets in Poland have been affected by COVID-19 in terms of attractiveness for the BPO industry?
We see several trends here. Employers ask their employees to come back to the office, but they realize that they need to accommodate their workers` desire to have some flexibility for working from home. They also have concerns about the sustainability of the whole situation and the efficiency of their employees. How about the corporate identity? What about the cooperation between the company`s cells? Employers simply want to know to what degree the idea of WFH is sustainable. We also see that occupiers are reworking the layout of their offices - I just had a chat with one of the large real estate agencies, who mentioned to me that one of their largest clients, an IT company had to significantly enlarge their proportion of square meter per person. But I`m not concerned about demand in the BPO market. 73% of our occupiers are multinational companies, a lot of them from the BPO sector. They may be reducing their offices in North America or Western Europe, but they are taking more space here at the same time. They want to locate BPO processes in a cheaper environment that has a cheaper labour force and lower rental costs. Poland is exactly what they are looking for.