Strong, self-reliant economic centres are emerging amid ongoing supply chain disruptions and competition for natural resources. Europe is expanding its manufacturing and warehouse base, while Poland, with its skilled labour, lower labour costs than in the West and its mature and buoyant industrial and warehouse market, will be one of the key beneficiaries of these changes, says Piotr Kaszyński, Managing Partner, Newmark Polska, in an interview with Property Forum.
In early January this year, your team of experts announced the agreement with a global company Newmark. How will your collaboration with Newmark impact your business and what are your plans for Newmark Polska?
Our agreement with Newmark has provided us with access to enhanced infrastructure, technologies and product offerings that will allow us to best serve our clients' needs. We were eager to ally with Newmark in the midst of its global expansion, especially because of our long-term goals to bolster our capabilities in areas where Newmark excels, such as capital markets and valuation and advisory.
Newmark Polska will continue to do what we excel at – we are building on our core capabilities in advising tenants in the office, industrial and warehouse markets. We also want to develop and broaden our services and business in such areas as capital markets, real estate valuation, market research and advisory. We are planning to double the number of advisors in Poland within a year or two and have already begun making new hires. We are recruiting best-in-class advisors and gradually announcing the names of new experts joining the Newmark Polska team.
Let's move on to a topic that has recently dominated all market discussions. What impact can the Russian aggression in Ukraine have on our commercial real estate market?
The real estate market has been rocked by heightened uncertainty over the past two months due to the current geopolitical situation, but there is no market data indicating that this uncertainty is filtering through to real estate pricing. The conflict in Ukraine will certainly affect the market, but its impact is hard to quantify at this point. Decision-making and project development may take longer. However, demand for office and logistics space and the growth of these markets are being influenced not only by what is happening beyond our eastern border but also by the overall geopolitical situation in Europe and the world. There is more and more talk about an end to globalization as we know it. Strong, self-reliant economic centres are emerging amid ongoing supply chain disruptions and competition for natural resources. Such centres may include the European Union plus neighbouring non-member states, the United States plus Canada and part of South America, and China and the rest of Asia. Our region is clearly heading towards self-reliance. Europe is already expanding its manufacturing and warehouse base, and Poland, with its skilled labour, lower labour costs than in the West, and its mature and buoyant industrial and warehouse market, will be one of the key beneficiaries of these changes.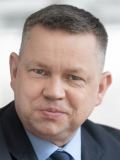 Piotr Kaszyński
Managing Partner
Newmark Polska
Piotr Kaszyński has over 25 years of experience in the real estate market and leads a 45-person team, combining resources, technology and product offerings to support the evolving needs of a growing roster of clients in Central and Eastern Europe. Kaszyński led the Poland company's strategic alliance with Newmark, to operate as, and rebrand to Newmark Polska in January 2022. Newmark Polska is based in Warsaw with regional teams in Wrocław, Tricity and Kraków. Previously, Kaszyński was the Managing Partner at Cresa Poland, which he successfully established and led for more than 4 years. Kaszyński also worked for Cushman & Wakefield, where he was an Equity Partner, Head of the Retail Department and Head of Capital Markets in Poland. Kaszyński led development consultancy and space leasing in over 60 prominent retail properties in Poland winning many prestigious awards. He led the investment transactions in excess of €600 million. Kaszyński graduated from Florida Atlantic University.
More »
In view of the prolonged conflict and the expected economic slowdown, can we expect an outflow of Western investors from our real estate market in the long term?
It's impossible to conclusively say what impact the current developments will have on real estate investors and tenants as too little time has passed, but I see no such risk in the long term. Poland is cementing its position as one of the premier business destinations in Central and Eastern Europe. It is an important consumer market and, from the point of view of Europe, a key labour market. In recent weeks, western companies have been relocating from Russia and Ukraine to Poland, creating a new source of demand.
Also, in your opinion, will the rapidly rising interest rates combined with the influx of refugees from Ukraine further boost the PRS growth in Poland?
Interest rate hikes have significantly undermined the creditworthiness of the Polish people. Due to higher mortgage costs, many people will shelve their plans to buy apartments, fueling demand in the rental market. The growth of the private rented sector is also likely to be spurred by the need to accommodate the influx of many refugees from Ukraine, irrespective of whether such accommodation will be funded by Ukrainians themselves, Poland's budget or the international community.
With demand on the rise, the private rented sector is attracting robust interest from investors. Western companies having funds in euros will be more privileged due to a lower and more stable cost of capital. Polish firms will therefore be less competitive.
Will we finally see a slowdown in land prices for new projects in 2022?
Land prices for new developments in Poland are still relatively low and demand is expected to remain stable. Developers will continue to build land banks to safeguard growth in the long term and to diversify business operations in terms of profile and geography. Accordingly, I see a low likelihood of any downward movement in land values.
Do you agree with the statement that rapidly rising prices of building materials combined with a pandemic drop in demand are bad forecasts for our office market in the coming years?
The decline in demand for office space during the pandemic was limited – according to statistics it fell by around 20% nationwide. Pre-pandemic take-up in Poland amounted to approximately 1.5 million sqm, while last year saw around 1.2 million sqm transacted. As that decline was largely a result of hesitancy and a wait-and-see approach, occupier demand for offices has picked up since last year. In addition, as mentioned previously, many western companies formerly based in Russia and Ukraine are now choosing to relocate to Poland. Even outside of this, the market is growing, with companies deciding to expand here. Because of these factors, I am optimistic about demand year-on-year and even in the long term. In the first quarter of 2022, office take-up in Poland hit more than 400,000 square meters, well above the pre-pandemic pace.
In regards to the rising costs of building materials and utilities, they are impacting all real estate sectors, not only offices. While recalculating costs, some landlords are scaling back lease incentives, especially in locations with the lowest vacancy rates.
Will retail facilities finally be able to regain their breath following the lifting of social distancing rules?
Retail tenants and landlords have already seen their situation improve and are now able to generate higher turnover. Undoubtedly, however, the retail market will continue to face many challenges including high inflation, ongoing supply chain disruptions and product availability issues. Naturally, the biggest challenges for retail come from e-commerce and small retail parks, as they have become very active and competitive market players. Fortunately, retail tenants have proven their ability to adapt to difficult circumstances by implementing new, more competitive sales strategies.