pbb Deutsche Pfandbriefbank and Helaba have jointly underwritten an investment facility, totalling €107.5 million, to refinance Futurama Business Park located in Prague for Caerus Investment Management on behalf of a separate account client. pbb and Helaba, acting as Joint Lead Arrangers, provided equal portions of the funding. pbb also acted as facility and security agent of the transaction.
Futurama Business Park constitutes 5 modern Class A, multi-tenanted office buildings and was completed in three phases between 2009 and 2017. The combined gross leasable area is over 47,000 sqm, let to blue-chip tenants including Deutsche Börse/Clearstream, BASF and Roche pharmaceuticals.
Charles Balch, Head of International Clients, UK, CEE & USA at pbb Deutsche Pfandbriefbank said: "Futurama Business Park is a prime office complex in Prague, and Caerus IM is a client well known to pbb. As such we are pleased to support them in the refinancing, together with our colleagues from Helaba."
Martin Erbe, Head of Real Estate Finance for CEE, Benelux and International Clients Germany at Helaba adds: "We were very happy to support our client Caerus IM with the financing of the well-known Futurama Business Park in one of our strategic key markets. Together with pbb, this refinancing demonstrates how we could respond to Caerus IM's expectations, even in these difficult times."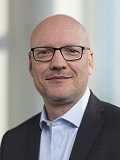 Martin Erbe
Head of International Real Estate Finance Continental Europe
Helaba
Martin Erbe is Head of International Real Estate Finance for Continental Europe at Helaba Landesbank Hesse-Thuringia which belongs to the German savings bank network. Based at the bank's Frankfurt headquarter he manages the origination for Central Europe and Benelux. Martin Erbe has worked on a wide range of financing transactions in the past and has more than 21 years of real estate experience in the European markets. Helaba currently manages a loan book of around EUR 35 bn in commercial real estate, almost half of this amount representing the bank's international business in Europe and the US. Helaba's relationship-oriented strategy remained unchanged during the crisis and is consistently directed towards its target markets. In 2014, 2015 and 2016 Helaba was awarded with the "Lender of the Year" Award from the CEEQA Jury.
More »
Christopher Millen, Managing Director of Caerus IM said: "The decision to refinance this prestigious property was actually taken pre-COVID and so we were very pleased that despite challenging times, both banks remained committed to seeing through this important transaction for both Caerus IM and our client. The size of the facility is testament to the underlying quality of the property, its blue-chip tenants and the diligent way in which we manage each of our assets."