Passerinvest Group a.s. has entered into an off-market agreement with the investor Simona Otavova for the purchase of the building housing the general headquarters of the state-funded organization Road and Motorway Directorate of the Czech Republic (Ředitelství silnic a dálnic ČR – ŘSD). The value of the transaction was not disclosed. The change of ownership was announced today by Passerinvest.
Businesswoman Simona Otavová and Passerinvest Group a.s. have completed an off-market transaction of the commercial property Čerčanská 2023/12 in Prague 4, which currently houses the general directorate of the state-funded organisation Road and Motorway Directorate of the Czech Republic (Ředitelství silnic a dálnic ČR – ŘSD). Simona Otavová acquired the property to her portfolio in 2018. Passerinvest and Ms Otavová completed the transaction of sale of 100% of the business share within 2 months and agreed that the value of the transaction will not be disclosed.
With this acquisition, Passerinvest expands its portfolio of commercial properties in the area of interest of Prague 4 and Prague 11, where it has been operating as a long-term urban developer and investor.
"At a time of volatile inflation and interest rates, we have accelerated our strategy to expand our investments in key properties in and around Brumlovka. The acquired building, with its administrative character, fits perfectly into our portfolio while providing a high level of income security thanks to its long-term lease, to a state-owned contributory organisation. In addition, this acquisition further expands the possibilities for efficient use of our property management department." says Eduard Forejt, Development Director of Passerinvest Group.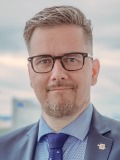 Eduard Forejt
Development Director
PASSERINVEST Group
Eduard has been active in the real estate industry since 1996. During his work experience, he served mainly in the commercial real estate field with the specialization of the office market. Since 2001 Eduard got his experience at King Sturge, CSOB, and over 12 years serving JLL in various leading positions. His last role at JLL was Business Development Director. At the moment Eduard is part of top company leadership at Passerinvest Group in the role of Development Director covering the acquisition department & development department which consists of project management & property management departments.
More »
Simona Otavová is long-term active in the Czech real estate market and is involved in the financing of development projects. The portfolio includes luxury residential properties in prestigious locations in Prague and Marbella, Spain. Last year, she became co-owner of Lexxus, a real estate agency that has been operating in the Czech real estate market for almost 30 years.