CEE-based flex workspace provider New Work is introducing a new "Space in the Cloud" service which not only helps new and existing tenants save money but allows them to manage their workforce in a more flexible and ESG-compliant way.
As the latest report from RICS discloses, almost one-third of real estate professionals globally no longer view office space as being essential for a company to operate successfully. With working from home having become a widespread practice and employees expecting greater flexibility, large amounts of floor spaces in office buildings are and likely to remain unused. The heating/cooling and electricity required to operate these unused spaces not only means an unnecessary expenditure for tenants but also has a negative environmental impact.
With being ESG compliant moving higher and higher up on the agenda of companies, it's high time to think about the wider impact of workplace strategies. It's no surprise that an increasing number of corporations globally are adapting human-centric workplace strategies that allow employees to work from various locations – the headquarters, satellite offices, co-working offices, their home or even a vacation spot.
Providing employees with greater flexibility in choosing where they want to work decreases their need to commute and helps them achieve a better work-life balance. Thus, an agile workforce management strategy tackles not only the environmental but also the social component of ESG.
New Work's "Space in the Cloud" service allows new and existing tenants to reduce their core space commitment down to 50% and cover the peak loading factor with cloud services. Employees using this service have access to all New Work locations via a mobile app so they can choose where they want to work on a given day – or for just a few hours – depending on where they are and where they need to go.
"With this service, employers can not only save money and decrease their carbon footprint but they can offer greater flexibility for existing and potential employees on today's competitive job market", explains Hubert Abt, CEO and Founder of New Work and workcloud24.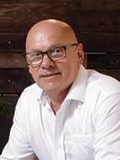 Hubert Abt
CEO
New Work & workcloud24
Hubert Abt has been working in the real estate industry for over 30 years. He worked as a developer and later in the land banking sector and provided equity and Mezzanine capital for various real estate projects. In 2012, he founded New Work Offices in Budapest, which provides various flexible office solutions. Since then he developed the business model further and grew the company to today 5 locations in 3 countries with approx. 45,000 sqm which brings New Work Offices in the top 3 list in CEE. Hubert now leads the company as CEO while focusing on investor relations and developing new products like New Work´s Franchise Package or The Digital Office Pass of workcloud24 where he acts as Founder and CEO as well.
More »
New Work's "Space in the Cloud" service is already available at selected locations and during the next four weeks, it will be rolled out across the entire portfolio spanning 15 locations in three Central European countries.