One of the most active residential developers of the Romanian market estimates at least a 20% increase in prices for new projects and 5-10% higher prices for the under-development units. Tinu Sebeșanu, CEO of IMPACT Developer & Contractor talked to Property Forum about financing conditions, market trends, ongoing projects and new developments on the horizon.
This interview was first published in Property Forum's first annual "The 50 most influential people on Romania's real estate market" publication.
Residential has proven to be one of the most resilient asset classes during the pandemic. How have IMPACT Developer & Contractor's projects performed over the last 12 months?
Despite the pandemic, 2020 was one of the best years for IMPACT in terms of income with an increase of 28% year-on-year. Most probably the results could be better without this unfortunate COVID-19 crisis but we have continued our growth with a direct impact on our price per share, which has doubled. As this year we celebrate 30 years, our well-established company and experienced team has proven its resilience and has successfully managed the challenges of those times. We continued our development in Greenfield Băneasa - our landmark project in Bucharest, and successfully finalized the second and last phase of the Luxuria Residence compound. Following on our nationwide expansion strategy, we broke ground in Constanța with the Boreal Plus project, a premium residential compound, and we just launched Greenfield Copou in Iași.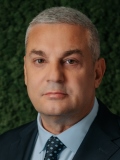 Tinu Sebeșanu
CEO
Impact Developer & Contractor
Tinu Sebeșanu has been the CEO of IMPACT Developer & Contractor since 2021 with the purpose of doubling the value of the only Romanian real estate developer listed on the Bucharest Stock Exchange. Tinu has over 30 years' worth of experience in project development and asset management and more than 15 years of consulting expertise. He attended the Bucharest Institute of Technology and completed his studies at Open University - MBA Program with a Professional Diploma in Management. Following his commitment to continuous education, he attended Boston University specializing in Asset and Financial Management followed by Cornell University with, gaining a diploma in Strategic Management.
More »
Impact Developer & Contractor has completed several successful bond issues in the recent period. Have financing conditions changed since the start of the pandemic?
As a listed company on the Bucharest Stock Exchange, since 1996, bonds have always represented a favourite source for corporate financing. Our last listing at the BVB was in December 2020 when we issued €6,500,000 worth of new bonds. In volatile periods investors are more risk-averse, so they are more interested in acquiring bonds with fixed income with medium and long term maturities. Our successful bond issuance is proving that investing in bonds for financing new real estate projects in a market with growing demand represents a very good option for a safe and profitable return on investment. In the light of the end of the COVID crisis, the bond markets will become more dynamic and this is compounded by the new regulations which also allow retirement funds to invest in companies like ours. Although financing was generally scarce during the pandemic, we successfully secured debt for our various projects with several commercial banks which showed a growing appetite for financing large and sustainable projects.
What projects are you currently working on? What is your investment volume target for 2021?
In Bucharest, the New Greenfield is developing, namely the phase IV development of the Greenfield Băneasa residential compound, where we will implement a concept of environmentally responsible and sustainable development – part of our Commitment to Green, with high energy efficiency standards in conformity with the new nZeb standards. This development phase also includes Greenfield Plaza, the largest community centre in a residential complex. It will bring a new lifestyle for residents by including all the services necessary for a large community: commercial areas, fitness and spa centre, public school and kindergarten, parks, promenades and recreation areas. We have also completed Luxuria Residence – our urban community concept, which is designed to receive the BREEAM Excellent certification. The Luxuria concept excels in quality and brought to the market 630 units in a compound with more than 40% of its area of parks and public spaces restricted to pedestrians, creating a serene and low pollution environment. As mentioned, we continue our expansion at the national level by launching Greenfield Copou, a 1096-unit project in Iași, which will be one of the biggest sustainable real estate residential compounds in Moldova and we are continuing Boreal Plus in Constanța which is in the first phase of development. Both residential compounds are sustainably designed, to a high standard of housing quality, attested by the green BREEAM Excellent certification.
Are you looking to expand in other regional cities?
We are always looking for market opportunities taking into consideration various regions. The geographical expansion is part of our strategic approach, aiming also for other cities such as but not limited to Timișoara, Cluj-Napoca or Brașov. Our ambitious expansion plans can also include crossing our borders and being able to use our expertise in neighbouring countries.
Apartment prices in Romania have been growing steadily for quite some time. What are your expectations for the next 12 months?
The construction and labour costs have been always increasing in the last decade but in the short and medium-term we estimate a steep increase due to the international evolution of prices of materials such as steel and others. In addition, starting this year, all new residential developments shall have a mandatory close to zero energy consumption and will need to follow the new standard in housing construction, nZEB - "Nearly Zero Energy Building", which involves a sustainable design, energy-saving technologies and the use of renewable energy, such as photovoltaic panels and others. Obviously, this will improve the living standards and use of the resources, but also will significantly increase the construction cost. Therefore, in the next 12 months, we estimate at least a 20% increase in prices for new projects and 5-10% higher prices for the under-development units.
Have you observed significant changes in the criteria of apartment buyers? Are they looking for different types of amenities?
The pandemic has changed the criteria according to which an apartment is purchased. Spending more time at home, the clients began to put more emphasis on comfort, facilities and nearby services. Major shifts can be seen as potential clients are looking not only for an extra number of rooms but also feel the need to be part of established communities. They are more interested in living in compounds that can provide a good lifestyle both indoors and outdoors, convenience services, private parks and gardens and nearby or inclusive kindergartens, schools and afterschool programs. The amenities within a residential compound are increasingly a must for future owners or tenants. These range from fitness centres and pools to hypermarkets, lounges and food & beverage outlets. We anticipated this tendency towards increased comfort and services before the pandemic and we are glad that we can now meet even the most demanding requirements.
Many say that working from home is here to stay and it might create further demand for larger living spaces. What are your thoughts on this topic?
Yes, the pandemic has changed buyers' preferences in terms of space allocation requirements. When remote work can be mandatory and not a bonus there is an obvious need for a larger space in order to fit out a home office. People tend to separate the workspace from the family one for obvious privacy and focus reasons. Therefore, in Luxuria Residence, through our R&D department, we have innovated a concept in which we are offering our home-buyers a flexible layout that can easily transform some of the living space into an office or a closed kitchen, by shifting kitchen tops, furniture and equipment from the open space kitchen. Those have become one of the most sought-after units in the project, providing a very efficient solution not only for extra office space if needed but also for a potential room for children. While in the past, requests from our compounds were mainly directed to apartments with 1-2 rooms, now we receive many requests for 3 or 4 room apartments. Also, our single-family houses from Boreal Plus in Constanța are very attractive now for buyers who want to enjoy more space, comfort and privacy just minutes away from the beach.