District regenerations and mixed-use developments require a complex approach even from the most experienced developers. Property Forum asked David M Johnston, Senior Director and Head of Advisory and Transaction Services at CBRE Hungary about the risks of such projects and he also shared some best practices from across the CEE region.
In some countries in the CEE region, mixed-use projects proved to be relatively resilient to economic downturns. Do you expect more developments of this kind to come forward over the next 2-3 years to minimize risk?
Mixed-use developments are the way forward for many developers in the region. In the more mature markets of Western Europe, complex city-in-the-city developments have long played a decisive role, and this approach has now arrived in Central Europe. From the developer's point of view, this model is really about diversification and therefore risk reduction, as it reduces exposure to one sector. The central element of almost all large-scale developments is the residential function. Here, the business model is typically different from that of commercial real estate: on average, most of the apartments are sold, in good times often off-plan. The development must create synergies between the various functions, as this is the soul of such projects. Therefore, these developments require even greater expertise, local knowledge and fine-tuning when compared to a more traditional stand-alone single-use development.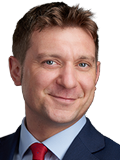 David M Johnston
Senior Director, Head of Advisory and Transaction Services
CBRE
David is Head of Advisory and Transaction Services at CBRE, which comprises the running and management of the Office, Retail, Industrial and Workspace Experience Strategy departments within Hungary. David also leads the Office Occupier Business Development initiative for CEE / SEE. David is a member of the CBRE Hungarian Board and CBRE Hungarian Executive Committee. Prior to CBRE, David was a Partner at Cushman and Wakefield where he led the Office Agency team in Hungary.
More »
What are the advantages of such multi-use assets in our turbulent times from an investors' perspective? What about the yields compared to more traditional assets like office or retail?
It is very difficult to talk about yields in today's market when the investment market is essentially frozen across Europe. Mixed-used products require longer development times, involve complicated asset management and from a scale perspective are nearly always 'big ticket' sized propositions. These are most of the things that investors are not looking for today. This is less an issue for professional developers, who are not aiming to sell in these turbulent times, but instead look to divest in 2-3 years when the scheme is ready, and (hopefully) investor sentiment has recovered. Good development can be broken down into smaller ticket sizes, which can be specifically positioned for investors with various preferences (i.e. one investor acquires the office element and another the hotel component), but here too it is critical to emphasise that the optimal synergy of the functions cannot be disrupted or negatively affected by such changes in ownership.
Finding an ideal combination of elements and the ratio of those may require special knowledge. Do you think a substantial experience has been compiled to be successful in this job?
Yes, such complex developments come with serious challenges to even the most experienced developers. However, this is precisely the beauty of these projects, as they can become a true legacy for the developers. There are several highly experienced, locally and globally acknowledged players who can complete such complex projects in the region. It can also be argued that local expertise is a big advantage in the case of large-scale city-in-the-city type developments, which is why we see more domestic players in this segment.
Critics say some projects are nothing more than a modern ghetto and fail to be an integral part of the given city. How do you think mixed-use buildings or a group of buildings with different uses should be planned to include them in the life of a given neighbourhood?
If a development of this scale creates the experience of a modern ghetto, it was fundamentally wrong from its inception. Fortunately, this is our experience with such developments in CEE. It is a common template for these developments to fit into, or look to gentrify, the already existing old urban fabric (i.e. a brownfield project) through the redefinition of certain city districts (e.g. Warsaw Brewery in Warsaw, Waterfront in Budapest, Masarykovo Train Station in Prague, etc). There are times when a deprecated part of the city centre is renewed and reinvigorated (e.g. Corvin Promenade in Budapest) or unused inner-city shopping malls are built (e.g. Riverpark in Bratislava).
We see very good examples of the city expanding through complete district developments (e.g. Vienna Twentytwo in Vienna or BudaPart in Budapest). Of course, it is a big challenge for urban planners, developers and architects that the various functions come together as an organic body in such projects, but that is why there are professional teams that can solve these complex tasks.
Advocates of these projects may argue that mixed-use developments can easily fit into the 15-minute city concept. Is that fair enough to say that?
Although it is not the 'norm' that the modern urban person lives within a 15-minute radius, these urban focal points help reduce the general traffic load, resulting in reduced commute times as much more can be done near their residence. Most of these developments are based on the live/work/play holy trinity concept, but we are seeing some forward-thinking projects (mostly in Vienna) where the public services are also successfully integrated into the scheme (i.e. city hall, hospital, kindergarten, etc.). There are good examples in Romanian regional cities (especially Lase and Timisoara) where mixed-use developments have benefited the existing point of interest (cultural or commercial centre of the city) and have substantially enhanced the attractivity of that particular location.
Starting a truly green development has become a priority for many owners and developers over the past years. How about the existing buildings? How would you adjust an existing mixed-use project to "green requirements" if you were an owner? Step-by-step, refurbishing only one part of the project or delivering the whole development together?
Sustainability and ESG compliance are the cornerstones of all modern-day developments. This statement is also true for stand-alone single-use developments and complex multi-use schemes. That being said, it can be argued that there is nothing more sustainable than a property development that recycles and enhances large existing urban areas. When this project is completed, functionally and technically, it can redefine and gentrify its immediate environment substantially. Examples here could include the retrofitting of old docks in northern port cities or the revitalization of riverbanks and the functional change of old industrial zones in CEE. It would be great to see more of these sorts of examples not just across CEE but Europe as a whole.