Delivery of retail space will accelerate in the second half of the year, when approximately 150,000 square meters will be delivered in several cities in the country with new deliveries in Bucharest amounting for 35,000 square meters, according to the H1 Romania Retail MarketBeat report, realized by Cushman & Wakefield Echinox.
In the first semester of 2019, two extensions of existing shopping centers were completed: Sibiu Shopping City and Tom Shopping Center in Constanța, We also attended the opening of the second IKEA store in Romania in Bucharest, a store that covers an area of ​​about 37,000 square meters, the largest in Southeast Europe.
The total stock of modern retail spaces in Romania is 3.74 million square meters, with a density of 192 sqm / 1,000 inhabitants. In terms of area of ​​shopping malls, retail parks and commercial galleries in Bucharest, they measure 1.19 million square meters, with a density of 651 sqm / 1,000 inhabitants, 3.5 times higher than the national average.
The largest project to be delivered this year is the Festival Centrum in Sibiu, a commercial center developed by NEPI Rockcastle, which will have a rentable area of ​​42,000 square meters. Also delivered will be the extension of Iulius Mall Timisoara, part of the joint project Iulius Town developed in partnership by Iulius Group and Atterbury. Thus, Iulius Mall will become the largest modern retail project in Romania and will have a rentable area of ​​over 100,000 sqm. Part of this extension has already been inaugurated, the Inditex group taking over spaces with an area of ​​about 8,000 square meters in a new wing of the mall.
Other cities that will benefit from new modern retail spaces are Zalău, where Prime Kapital will deliver the Zalău Value Center project, Satu Mare (the extension of the project developed by Auchan) or Buzau (the extension of Buzau Shopping City, the former Aurora Mall).
Regarding Bucharest, it is expected the completion of the retail park DN1 Value Center developed by Prime Kapital (28,500 square meters), a project that marks the extension of the retail area of ​​the city to the north, to Balotești, the modern retail stock will also be increased by completion of the Veranda Mall extension (7,000 square meters). Next year, the expansion of the Colosseum shopping center in the northwestern part of the Capital is planned, which will increase its attractiveness by accommodating new tenants from the fashion (New Yorker, Colin's, CCC), leisure (World Class), F&B (Gregory's, Cafe Ritazza) and entertainment (Happy Cinema).
Bogdan Marcu, Partner, Retail Agency, Cushman & Wakefield Echinox: "Apart from several areas that continue to allow the construction of dominant projects of shopping centers, most future developments in Bucharest and in the main cities of Romania will consist in mixed projects with varied retail component on the ground floor of office and / or residential buildings. We will see more attention driven from developers to implement unique residential compounds, to create specific destinations, in the context of consumer segmentation on different categories and profiles."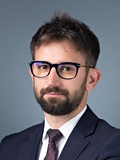 Bogdan Marcu
Partner, Retail Agency
Cushman & Wakefield Echinox
Bogdan Marcu is working as Partner of the Retail Agency at Cushman & Wakefield Echinox in Bucharest, Romania, having 10 years of retail background. He coordinates the retail leasing activity of the agency and is responsible with the portfolio consolidation by finding new tenants and landlords for new business opportunities. His substantial experience in the Romanian retail market, on both shopping center and retail park segments, is a great asset for the team and a strong success factor in numerous projects.
More »
The headline rent of a space of 100 square meters located in a dominant commercial center in Bucharest reaches the level of €80-100 / sqm / month, while in similar projects in the main regional cities, such as Timișoara, Iași or Cluj, the rent for such spaces it reaches values ​​of €37-42 / sqm / month, respectively €28-33 sqm / month for the same spaces in secondary cities.