Magdalena Bartkiewicz-Podoba, CEO, Liebrecht & wooD Poland talked to Property Forum about their newest large-scale, mixed-use investment in Warsaw, revitalization-related challenges and creating a valuable urban fabric.
The revitalisation of the Warszawska Fabryka Drutu, Sztyftu i Gwoździ (Drucianka) is one of the largest and most spectacular investments announced in 2022, not only in Warsaw but in Poland in general. Please tell us more about this investment.
Drucianka Campus is a human-centred mixed-use complex for the new generation as well as a placemaking and revitalisation project. Together with the neighbouring residential developments, it will restore the neglected post-industrial urban area and deliver to the city of Warsaw and its citizens a vivid and architecturally attractive space.
After pioneering the Centrum Praskie Koneser project, Liebrecht & wooD is a company having a unique experience and expertise in placemaking and revitalisation. Drucianka Campus is our next ambitious investment that will connect modernity with historic buildings. Drucianka Campus combines three office buildings with a total area of 42,000 sqm on six floors above the ground level with four historic factory buildings adapted to new functions. The site will be filled with green public spaces, squares and pedestrian zones, which will enable active leisure, use of restaurant gardens, recreation and the organisation of open-air events. Drucianka will also offer more than 7,500 sqm of supplementary space for retail, services and events.
Last but not least, Drucianka Campus will be designed, developed and operated not only in line with high ESG standards but also with the strict principles of sustainable urban growth. We took care of the environmental protection and energy efficiency solutions, as well as of various social aspects such as the balanced and poly-centric development of the city, the project's inclusiveness, accessibility, diversity and overall well-being of its ultimate users. Drucianka Campus will be BREEAM certified at the Outstanding level.
Drucianka is also attractively located in Warsaw's Praga-Północ district, which is one of the most dynamically developing districts of the capital. Its close proximity to a key transport hub, i.e. the East Railway Station, provides quick access to numerous train, tram and bus lines, and soon also to the third metro line. I am convinced that this project will fit perfectly with the expectations of companies looking for inspiring spaces to work and develop talents.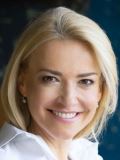 Magdalena Bartkiewicz-Podoba
CEO
Liebrecht & wooD Poland
Magdalena Bartkiewicz-Podoba has been with Liebrecht & wooD in Poland since 1998 and held significant positions in the company's structures. In her 25 years of work in Liebrecht & wooD Group she created and managed the Legal Department and since 2002 she has co-managed daily operations of Liebrecht & wooD as a Management Board member, a partner and a shareholder. From 2010 to 2015, Magdalena served as the company's General Counsel with responsibility for major transactions and overseeing the Group's legal services in the CEE region. Since 2018, Magdalena Bartkiewicz-Podoba has been CEO of Liebrecht & wooD in Poland. She manages a team of more than 70 people, overseeing the development of new projects as well as the management of existing buildings portfolio. Magdalena Bartkiewicz-Podoba graduated from the Faculty of Law and Administration at the University of Warsaw as well as the British and European Law studies run by Cambridge University in cooperation with the University of Warsaw. She is a qualified attorney-at-law. She is a Harvard Business School Alumna (GMP, Executive Education). Magdalena completed also postgraduate studies in negotiation & mediation at the University of Social Sciences and Humanities and History of Art at the Polish Academy of Sciences. She is a mother of three daughters.
More »
Do such large office projects still have a raison d'être in the post-pandemic reality of hybrid working systems?
Yes, after the lockdown and the subsequent discussion of the future of offices as such, various studies around the globe show that offices as a workplace will not cease to play an important part in running the business. Offices providing an adequate meeting and interaction platform are seen as a crucial tool for team integration, exchange of ideas, onboarding of the newly employed or development of companies culture. It also applies to Poland. According to EY research from May 2022, only 51% of Polish companies directed office workers during the pandemic to perform their tasks in a remote or hybrid work system. And only 1% of them do not plan to come back to the offices.
On the other hand, worldwide trends show that companies place greater emphasis on employees' well-being, so the popularity of multi-function investments will be growing up. Firstly, a large number of single-function projects grouped in a cluster create big traffic at certain hours of the day, thus extending the commuting time of the office workers. The time that might otherwise be used for some other needs, not related to work. Secondly, easy access to multiple services, shops, restaurants and many other options for daily shopping or spending free time combined with easy access to various transportation means convincing the companies to choose a mixed-use project for their offices.
Drucianka Campus is currently the only mixed-use revitalisation project under construction in Warsaw, which will provide these unique facilities demanded by tenants. This complex will stand out with its exceptional ambience created by revitalised historic buildings intertwined with modern architecture and green chillout zones, with its environmental solutions and with its proximity to the transportation hub of East Railway Station.
Drucianka Campus will be a place intended not only for working, but also a one-of-a-kind and friendly space that would stimulate the creativity, talent development, and integration of employees.
What are the biggest challenges a developer has to face when carrying out a revitalisation project of this scale and with such a large number of historic buildings?
First of all, there is a need to take care of still-standing but highly neglected monuments. We have this obligation as a society towards the past and towards the future. It demands strict cooperation among all the partners of the revitalization process: the investors, the experienced designers, the monuments' preservation and restoration experts and the representatives of both the local authorities and the local community. It takes skills, perseverance, time and money to combine the interest of all these partners. This is not easy but the more obstacles we overcome, the greater value we create.
Liebrecht & wooD Group specializes in the implementation of very demanding and, at the same time, most prestigious revitalization investments. An example of this is Centrum Praskie Koneser, created on the basis of the principles of sustainable construction. It is the first and largest mixed-use facility in Warsaw in terms of usable space and the number of functions, which was built in post-industrial space.
Our experience has resulted in many solutions appreciated today, setting trends in the Warsaw real estate market. The proof of that is the fact that Centrum Praskie Koneser is the most awarded mixed-use investment in Poland. These are not only ecological, accessible or cultural solutions but also placemaking ones, including the creation of free access to Koneser Square. This is a space which integrates various functions of Centrum Praskie Koneser: residential, office, retail and service, gastronomic, cultural and hotel. Hundreds of diverse and free events take place here every year, thanks to which its placemaking potential is used, consolidating various social groups.
Whole quarters of the capital's office hubs - Służewiec Przemysłowy and the so-called close Wola - are completely empty after 5 pm, they do not constitute a valuable urban fabric. How does Liebrecht & wooD intend to address this problem?
The biggest office hubs in Warsaw, Służewiec Przemysłowy and so-called close Wola are the opposite of mixed-use spaces. In these districts in the overwhelming majority, there is only a single office function. This is the reason why such places are empty after 5 pm. Drucianka Campus will not be set on a remote island, but it will be surrounded by various developments and facilities of different functions: residential areas, education and sports facilities, tourist and leisure attractions and also one of the biggest transportation hubs in Warsaw (Dworzec Wschodni). These facilities, all together, generate traffic all day, including at weekends.
Liebrecht & wooD Group is supporting sustainable urban growth principles and placemaking demands of the city development. Mixed-use facilities perfectly fit into the increasingly popular urban concept of a 15-minute city. According to its assumptions, citizens can meet most important life needs such as work, shopping, services, entertainment or recreation within a radius of no more than a quarter of an hour's walk from their place of residence or an equally long bicycle ride. Such solutions, which are visible in Centrum Praskie Koneser and the future project of Drucianka Campus, go hand in hand with both the positive process of decentralization of cities and the pro-ecological systems implemented by highly qualified engineering and development teams. The interest in such real estate projects is also confirmed by research carried out in recent years in highly developed countries.
The whole project is to cost €150 million. Is it difficult at present to obtain financing for a project of this scale and nature?
At present, the process of financing a real estate development is highly challenging and we all look forward towards its normalization. Thanks to years of solid cooperation, we have the trust of both private investors and banks. For the last years with our partners, we have completed such investments as Centrum Praskie Koneser, Plac Unii or Flanders Business Park.
We are 30 years in the real estate market, with have already experienced an economic crisis and successfully led our business and our projects throughout difficult times. In relation to Drucianka Campus investment, we are still analysing the most sensible methods of financing. Certainly, it will be developed in phases. As always, we are privileged to work also on this project with our long-term financial partners - private investors from Belgium.
Rocketing plot prices, expensive construction materials or sluggishness of officials - what is the main problem of commercial developers in Poland today?
Rocketing plot prices, expensive construction materials, and sluggishness of officials are certainly the major challenges for commercial developers in Poland, but we also need to add unpredictable financing costs or sustainability of businesses of our clients – the tenants. Currently, the only constant is change. But agile management is one of the main strengths of Liebrecht & wooD Group. The new reality, although it sometimes surprises us, is not a limitation for us – we want to and we are able to adapt to it. We always consider investment plans in a multi-variant way.
Our experiences from the 2007 to 2009 economical crisis in connection with the know-how of our management team earned at demanding market conditions, permit us to start new projects even in not stable times. Financial and other challenges related to development processes are the same for the whole industry, but only the best and the most reliable companies and partners have a chance for success.
You are also present in the Romanian market. What investment plans do you have in this country for the next 24 months?
Liebrecht & wooD Group primary efforts in the Romanian market are concentrated around Lizeria de Lac, which has been under construction since 2020. This is the most ambitious residential development in Bucharest. This placemaking project will bring urban development to the local society. It will comprise 4,400 individual household units on the shore of Lake Tataru, southwest of Bucharest.
Lizeria de Lac will be distinguished by ecological solutions such as 12 ha of solar panels to serve the project and quick access to Bucharest. It is set only 15 minutes away from large retail centres and Anghel Saligny subway station. Except for residential estate, the investment will include adequate amenities for residents including community HUB, kindergarten, walking lanes, swimming pool, permanent security, retail services and many other facilities for sports, health, and recreation, including tennis and basketball courts and bike lanes.