Despite the pandemic, travellers and businesses have seen several large-scale real estate-related developments at Liszt Ferenc International Airport in Budapest during the past few years. There will be more huge investments over the coming years. Property Forum asked Rene Droese, Chief Development Officer about each of them, including reopening Terminal 1 and preparations for a new Terminal 3.
How would you summarize Budapest Airport's real estate-related developments over the past two years, after the pandemic?
Budapest Airport's property developments, as well as all other airport developments and expansions, are guided by three important principles: quality, passenger experience and sustainability. We must take this triple matrix into account when preparing a capacity development or infrastructure expansion project. Certain airport trends and standards do of course exist, but these should always be tailored to the specificities of the airport. Anyone who has followed our developments over the last few years, or even travelled from the airport in this period, has seen not only a spectacular expansion of infrastructure but also investments that have enhanced the passenger experience, improved the throughput of the airport and accelerated our processes.
If I had to briefly summarize the developments of the last 4 years, I would begin by highlighting their value, because this also expresses their scale: by the spring of 2023, the value of Budapest Airport's investments reached HUF 100 billion. Our developments were also acknowledged by several international awards in the first half of this year: we were granted the best airport of the Region award of Skytrax for the tenth time based on passenger ratings, and ACI has named us as the winner of the best airport of 15 to 25 million passengers in Europe award. In addition to passengers, Skytrax auditors also analyzed our processes and services and, after a three-day audit and the examination of 500 requirements, raised the airport's rating from three to four stars.
In the summer of 2020, we inaugurated one of the most spectacular real estate development projects of recent years, the 11,500 sqm Pier 1, and then, taking advantage of the forced reduction in passenger traffic caused by the pandemic, we refurbished and enhanced the appearance of passenger circulation areas and carried out all the maintenance that would have been very difficult to do under normal passenger traffic.
Developments continued after the pandemic as well: we opened a 200 sqm observation and smoking terrace in the transit area of Terminal 2B, the baggage reclaim area in Terminal 2A was expanded by 520 sqm, the number of passenger security screening lanes increased, 4 new nursing rooms were established for families and we also opened a dedicated room for passengers with reduced mobility.
However, not all major property developments implemented in recent years were visible to travellers. In 2022, the expansion of the BUD Cargo City, which was opened three and a half years ago and has a 32,000 sqm Cargo Handling building and its apron, began, with an additional 6,500 sqm of warehouses, 1,500 sqm of offices and additional service areas. Two new aircraft stands are also being added to the complex. A new Main Gate, consisting of a 440 sqm building and an adjacent car park with 123 spaces, was completed in 2021 and provides convenience for employees, tenants and partners, enabling faster and smoother access to the operational area of the airport.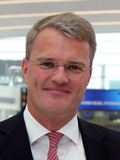 René Droese
Chief Development Officer
Budapest Airport
René Droese joined Budapest Airport in 2007, and since May 2023, he has been the Chief Development Officer and Deputy CEO of the company. He is responsible for all airport developments, including passenger and cargo facilities, the airport masterplan and property developments of commercial real estate. Under his responsibility, BUD set up a CAPEX program to increase passenger terminal capacities up to 30 million passengers, by constructing new passenger terminal facilities, including major landside and airside developments. He already developed many tailor-made properties, including the new Cargo City, MRO facilities, offices, hotels and logistic facilities for various express companies. He is also in charge of BUD's cargo business development, with the mission to develop BUD as a major cargo hub in the CEE region. Combined with the €50 million Cargo City project, BUD increased the cargo volume handled at the airport by 45% in three years and was recognized in 2022 as the Cargo Hub of the Year at the Air Cargo News Awards.
More »
Increasing passenger numbers might take you closer to starting the construction of the third terminal. At what stage is the planning process?
By the end of the decade, we expect the number of passengers in Budapest to be well over 20 million, as the city and the country are very attractive destinations for tourists. As airport operations are driven by quality, we want to continue to offer the same high-quality service to our passengers as we do today, even when traffic increases. However, to do this we need more infrastructure and more space, so if we want to serve 20-25 million passengers comfortably, we need to develop.
In fact, since 2019, preparations for the construction of Terminal 3 have been underway as part of the so-called Masterplan, alongside several other airport investments, with the first main components scheduled for completion in 2030. Preparations for the international design competition, phasing and preliminary studies are currently underway to ensure that construction does not disrupt the operation of Terminal 2. This will be one of the most complex construction projects in the country, and it is a very difficult task because we have to run a busy airport without disruption. A dedicated team is currently working on the development and implementation of the expansion plans.
Is there a special plan to develop Terminal 1? Before the temporary closure, it used to be the home of low-cost carriers. Do you exclude returning them to that terminal in the medium or long run?
In the case of Terminal 1, the main question is how to manage the growth in passenger numbers in the transitional 6-7 years until Terminal 3 is opened. For tourism to continue to grow and thus contribute to the performance of the national economy, the number of inbound tourists needs to increase. However, as the capacity of Terminal 2 is limited, Budapest Airport can only provide the infrastructure necessary for further growth temporarily - until T3 is built - by opening T1.
The designs of Terminal 1 are ready. The current 24,000 sqm of Terminal 1 would be expanded by 9,500 sqm to serve 4.5 million passengers per year. The procurement, tendering and construction would take around two years. Terminal 1 itself is a protected historic monument, and we want to strictly preserve this exceptional art deco building. However, the technology used in the past at Terminal 1 is no longer adequate, as it has not handled passengers for 9 years. Numerous systems need to be replaced, whereby we would like to create a modern terminal that meets today's standards.
Despite the extension of the parking infrastructure over the years, parking shortages appear to put pressure on travellers. When will you hand over the car park in front of Terminals 2A and 2B?
The construction of the new Terminal Parking, located between Terminal 2 and the Ibis Styles Budapest Airport Hotel, is progressing to plan, and we plan to open the area this summer. We will add 586 spaces for cars and 8 spaces for coaches. A covered walkway will lead from the car park to Terminal 2, which will be a 2-3 minute walk.
Cargo figures show a big rise over the past two years. How will you expand this business in the coming 2-3 years?
The BUD Cargo City is indeed developing spectacularly, it is a real success story. Besides other factors, this is why Budapest Airport was named Cargo Airport of the Year in 2022. As I have already mentioned about the ongoing property developments, the BUD Cargo City is continuously expanding according to our tenants' needs and our cargo forecasts, and the current development phase is expected to be completed this year. The capacity of the complex will be increased to 240,000 tons per year, and the integrator facilities for DHL, UPS and FedEx at Terminal 1 will be able to handle an additional 60,000 tons of cargo. This will increase annual cargo capacity to 300,000 tons. This infrastructure expansion will also help to strengthen Budapest's position in the global air cargo market in the coming years and to ensure that Hungary continues to play a leading role in the Central and Eastern European region, thus offering a competitive advantage to all players in the Hungarian economy.
What kind of environmentally friendly steps are taken during construction activities?
Budapest Airport treats sustainability as a strategic objective. We continuously monitor the practices and tools needed for environmentally conscious development and raise the awareness of our employees and partners in this field. In 2023, we joined the Hungary Green Building Council (HuGBC), thus expressing our commitment to sustainability. This is a professional community where members share knowledge, experience and good practices on sustainable construction.
Our developments are focused on optimizing the energy use of buildings, using renewable energy sources, recycling construction waste and protecting wildlife in our environment. Construction waste is collected selectively and recycled at the airport, as far as possible. In 2022, for example, we prepared more than 95% of the waste generated during the refurbishment of taxiway B3-B5 for on-site recycling, which also avoided the emissions generated by around 3700 truck trips for its removal from the airport.
Budapest Airport received the Green Frog Award for its first sustainability report. What did you do to get this award? How do you comply with ESG requirements?
It is an important element of our corporate and, within that, our sustainability strategy to have a transparent monitoring and reporting system. Our business processes are based on transparent, environmentally friendly methodologies. Deloitte's Green Frog Award recognized the maturity of our sustainability report in the first report category, as it includes quantified results and targets in a transparent manner, in line with international standards. The continuous development of the airport benefits passengers and the country. To maximize value creation, we insist on responsible airport operation, as a guiding principle for all innovation and investment.
We aim to achieve net zero emissions 15 years earlier than our original commitment, by 2035 at the latest. To achieve this, we have launched several energy efficiency projects, and are exploring the use of renewable energy.
In 2021, we signed our first, €325 million, ESG-based (environmental, social and governance) financing agreement, which is unique among airports, not only in the region but also in Europe. Under this agreement, we committed to achieving the highest, 4+ level of ACI carbon neutrality accreditation in the Airport Carbon Accreditation scheme, by the end of 2023.