JLL has secured €11 million to refinance the Lascar 31 Business Center Bucharest on behalf of the manager of the project, ForeVest Capital Partners. Intesa Sanpaolo Bank Romania provided the loan for the property, which comprises 9,250 square meters rentable area.
Lascar 31 Business Center is located in the central area of Bucharest. Among the main tenants, the project counts European Commission, European Parliament, World Bank and European Investment Bank.
Managing Director Silviana Petre Badea and Associate Director Maxime Otto represented the JLL team during the financing process.
"The project is located in the immediate vicinity of Universitate's square and in this respect enjoys a perfect accessibility both by car and public transport. The asset is currently almost fully let to institutional, high-profile tenants. The excellent location and the very good specifications of the project drove significant demand for this office building. We are very glad that we found the right partner for the project and we trust in a long partnership between JLL and ForeVest Capital Partners", commented Silviana Petre Badea, Managing Director, Head of Capital Markets at JLL Romania.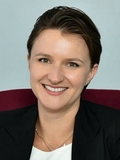 Silviana Petre Badea
Managing Director
JLL Romania
Silviana Badea has over 12 years of experience on the real estate market. Throughout her career she has been involved in all aspects of property asset management on one side and advisory on the other side. Her specialties are disposal and acquisitions, office and industrial leasing negotiation, property and asset management, financing, property reporting and development. Her most significant assignments since joining JLL are the completion of the sale of Victoria Center to GLL, Buy Side Advisory for GLL on Floreasca Park, Due Diligence for Logicor on the acquisition of the Immofinanz CEE Portfolio, Financing of Sibiu Retail Park.
More »
JLL Capital Markets provides capital solutions for real estate investors and occupiers. In the last 15 months, JLL Capital Markets advised investment, M&A and debt transactions in a total value of over €300 million in Romania.
"We are very appreciative of JLL's support and involvement in a very complex transaction and also to Intesa Sanpaolo Bank Romania to provide financing for this acquisition. By taking over Lascar 31 Business Center we hope we will achieve one important goal: to make the building the hub of prestigious European and International Institutions. This is also in line with the new business lines we intend to develop such as Real Estate and NPL since becoming an independent platform", says Doina Popescu, Managing Partner at ForeVest Capital Partners.
"We want to be next to our clients and we are happy that our support has contributed to the successful closing of the transaction. We reaffirm our goal to offer our customers high-quality counselling, and access to a worldwide products and services portfolio offered by one of the largest banking group, Intesa Sanpaolo Group", explains Florin Sandor, Head of Corporate and SME Division Intesa Sanpaolo Bank Romania.