Central business district (CBD) offices, supermarkets and food-anchored retail parks, as well as logistics assets in key locations across Europe, will present attractive investment opportunities in 2021 as investors regain confidence following the COVID-19 crisis, according to Savills Investment Management (Savills IM).
While containing the spread of the pandemic will remain the focal point, other challenges also lie ahead in 2021. The impact of the UK leaving the EU will come into full effect. Climate-related risks, rising inequalities and continuous geopolitical tensions likewise remain, all of which could threaten global stability. Embracing disruption to protect existing portfolios and identify new investment opportunities is, therefore, ever more important. Part of this involves capitalising on structural trends that have accelerated as a result of COVID-19.
Savills IM's 2021 Outlook report, titled "Building resilience in global real estate portfolios", envisages no major demise of the office sector despite the increase in agile working driven by the pandemic. Offices in CBD locations with good transport links are here to stay while the resilient income streams of food retail assets represent a strong buy for core/core-plus investors. Logistics, which has been a clear winner throughout the pandemic because of the increase in online shopping, will continue to be backed by solid fundamentals and structural tailwinds, the report emphasises. But with returns on traditional property assets – office, industrial and retail – low, investors are also looking to alternative sectors such as student housing, build-to-rent accommodation and senior living.
New research included in the report shows that 59% of real estate investors globally expect real estate markets in Europe to recover in 2021, with just over half (52%) expecting the recovery to begin between Q2 and Q4 next year. Some 45% of investors expect that real estate investment will increase over the next 12 months, and 25% expect investment levels to stay the same
"Our research shows that real estate investors are confident about 2021, and recent positive announcements about the availability of a vaccine could certainly accelerate the recovery, boost sentiment and help cross-border investments to flow again. the pandemic has clearly caused multiple disruptions in the economy and the commercial real estate markets. Nevertheless, in seeking new opportunities, investors should embrace the structural trends that have accelerated because of COVID-19," Andreas Trumpp, Head of Research, Europe at Savills IM, commented.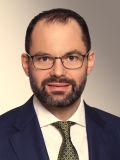 Andreas Trumpp
Head of Research & Strategy Europe
Savills Investment Management
Andreas Trumpp MRICS has been with Savills Investment Management since 2015 and in 2019 he became Head of Research & Strategy Europe. Prior to this, Andreas was Head of Research Germany at Colliers International for six years. He brings with him a passionate interest in European cities and real estate combined with an extensive understanding of capital markets and economic development. Andreas has 16 years of real estate research experience and has held teaching positions at the Technical University of Munich and the ADI Academy of Real Estate Economics for many years.
More »
Logistics to remain investors' darling' in 2021
Logistics is set to remain a bright spot within the real estate landscape. Backed by solid fundamentals and structural tailwinds such as a further increase in e-commerce and low overall vacancy rates, investor sentiment is particularly positive for logistics. Savills IM still likes modern distribution centres with a strong long-term covenant in the main logistics clusters along the major motorways and transport networks across Europe.
In addition to the investment manager's current investment approach, a strategy specifically aimed at urban logistics assets offers an attractive proxy to capture both the growth in e-commerce as well as urbanisation amid the market downcycle. Savills IM's research found that logistics is the most favoured sector among real estate investors, with 57% and 55% seeing increasing investment in big-box distribution centres and last-mile/urban logistics assets, respectively.
Key picks:
core/core-plus assets with a strong long-term covenant in the main logistics clusters across Europe
modern distribution centres along the main motorways and transport networks such as the North Sea–Baltic, North Sea–Mediterranean and Atlantic corridors
logistics facilities in regional markets in well-connected locations in France, Germany and the UK
urban logistics units and multi-let assets close to large and densely populated areas across Europe
Retail – food and discount segments show resilience
Food retail offers a resilient investment income stream and therefore is a strong buy for core/core-plus investors. Savills IM's research found that 80% of real estate investors globally expect investment in food retail assets to increase or remain stable. Attractive risk-adjusted returns are also still available for investors in the outlet mall segment in Western Europe.
Key picks:
larger food-anchored retail parks and neighbourhood centres in metropolitan areas of Tier 1 and Tier 2 cities across Europe
daily goods and grocery retail formats such as supermarkets and food discounters in urban areas across Europe
destination and convenience segments of the outlet centre market in Western Europe
Offices are here to stay
Although only 16% of real estate investors see investment in CBD offices increasing in 2021 and 43% see it decreasing,1 Savills IM believes that those assets that are efficient, accessible and offer strong amenities in locations with good transport links are likely to perform better in the long-term. Face-to-face office collaboration facilitates knowledge spillovers, learning and mentoring; improves creativity; and enhances productivity. The office is also a hub for social interaction, fueling a collaborative and productive company culture.
Key picks:
multi-let core/core-plus office buildings near transport hubs in CBD locations and well-established city fringe locations across Europe
long-income core office opportunities in regional cities mainly in Germany, France the Netherlands and Poland
Living-focused alternatives are on the rise
Alternatives such as senior care and student accommodation are a strong buy for investors who want to add value-add elements to their portfolios. The strong demand characteristics associated with an ageing population on the one hand and the higher education sector on the other have not changed.
Key picks:
residential, particularly build-to-rent multi-family buildings and student accommodation, particularly in the UK, and healthcare and senior care facilities (e.g. in Italy), providing long-term, stable income returns