Gabriel Biriş, Founding Partner at Biriş Goran talked to Property Forum about the pandemic's impact on the legal advisory business and what concerns investors share with him regarding Romania's tax and legal framework.
This interview was first published in Property Forum's first annual "The 50 most influential people on Romania's real estate market" publication.
Which property segments have been driving demand for your legal and fiscal consultancy services since the pandemic started?
We have seen specific interest from our clients for new projects in the logistics and residential sectors. To this end, the highway network that is finally starting to take shape puts new locations on the investment map of the investors. What is also important to notice is that despite the postponement of the application of the measure to increase the ceiling for applying the reduced VAT rate for delivery of dwellings plus the suspension of the sectorial PUZ (Urban Zoning Plans) in Bucharest might have a slowdown effect this is not necessarily the case for well-established residential investors. They are more familiar with dealing with project variations caused by unforeseen events. Furthermore, their good market reputation works in favour of their project, as more and more people are confident in their trusted brands.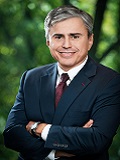 Gabriel Biriş
Founding Partner
Biriş Goran
Gabriel Biriș is a Founding Partner of Biriș Goran and is widely regarded as one of the leading tax experts in the country. He has over 25 years' worth of experience in tax advice, having advised clients on compliance, tax litigation and tax audits. Gabriel is the author of two books about tax. In 2016 he worked as State Secretary in the Ministry of Finance, tasked with the legal reform of the fiscal area. On the real estate side, Gabriel has coordinated the Biriș Goran team in some of the most significant transactions on the Romanian market, including the first transaction with a value above €100 million (the sale of City Mall) and the biggest real estate transaction in Romania (Upground, the sale of offices and apartments, amounting to approximately €400 million).
More »
Have you observed any changes in the type of advice your clients are looking for?
Clients are interested in ensuring contractual mechanisms that enable more clear and predictable procedures in the event of unexpected events. To this end, there is a general tendency with the clients to be more focused on hardship and termination contractual clauses. For example, investors want to make sure that the contractors are able to provide a constant flow of materials and personnel despite the COVID-pandemic. Nevertheless, from the contractor's side, it is important to secure variation for contract price and work completion dates in case of disruptions to the chain of supply. Overall, contractual mechanisms can be envisaged in order to bring these apparently conflicting interests to a common denominator.
Biriș Goran was involved in a number of high-profile real estate investment transactions over the past 12 months. Was it difficult to close these deals during the lockdowns?
At the same time, yes and no. No, since meetings and negotiations can be successfully held in a digital format. Clients and negotiation teams have adapted quickly to these new conditions. Consequently, in our experience transactions have not suffered significant delays. Things are more or less business as usual. Yes, because what we are missing most is the physical interaction. While we understand the social distancing measures, in our view a transaction is not a mere negotiation but mainly a more complex, human, often psychological interaction.
Have you noticed a shift in the preferences of real estate investors in terms of location and asset class?
In our view, we have not seen significant changes in the investment behaviours of our clients. It's too early to call the relocation of clients to houses in the outskirts of Bucharest or employees working in a mixed office & home program a market tendency. To this end, we do not think that we are witnessing a crossing point in both residential and office markets. Good venues will always be attractive to investors and tenants will always be attracted by valuable locations. We also have to see how people's mindset will evolve after the restrictions are lifted, mostly now, when vaccination has proved to be highly efficient in both reducing the number of infections and pressure on the health system, especially on ATI units.
Does Romania's tax and legal framework make it an attractive investment destination for real estate investors?
Romania's tax framework is generally quite competitive, including here investors in real estate. The 16% corporate tax rate (since 2005) is higher than in some of our neighbouring countries such as Hungary and Bulgaria (10%), but we have very competitive treatment of capital gains from selling participations (tax-exempt provided that at least 10% of the shares are owned for at least one year), zero withholding tax on dividends and also the recently introduced tax consolidation, all these making Romania competitive to holding companies. Unfortunately, a planned increase to €140,000 (from approx. €90,000) for the application of the reduced VAT rate of 5% for dwellings, which would have helped the residential market, was postponed until 2022, due to budgetary constraints. Not that competitive is the newly introduced legislation for the sale of agricultural lands, which made investments in such lands much more difficult, due to newly introduced pre-emption rights. Another problem for investors was generated by the decision to suspend all PUZ in Bucharest until the 1st of March 2022, which makes it almost impossible for investors to obtain new construction permits. Hopefully, the suspension will not be prolonged.
When do you expect investment activity to bounce back to pre-pandemic levels? Are you registering interest from new players wanting to enter the market?
The good news is that signs of economic recovery are already here. Although it may not be visible right now, the Romanian economy is moving fast. Just look for example at the economic growth. A figure of around 7% in 2021 would not be something unexpected. And this is quite remarkable given the stormy 2020 and the pandemic challenges. This growth reflects among others the resilience of the players in key sectors of the private economy (from IT to construction and to the agribusiness).
Somehow, they made it through and managed to bounce back benefiting among others from a highly-skilled local workforce in services sectors, a constant demand for residential units and from very competitive mobile and broadband internet speed. Despite all odds, they prevailed and are continuing the cycle of growth. This trend will probably continue in the next 3-5 years. This dynamic of the economy has not remained unnoticed. Therefore, we have seen constant interest in the past few months in the Romanian real estate market from new players acting in the region, especially from the Czech Republic and Poland. The end of 2021 may be a moment when they could become active.
When you talk to new investors that don't know the Romanian market, how do they see the business environment here? What are their questions?
Investors we have spoken with are looking at Romania as an opportunity for medium - and long-term investments. This is good news since we are speaking of mature investors who know their business and are looking to extend it regionally. This eventually creates regional interconnectivity and would help build a more mature business environment. Most of these investors have done the usual market-specific checks and therefore are quite familiar with the fundamentals of the Romanian market. Therefore, investors are mostly interested in details and practical matters. Questions are becoming more and more targeted. Let me give you an example of the type of questions we are receiving for urbanism and authorization matters even before the actual project details are made. Is the PUZ required or can I build relying on the existing PUG? How much time does it take to get a building permit? Do I need a fire permit? Can I operate a building without a fire permit?
Are there any specific changes in legislation that real estate market players are asking for at present?
More than ever investors are seeking predictability and fewer changes. For example, a new law, the Usage Conservation and Soil Protection Law 246/2020 is making a soil quality certificate mandatory as a prerequisite for basically any transfer of land. The law mentions all types of land: agricultural, forestry and industrial alike. The lack of a certificate is apparently sanctioned with the nullity of the ownership transfer document. The certificate shall be issued by a state-organized soil and environmental protection institute ICPA. The institute will not issue the certificate until the application norms will bring more details. These norms are expected only in 2022. Thus, it is unclear if the certificate is mandatory now or only after the application norms are implemented. Such unclear provisions are certainly of no help to investors.