Hungarian property developer and investor Indotek Group currently owns real estate in Hungary and eight foreign countries and is actively screening opportunities in five others. The portfolio consists of office, retail, hotel and industrial properties. Property Forum asked Krisztián Hornok, Managing Director of International Transactions and Asset Management about the reasons for the large-scale expansion and ways of handling risks in this region.
Indotek Group acquired a landmark office building in Bucharest last year. Why do you think that market is attractive and what conditions would make you invest more in offices there?
With Indotek Group, we are constantly monitoring the real estate market in European countries. Naturally, we also try to assess and understand the investment opportunities in the Romanian market and examine how the market pricing is in line with the risk/return ratio we consider ideal.
The real estate market, including the office market of Bucharest, is an attractive target for us for several reasons. The size of the Romanian capital makes it an economically significant location in the region. In addition, the office market in Bucharest is still developing at a relatively fast pace, mainly in up-and-coming areas in non-central parts of the city, while in the downtown there are several first-generation office buildings in prime locations.
We acquired the One Victoriei Center office building in the centre of Bucharest, a property with 12,000 sqm of office space available for rent, last year. The acquisition was indeed a significant milestone for our presence in Romania, as it increased the size of the real estate investments we manage in the country to 80,000 sqm. In the future, we are determined to strengthen our presence in the Romanian market by acquiring more office buildings, if conditions are favourable.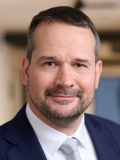 Krisztián Hornok
Transaction Director
Indotek Group
Krisztián Hornok has been the Transaction Director of Indotek Group since 2014, before that he held senior positions at various service companies. He was the Managing Director of real estate consulting company DTZ in Hungary for four years and a Member of the Board of RICS Hungary for seven years. In his current position, he is primarily responsible for Indotek's acquisition activities, he executes high-value real transactions both at home and abroad on behalf of one of the most active investment companies in the country.
More »
How about ESG compliance in your office portfolio across the region, especially in Hungary? How can you make your tenants more effective in reducing their carbon footprint?
Indotek Group's focus is primarily on value-add opportunities, i.e., properties that are often in need of renovation and refurbishment. Given the nature of Indotek's real estate portfolio, we are not yet a front-runner in terms of ESG compliance, but we are continuously working to improve our assets from this perspective, too.
But even beyond the renovation work, many aspects of our business take sustainability into account and prioritise it. For example, we were among the first ones to start installing solar panels on the roofs of or near our properties that are suitable for this, partly in response to last year's significant energy price rises.
We also have a strong preference for energy- and cost-efficient, sustainable solutions in the operation of the properties in our portfolio. We have recently extended our facelift programme, which we initiated in 2020 with a focus on the renovation of retail properties, to our office portfolio. As part of this, we have completely renovated two of our office buildings in Budapest.
The Group has been refurbishing several shopping centres in Hungary. What were your major concerns during planning, creating a new tenant mix, and construction of the final design? What are the first financial impacts of your work there?
In the case of the shopping centres, we knew at the time of acquisition that they were properties that needed to be renovated, mainly because of their age. We have done so in recent years, as a result, we have now renovated the interior and exterior of nine of the Hungarian shopping malls managed by Indotek, including Szeged, Győr, Pécs and Alba Plaza, and the renovation of the interior of Miskolc Plaza is currently underway.
An example of this is Csepel Plaza, which we acquired in 2017 as a relatively underperforming building with few tenants and a completely vacant first floor. In recent years, the property has been refurbished and transformed into a quality shopping centre that serves its location well and is now home to several international and Hungarian tenants.
The industrial property market is on a sharp rise across the whole CEE. Would you invest more in secondary cities in Hungary, Romania, and elsewhere in the region?
I think that the logistics market – as opposed to the office market, for example – is precisely the segment that does not require that the activity be specifically concentrated in the capital city. In fact, in several foreign countries, such as Spain, Italy and Poland, we are seeing very significant logistical developments taking place far from the capital cities.
We are observing a similar trend in Hungary as well, where the logistics segment has a countrywide network in addition to Budapest, with significant centres in Székesfehérvár, Győr and Debrecen. For the users operating in these properties, it is not so much the central, prime location that is most important, but the appropriate infrastructure and transportation, as well as the available workforce, and these factors are not only available in the capital. So, I think in this case, it's justified to move away from the capital and expand the activity to secondary cities.
About the logistics market, it is also worth noting that, compared to other market segments, this sector has been the least affected by the economic turbulence of recent years. However, although risks in this sector are more moderate than elsewhere, we continue to believe that caution is warranted, as is prudent investment both at home and abroad.
Indotek has been involved in several investment transactions on the hotel market both on the seller and buyer side. Do you agree that the share of distressed assets in that submarket is on the rise and that offers relatively cheap purchases in Hungary and the region?
Indotek Group acquired several hotels in Budapest before the Covid-19 pandemic. However, the pandemic has shown a very vulnerable face in the hotel market. In addition, recent price increases have also had a significant impact on renovation costs, which has led us to decide on several occasions that it is a better option to accept a purchase offer and invest the money abroad than to complete the projects.
At the same time, the hotel market abroad, especially in the Mediterranean region, has become very attractive for Indotek in recent times. We see a lot of good opportunities in this segment for example in Greece, Spain, Italy, and Croatia. In these countries, we try to create synergies in sales and set up operations that we can coordinate in the future.
How can you minimize the risk in asset management as the war in Ukraine has had a major impact on the whole investment market in CEE?
As a real estate company, the current geopolitical situation and its eventual outcome are external factors to us. We need to be aware of and consider these when making investment decisions, and they only increase the importance of diversification in a much larger geographical area, which has already been a key element of our strategy for some time.
As far as energy prices are concerned, there is relative calm and optimism in the market now, especially compared to the turbulent situation that we saw a year ago. However, there is no guarantee for it to stay like this as the war in Ukraine is far from being over. This continues to be a risk going forward, along with inflation, interest rate movements and so on. All market players are navigating unchartered territories and aiming to secure their positions as much as possible.