Hungarian investor Indotek Group is ready to spend hundreds of millions of euros on diversifying its portfolio geographically. Krisztián Hornok, Transaction Director and Florin Tirla, Country Head for Romania & Bulgaria shared with Property Forum the details of the company's ambitious international expansion strategy and also discussed the pandemic's effects on the attractiveness of different asset classes.
You've recently closed a major transaction with the acquisition of GTC's Serbian portfolio. Was this a deal long time in the making?
This was an exceptional transaction in a number of ways. The amount and target market of the investment both make it quite unique. For us, this is the first major office transaction that was agreed upon and carried out entirely after the start of the pandemic. This type of asset is also not what Indotek usually buys. We normally look for more opportunistic product. It is exciting to enter a new market and immediately become one of the dominant players in the office sector. The deal itself happened relatively quickly for its size. It took a little more than half a year so far, although closing will only happen in the next quarter.
Krisztián Hornok
Transaction Director
Indotek Group
Krisztián Hornok has been the Transaction Director of Indotek Group since 2014, before that he held senior positions at various service companies. He was the Managing Director of real estate consulting company DTZ in Hungary for four years and a Member of the Board of RICS Hungary for seven years. In his current position, he is primarily responsible for Indotek's acquisition activities, he executes high-value real transactions both at home and abroad on behalf of one of the most active investment companies in the country.
More »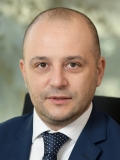 Florin Tirla
Country Head Romania & Bulgaria
Indotek Group
Florin Tirla was appointed Country Head of Indotek Group for Romania and Bulgaria in December 2020. Prior to this position, Tirla coordinated for three years the activity of Frontier Estates London in Romania. With 18 years of experience in the real estate market, Florin has worked both in consulting companies and for investors. He graduated from the Academy of Economic Studies in Bucharest in 2002 and holds an MBA graduated Summa Cum Laude from the University of Ottawa, Canada, in association with the Academy of Economic Studies in Bucharest.
More »
Does this mean you're still confident that office will remain an attractive investment product?
We are looking at different asset classes very differently from the way that we looked at them 18 months ago. Obviously, there is logistics, which is extremely fashionable now. We are very opportunistic with hotels, we are very cautious with retail and we are more confident about offices than the other two. We can see some softening of demand, but the office market was extremely healthy pretty much in the whole region before COVID which means that it can afford to have a little bit of trouble. The pandemic will be over and I don't believe in people staying at home forever. It's going to be a mixed bag, but flexible workplace trends are not new, they started way before COVID which only accelerated them. There are arguments for using more office space and obviously, there are arguments for using less. Clearly, the pandemic has made big companies think about it very carefully and some of them are considering reducing the total office space they use by 10-20%. I'm sure some of that will happen but I don't envisage big empty office buildings in the near future.
Do you expect changing workplace trends, often driven by employees rather than tenants, to increase your workload on the asset management side?
It's very different by the type of office and the type of talent. Traditionally, our tenants have been small and medium-sized enterprises but recently, with the acquisition of Diófa Fund Management, we have become more active in the more institutional market with their Class A offices. These institutional tenants require a different attitude in managing their properties. They are taking great responsibility in the wellbeing of their employees and we have to work with them, no questions about that. Asset management is a continuous business anyway and you have to adapt pretty much every day to tenant requirements.
Going back to the retail market, what are your expectations there?
There's a similar story with e-commerce and the retail market than with flexible workplace trends and offices. E-commerce started many years ago, gained importance gradually and accelerated during the pandemic. In terms of actual projects, there is a kind of short term risk, which we have never seen before. We were in serious negotiations about a shopping centre in one of the SEE markets until one day it shut down. It stopped operating for about a month. There was a contracted volume of income and then suddenly you lost a third of it. We ended up not buying it, of course. This particular shopping centre and the retail market itself are going to stabilise and improve, but this is a kind of risk you just never had before. We are still a buyer in the market, but we have to think very carefully and our business plan needs to be very carefully thought through. An interesting issue is the difference between strip malls and traditional downtown shopping centres. People say strip malls are more resilient because you can just get out of your car, walk into the shop and then you go back to your car without being exposed to many people. But quite frankly, strip malls will be the easiest to replace with e-commerce just based on what people usually buy there. So in the longer term, I'm personally more positive about traditional shopping centres, because of the shopping experience they offer.
What's Indotek Group's investment strategy? Do you have a clear goal – for example, certain millions of square metres under management – set?
There's no such set number for us but one very clear target is to diversify away from Hungary. Not in nominal terms, because we are happy with our Hungarian portfolio as it is. But the proportion of the Hungarian portfolio needs to decrease because it's just not healthy to be so exposed to a single market. We are quite liquid, we have good access to capital and we are looking to spend most of that money outside of Hungary. Our strategy is absolutely project-driven.
Poland is a great example of that. We were not anticipating going into Poland because without even looking at it properly we just assumed that the returns were going to be too low for us. We are an opportunistic investor which means that we need to take risks and generate higher returns than the big institutional players. So we were just not thinking about Poland, but then we ended up finding a couple of interesting opportunities there and we are very positive about the market now. Currently, we are assessing a number of investment opportunities there - office, retail and industrial as well. Obviously, we are not a core investor who will buy the big towers in Central Warsaw, but we have found that Poland is diverse enough for us to invest a significant amount of capital in it.
What other markets are you looking at?
We are looking at 14 countries with the same project-driven attitude. We are absolutely sure that we will spend hundreds of millions of euros abroad but none of the money is allocated to one specific market. Besides Florin in Romania, we have colleagues in Croatia, in Greece, in Poland and we are going to have one in Italy very soon – I believe there will be a lot of opportunities for us there. We also have people working for us as service providers in Spain and Portugal and that makes a big difference in terms of our efficiency in finding the deals and in executing them as well. So the fact that we will have six or seven people in similar positions around Europe will be a big factor in accelerating our investments.