Internationally expanding Hungarian company Indotek Group is looking at new investment opportunities on the Romanian market. Florin Tirla, Country Head Romania & Bulgaria at Indotek Group talked to Property Forum about the company's plans and shared his expectations for the future of the office and retail markets.
Indotek Group is a relatively new player in the Romanian real estate market. Has anything changed for you due to the pandemic?
Indotek has been looking at the Romanian market for a few years already, we have bought a shopping centre in Târgu Mureș in 2019 and since then we have been increasingly active in analysing projects. We do not have a specific equity allocation for the Romanian market and have a rather project-driven approach. Surprisingly, not much has changed in the pricing of real estate assets due to the pandemic, expectations have not yet adjusted in line with the GDP drop or the decrease in industrial production. Of course, various sectors have been impacted in various ways, we have seen the focus on logistics increase and we are continuously observing the market and adjust to every sector's particularities.
When looking at potential properties, do you also consider the office segment or just retail?
Indotek is a fairly opportunistic company, therefore we would consider any sector as long as we are able to understand its dynamics and the risk-return relation makes sense to us. We have a history and experience in buying and managing all types of real estate, from hotels to offices and we would use that experience on the local market, provided that the offered assets meet our investment and return criteria.
What type of property will you buy next? How close are you to closing a transaction?
The next asset we would buy is likely to be an office, but we are relatively early in the process and we cannot disclose any details at this stage.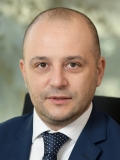 Florin Tirla
Country Head Romania & Bulgaria
Indotek Group
Florin Tirla was appointed Country Head of Indotek Group for Romania and Bulgaria in December 2020. Prior to this position, Tirla coordinated for three years the activity of Frontier Estates London in Romania. With 18 years of experience in the real estate market, Florin has worked both in consulting companies and for investors. He graduated from the Academy of Economic Studies in Bucharest in 2002 and holds an MBA graduated Summa Cum Laude from the University of Ottawa, Canada, in association with the Academy of Economic Studies Bucharest. The Hungarian group took the first step on the commercial real estate market in Romania in 2019 when it acquired the Promenada shopping centre in Târgu Mureș. Tirla will manage the Group's operations in Romania and Bulgaria, but also will identify new opportunities for expansion in the region.
More »
While in Romania you only operate one retail asset, Indotek owns a large portfolio of office buildings in Hungary. What changes have you noticed in the office market since the start of the pandemic?
The office market has been clearly negatively impacted during the pandemic as people find it difficult or risky to leave their homes to go to the office. Some of the trends, like hot-desking or partial work from home, were already here and were merely accelerated by the pandemic. However, Bucharest's office market is very diverse in terms of quality, pricing and ownership approach, so there is enough room to differentiate oneself.
Companies still keep employees at home and may no longer want to return to the office full-time. How do you see the evolution of this trend within three to five years?
It all depends on how this pandemic is dealt with over the next period, on the success of the mass vaccination and on the various restrictions. It may take a while until we will all be able to go to the office 5 days per week and we will probably see hybrid ways of working for the next few years. However, working exclusively from home may not be sustainable for a long time, people miss socializing with their peers and some have various issues with children caring while working and being productive.
As the owner of Promenada Mall in Târgu Mureș, how do you view the competition there?
At the time of the purchase, we were aware that NEPI Rockcastle would develop another shopping centre in the city, we knew the location and, knowing what NEPI usually does, we had an indication on the retail mix to come. We believe that Târgu Mureș is able to justify both large shopping offerings and the other smaller developments and, when it comes to Promenada Mall and Shopping City, we trust in their complementarity rather than competition.
More and more developers are focusing on retail parks instead of shopping centres. Do you think this is the future?
This change of focus was mostly determined by the pandemic and the collective perception that shopping in a retail park poses fewer health risks. However, online shopping witnessed a significant increase and this is a much bigger threat to retail parks in the long run, since the segment interested in simply shopping for goods has a good alternative online, while people looking for the shopping experience and end of the day or week entertainment to go with visiting retail units would still favour malls.