New international hotel chains will appear in Budapest for the first time. Budget hotels will remain competitive. Slow recovery of conference tourism gives some hope to the hospitality industry in Hungary, Csaba Tóth, Director, Head of Hotels at CBRE Hungary says to Property Forum.
Budapest's hotel market suffered a lot under the Covid-years. When do you expect the full recovery of the sector in Hungary's capital city?
Budapest has suffered the most because the city's exposure to international guests is the highest in the region. However, on the other hand, Hungary has been one of the countries that lifted the Covid measures the fastest. This may be one of the most important reasons why ever since June of 2021, Budapest had the highest RevPar in the region, which indicates a faster recovery compared to regional markets. The current trends are indicating a faster recovery than previously predicted, with global markets having the possibility to reach 2019 levels until the end of 2023, with the Hungarian market following closely.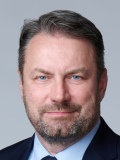 Tóth Csaba
Director, Head of Hotels
CBRE Hungary
Csaba Tóth recently joined CBRE with over 20 years of real estate industry experience. Previously he worked for Triangle Europe, where he gained extensive knowledge in hotel development projects and operator selection. Prior to that he worked for Prime Kapital and spent nearly 15 years at TriGranit, where he was responsible for numerous real estate development projects in 6 countries across the CEE and SEE regions. Projects included shopping centres, office and hotel developments. Besides he has extensive experience in project and structured financing, asset management and real estate investment.
More »
Accor will open its second Mercure hotel brand in Debrecen in August. Do you expect international hotel chains to enter other regional hubs within the next 2-3 years?
The leading international hotel chains are eager to bring their brands to Hungary. However, the flagship projects under such brands i.e. the market entry need to happen in Budapest first. The major cities will probably need to wait a bit longer for the branded hotels.
Business events are crucial for profitability across all major hotels in Hungary. But those events are still held in a hybrid mode predominantly which shrinks the space and services needed from hotels. What is the way out?
Even though conference tourism has not been significant since the breakout of the pandemic, we are expecting it to slowly recover during the summer, therefore Q3 should mark the rise of this subsegment. The hybrid model was a suitable option for times with no vaccination available, however, there's a huge demand for conference events with "real-life" participation as personal meetings and networking can never be fully replaced with online solutions.
What is the future of mixed-use hotels, such as Meininger which hosts traditional tourists and backpackers and even offers coworking office space under the same roof?
The coworking space boom has had its cross-market influence for sure. However, under the current circumstances, there are plenty of office spaces available on the market and mixed-use products may not be as competitive as they used to be. On the other hand, the hospitality solutions demanding a low level of personal staff have proved to be much more sustainable than upscale concepts. Budget hotels are operating at low break-even points, and it makes them more competitive.
Is the Hungarian hotel market attractive (cheap) enough to invest in this year or it is better to wait until prices go even lower for some troubled ones?
The projects (finished ones and those under construction) are indicating that the Hungarian market is getting more and more attractive to foreign investors due to its capabilities. Prices are not expected to decrease until the end of the main season, we encourage investors to assess their potential regarding investing in accordance with their long-term goals.
Lifestyle or vine hotel? Which will be the dominant category in the medium run in Hungary?
Lifestyle, leisure and wellness resorts remain top performers on the domestic market, outside of Budapest. Those offering meeting and conference facilities on top of their wellness services will benefit more and will enjoy higher revenues.
Management contracts or franchise agreements? Which form of hotel management is more popular with owners? What are the preferences in these hard times?
The pricing of these products is being adjusted on the markets as well as their other conditions. Owners with management skills and experience will remain to prefer franchise agreements however from the perspective of the operators, management agreements will remain the priority.