Hotels are under extreme pressure across Europe and there is no investors' rush to put money in these assets under the current tough economic conditions. Property Forum asked Péter Takács, Investment Director at Newmark VLK Hungary about the way out from this crisis and the chances of local mid-size investors in the CEE region.
Managing hotels was never an easy job. Now energy prices skyrocketed and overall demand for tourism is shrinking. What is the current mood of hotel investors in Europe and CEE in particular?
The volume of investment transactions recorded in the hotel sector on European markets in the first half of 2022 reached a similar level to the last year. The UK remains the most active market, followed by France, Italy, Spain and Germany. Nevertheless, most actors are cautious. Travel demand is still there, so until now revenues were okay in hotels – but there is great pressure on costs and therefore on profitability – which makes investors cautious. Most investors are positioning themselves on the sidelines, observing and waiting to see what will happen.
So we see a wait-and-see approach at the moment. What is the turning point for investors?
Investors are hampered by the growing costs of financing and maintaining the facilities, as well as the limited number of properties offered for sale. Lots of things need to happen at once or at least a number of them need to happen relatively close to each other: availability of financing, ease of pressure on costs (mostly energy), inflation under control, disposable income stabilizing – and of course interesting properties available as a good deal arising on the horizon. that is always a turning point.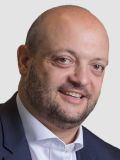 Péter Takács
Investment Director
Newmark VLK Hungary
Péter Takács gained his sales and marketing experience in the successful opening and operation of five-star international hotel chains in London, Prague and Budapest. After a short detour as a real estate developer, he joined Valter Kalaus at VLK Cresa, now known as Newmark VLK Hungary. He uses his customer-focused and solution-oriented experience as a real estate advisor for large international companies and also coordinates real estate investment projects - mainly office building and hotel projects - for more than 15 years now.
More »
What type of hotels are in the biggest trouble and why?
In CEE and Hungary in particular, wellness resorts are in big trouble due to being heavily reliant on domestic and CEE demand and large overhead costs. Large city hotels in capitals are also under high pressure to attract tourist groups. Some of them opted for a temporary closure for the winter, others decided to go on a total refurbishment. Business hotels are relatively okay currently.
Do you agree that transforming or remodelling hotels to residential use will be a way out for some city hotels?
Yes, but only for some because it is not easy to complete a resi project either these days. If you build resi for sale your problem is the lack of financing for you as a developer and for your individual buyer. If you build resi for rent, you still don't get financing and rents might not hold up with inflation in the long term so you have a return-on-investment problem.
If your hotel is in a good location for residential use and it only requires a small investment to switch to residential utilisation, it could work. But otherwise, the property can keep operating as a hotel – as long as feasible.
Let me add something about Poland. Increased interest in holiday locations translated into the prices of investment plots in popular resorts. According to local experts as much as 30 per cent over the last year. Few companies are looking for land for city hotels. Investors planning to build apartments for rent are competing for plots with companies that operate in the hotel market.
Tell us about the change in the breakdown of hotel investors in terms of country of origin.
In Poland and the Czech Republic, the share of international and domestic investors is still around a healthy 50-50%, in Hungary it is more domestic investor driven.
In Hungary, the share of local investors has been increasing over the past years. Does it mean we will see more deals made by these firms shortly?
In my opinion yes. But they will be going for larger assets and portfolio deals as well as deals spread across more countries. For the large Hungarian investors, the Hungarian market has been too small for some time which is why they are active in the whole CEE. This could give way to local mid-size investors entering this segment of the market.
Financing became expensive as banks are even more cautious than during the Covid period. Do you expect a partial or total withdrawal from the hotel segment in CEE?
Unfortunately, yes. Banks are super cautious, understandably, we do expect that having burnt their fingers in the last two years they do not want to put their hands in the fire again. However at the end of the day, their business is lending so there will be very selected clients and projects that will get financing - the question will be if there is a developer/owner/tenant and a business case to credibly support it.