One of the region's most active investment managers, Griffin Real Estate has ambitious plans to further expand its portfolio in several market segments, potentially outside of Poland as well. Stanislav Frnka, the company's Senior Partner has talked to Property Forum at Expo Real about Griffin's investment strategy and the asset classes they're exploring.
How has your investment strategy changed in recent years? Do you see yourself opening up towards new asset classes?
Our investors are definitely hungry for new products. We are managing almost €5 billion worth of investments on behalf Pimco, Oaktre, Redefine and Kajima. Besides office and retail, we have already invested in logistics, student housing and residential. Right now we are also looking at building a hotel platform which is not an easy task since we'd like to buy a substantial portfolio to start with and especially as we're interested in value-add opportunities. We're looking to buy from local players rather than international chains and operate them ourselves after the acquisition.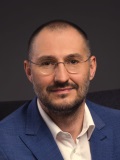 Stanislav Frnka
Senior Partner
Griffin Real Estate
Stanislav Frnka has recently joined the Griffin Real Estate team as a new Senior Partner. He supervises and helps to develop three Griffin's investment platforms: Resi4Rent, Student Depot and European Logistics Investment. Before joining Griffin, Stanislav was Chief Executive Officer at HB Reavis Poland, responsible for overall business management and development across the Polish market, having worked for HB Reavis Group since 2006 and supervising acquisitions in the CEE region (Hungary, Romania, Bulgaria, Croatia, Ukraine, and Poland). Stanislav graduated from City University of Seattle in Trencin, Slovakia in 1999, where he majored in business management.
More »
Last year with Resi4Rent you've entered a market segment that's on the wish list of many investors. What are your plans on the residential market?
Institutional products on the residential market are hard to come by in CEE but there are definitely a number of investors looking at it. Resi4Rent is the first residential-for-rent platform in Poland and it's targeting to manage 7500-8000 apartments in the cities of Warsaw, Lodz, Krakow, Wroclaw, Gdansk and Poznan, which will make it the largest, privately-owned residential fund in Poland. Echo Investment is developing the buildings and we are buying them as they are finished. We opened the first project a couple of weeks ago, the first tenants are moving in and as this is a new market for us, we're learning as we go. We're finding that it's a bit similar to the hospitality business. At the moment we have 2500 apartments secured either in the construction or permitting phase so we still need to acquire a lot of land to deliver up to 8000 flats within the 3-4 year horizon. We think that in 4-5 years, when the portfolio will be large enough, we might be able to sell the platform. Until then, of course, it provides a good flow of income. Right now, we're only focusing on Polish cities but I hope that we will spread our wings in other regional countries as well.
Last year you've also made headlines with a €1 billion retail transaction at a time when many investors in Europe are staying clear of the asset class. What was the idea behind the deal?
We have already sold some of the assets to EPP and we're trying to sell the rest as well as the investors behind the deal expect a return on their investment. Of course, we have to adapt and make some changes but I think the retail market is working fine in Poland.
You've acquired a substantial logistics portfolio back in 2018. Do you have plans to expand in that market as well?
Through the ELI platform, which we set-up together with Redefine, we have more than 700,000 sqm of logistics space standing or under development but our goal is to reach almost 2 million sqm. The market is growing fast and we want to become the largest player in the region. Panattoni has so far mostly focused on Poland but we might move into other regional markets as well.
Finally, what are your expectations for the CEE investment market in the next twelve months?
I expect that yields will remain stable in the coming year. They won't go any lower in Warsaw which is our core market, although there might be further compression in other regional capitals like Budapest or Bratislava.